Siemens (SI) is a German multinational engineering and electronics company, being among the world's largest within its industry. It currently offers a dividend yield of 3%, which is not among the highest in the stock market but is very safe and will be enhanced by the recently announced share buyback program of $5.5 billion to be carried out over the next two years. Siemens' market capitalization is about $116 billion and is listed on the New York Stock Exchange as American Depositary Receipts [ADR].
Company Overview
Siemens is a global powerhouse in electrical engineering and electronics. The company has 362,000 employees (as of September 30, 2013) working to develop and manufacture products, design and install complex systems and projects, and tailor a wide range of services for individual requirements. Siemens family members hold 6% of the company's shares, with the remaining shares trading as free-float. The company is one of the world's largest providers of environmental technologies. Around 43% of its total revenue stems from green products and solutions. Siemens also has some financial assets through its financial division Siemens Financial Services. Siemens is the world's largest automation company being therefore the worldwide leading supplier of productivity, flexibility and efficiency offerings for industrial enterprises. The industrial automation market is very attractive as the business is characterized by long-lasting relationships with customers.
Siemens is a global company, therefore having very good geographical diversification, meaning that it is essentially exposed to global economic growth to increase its revenues. Its largest single market is Germany, but it only accounts for 14% of its revenues. About 33% of its revenues are derived from emerging markets, a weight that should increase over the next few years as these markets enjoy higher economic growth rates than developed markets.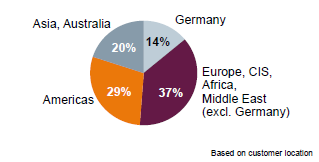 Siemens has a very diversified asset portfolio, organized as four main operating businesses, namely Healthcare, Infrastructures, Energy and Industry, including 11 different divisions. It faces competition across several of its businesses from large competitors such as General Electric (NYSE:GE) and Philips (NYSE:PHG), but it also faces competition from industry-specific smaller companies like Alstom (OTCPK:ALSMY), ABB (NYSE:ABB), or Schneider Electric (OTCPK:SBGSY). By revenue, Energy is the company's largest segment accounting for about 35% of revenues, being the world's leading supplier of products, services, and solutions for power generation. Siemens' profile has changed significantly over the past few years, a trend that should continue over the coming years as the group is streamlining its portfolio and re-focusing on its two core areas of Automation and Power. Siemens has already announced its intention to sell its water, postal automation and baggage handling units and close its solar business in the short-term representing about $2.5 billion of annual sales, which are non-core and have low profitability.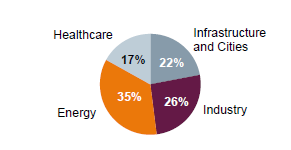 Siemens has been very actively managing its asset portfolio over the past few years, performing several acquisitions and divestitures. The most notorious sales performed over the past few months were the sale of its stake in Nokia Siemens Networks [NSN] to Nokia (NYSE:NOK) and the spin-off of its lighting unit OSRAM (OTCPK:OSAGF) to Siemens' shareholders. Since the creation of the joint-venture Nokia Siemens Networks in 2007, it has incurred losses totaling close to $5 billion for Siemens' 50% stake, so this means the disposal of NSN will increase the company's earnings stability going forward. This has been the first step towards a cleaner and more predictable earnings profile, with the second step being the reduction of execution issues and portfolio refocusing. For that, the "Siemens 2014" restructuring program, launched in fiscal 2013, targets sustainable value creation over the long-term and has a target to raise the Total Sectors margin to at least 12% by fiscal 2014. Siemens expects to reach net savings of $1.3 billion in 2014, helping to achieve higher operating margins for the business as a whole.
Regarding its financial performance, Siemens has achieved relatively resilient results over the past few years. In fiscal 2013, which ended on September 30, 2013, revenue from continuing operations amounted to more than $100 billion, a 2% decline from the previous fiscal year. Its order book continued to increase steadily by 10% to $110 billion and was above revenues, reaching therefore a book-to-bill ratio above 1x. At the end of fiscal year [FY] 2013, its order book was about $130 billion.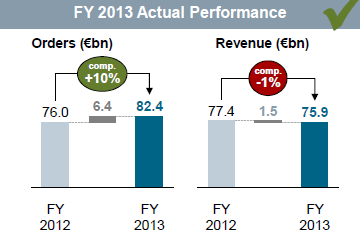 Its net income stood at almost $6 billion, or $7.06 per share. Total Sectors profit was $7.8 billion, or a 7.5% profit margin. For FY 2014, Siemens expects orders to exceed revenues and if organic revenues remain stable year-on-year, basic earnings-per-share should increase by at least 15% due to cost cuts to more than $8 per share.
Dividends
Regarding its dividend, Siemens has a good history given that it has never cut its dividend and has raised it several times since at least 1995. Its last dividend paid was €3 ($4.10) per share related to FY 2012, unchanged from the previous year. For FY2013, Siemens will pay the same dividend per share with ex-dividend date at 29 January, 2013. At its current stock price, its dividend yield is close to 3%. The dividend payout ratio is 57%, in-line with its target of 40-60% and within its historical average. Moreover, Siemens' recently announced a €4 billion ($5.5 billion) share buyback to be performed during the next two years, which will increase shareholder remuneration considerably during this period.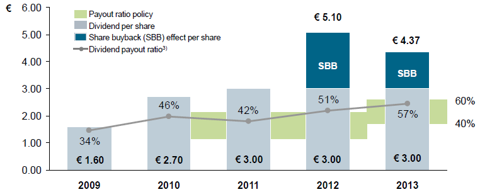 The company's cash flow generation is very good, given that it achieved a free cash flow above $7 billion during FY 2013. This was way above the $3.5 billion cash outflows related to payments to shareholders, showing how safe Siemens' dividend is. Its shareholder remuneration policy is also supported by its strong balance sheet that could easily be further leveraged. As of 30 September, 2013, its net debt was about $13 billion representing a net debt-to-EBITDA ratio of 1.3x. The leverage ratio was recently increased following the acquisition of Invensys Rail for $2.7 billion, from only 0.95x prior to this acquisition. Its adjusted industrial net debt was quite low, resulting on a leverage ratio of only 0.3x. As the company's cash flow generation is very good, its leverage can increase over the next few years and its target of an industrial net debt-to-EBITDA ratio between 0.5x-1x gives plenty of space for Siemens to adapt a more aggressive shareholder remuneration policy over the next couple of years.
Conclusion
Siemens has a relatively resilient business that should have more predictable earnings going forward following its recent divestitures. The company continues to streamline its portfolio and has an ongoing cost cutting program, which should enhance its business profitability over the next few quarters. Its strong fundamentals lead to a safe dividend that is boosted by the recently announced share buyback program, supported by the company's good cash flow generation and strong balance sheet making Siemens a compelling income investment.
Disclosure: I have no positions in any stocks mentioned, and no plans to initiate any positions within the next 72 hours. I wrote this article myself, and it expresses my own opinions. I am not receiving compensation for it (other than from Seeking Alpha). I have no business relationship with any company whose stock is mentioned in this article.