I had advised readers to sell Microsoft (NASDAQ:MSFT) after the stock posted high double digit gains last month. The article received a fair amount of criticism because it was published just before MSFT released good quarterly results, making the stock jump up. However, my call was based more on the medium and long term strategic trends, which are turning quite adverse for Microsoft. The nice cash flows and earnings that MSFT currently shows is obscuring the major long term issues that the company faces from its major competitors Google (NASDAQ:GOOG) and Apple (NASDAQ:AAPL).
Microsoft has missed the mobile trend in the last 5 years and has come very late to the party. The company was forced to buy Nokia (NYSE:NOK), as the Finnish company was looking to switch to Android. Now Microsoft may even look to make Windows free for other smartphone OEMs. This will be a huge blow for Microsoft, in my view, if it takes this step. It will show that Microsoft has lost the OS battle to Google, as I don't think that MSFT will be able to sell Windows for money again. The company seems a bit overvalued to me at the moment and does not seem to offer any upside. I would look to sell my MSFT stock and look for better opportunities in the technology space.
Google has made Microsoft a victim of its own "free" strategy
Google has made Microsoft a victim of its own free strategy. The Seattle giant cleverly used this strategy to browbeat small competitors during the 1990s and 2000s. It used to copy new software innovations and give it out for free, effectively killing the competition. Netscape was the most famous victim of this strategy. The internet browser market had exploded after Netscape was introduced. Microsoft-- smelling a potential competitor to its software dominance-- started giving Internet explorer for free, killing the small company. Note that Internet explorer had a dominant position in the browser market before better free browsers such as Mozilla, Opera and Chrome started taking market share away from Microsoft's inferior product.
Google has very cleverly copied this strategy and introduced numerous software products taking direct aim at Microsoft. The company launched new products for email, browsers and even operating systems and gave it away for free. Google was able to subsidize these products from the massive cash flows being generated by its search ad business. Microsoft has no answer to this free software. If the company started matching the "free" strategy in these software, then its financials would completely collapse.
Android becomes the first giant killer Google software
While Google has developed a number of software products that are leaders in their fields such as Gmail, Google Maps etc., Android is the software that threatens Microsoft the most. Android has captured more than 80% of the global mobile OS market and continues to increase its marketshare, despite its already large base. With the unit shipments of tablets and smartphones far exceeding that of PCs and laptops, Android has become the dominant computing OS. PCs/ laptops are on a secular downtrend and Microsoft is losing marketshare in the computing OS market continuously. Microsoft realized the dangers only a couple of years ago and introduced the Windows Phone OS, targeting the smartphone market. However, MSFT has not got much success till date. Its tablet Surface was an unmitigated disaster costing Ballmer his job, while nobody is producing Windows smartphones in decent volumes except for Nokia. Windows is the glue which holds the whole MSFT ecosystem together. It is pretty certain that Microsoft will lose substantial revenues from the sales of its Office suite and Server division as Windows shrinks.
Microsoft Windows Lies Between Scylla And Charybdis
There has been a rumor that MSFT is considering giving away Windows Phone and Windows RT for free. If this rumor proves true, then it will indicate that MSFT has capitulated in its fight against Google. When customers start getting Windows for free on their smartphones, why would they pay for Windows on laptops and desktops? It might make more sense to use their free Windows phone OS to connect to a bigger screen (through a HDMI cable) and use most of the features of Windows for desktops for free.
Microsoft is making very little money from the sale of Windows Phone and Windows RT. Most PC OEMs have stopped making Windows RT products, while Microsoft is the major producer of Windows mobile devices as well. If the company wants to expand the Windows ecosystem it has to get more OEMs on board. But it cannot offer them any incentive as Windows on mobile is an inferior product compared to both Android and iOS. It cannot charge a lot of money for Windows licensing, as Android is free. If Microsoft does not give away Windows for free, it might become irrelevant to the OS market in 3-4 years (at least in the non-enterprise market). If it gives it away for free, then it will have sacrificed a large chunk of its revenues and profits.
Microsoft faces other challenges as well
Microsoft faces huge issues in its other major product segments such as Office. Google has started giving away Quickoffice for free in its new Kitkat version. While other office productivity software cannot still match the sophistication of Microsoft Office yet, they are getting better by the day. These applications are much better than the slow open source OpenOffice software. Some large enterprises have already started adopting this software as it massively cuts costs. Microsoft has been forced to start selling Office through the cloud at reduced prices. I expect the company to come under further pressure in the coming days from both Apple and Google.
Microsoft has not made much headway in the mobile industry
Microsoft is not making headway in the mobile industry despite putting a lot of resources into making Windows a viable option for mobile OS. It has less than 5% marketshare in the fast growing tablets and smartphone OS segments. The first Surface tablet products were a dud, with Windows RT being severely handicapped as most Windows software did not work on the ARM devices. Most PC OEMs have now stopped shipping Windows RT devices completely. Even in handsets, Microsoft was forced to buy Nokia after the company was looking to veer towards Android. There have been reports that Surface 2 pro and Surface 2 have been sold out, but that does not indicate success. It may only mean that MSFT produced too few Surface 2 tablets after having burned its fingers with the massive inventory writedown due to the Surface tablets. The company is desperately courting Android players such as Sony (NYSE:SNE), ZTE etc. to use Windows. Note that its partner in the Wintel duopoly Intel (NASDAQ:INTC) is also using every measures in its arsenal to become a meaningful player in the smartphone industry. I think Intel has a better chance of successfully transforming into a more mobile focused player than Microsoft.
Why Microsoft has done well recently
Microsoft's stock price has gone up in the last year due to low valuation and new product launches (Surface 2 which is better than the failed first version, Xbox and Nokia buy). The company is also doing quite well in its server and tools division, as well as growing its cloud offering rapidly. I would turn bullish on Microsoft if the company can successfully integrate Nokia and grow its smartphone marketshare to a meaningful degree. The success or failure of MSFT depends on its performance in the tablet and smartphone market. If the company fails there, then no amount of Xbox or Azure sales will prevent the stock from sliding down.
Microsoft Stock Price and Valuation
Microsoft has underperformed most of its big technology peers over the past 5-10 years, as it has been behind the curve. MSFT stock is no longer cheap, with a forward P/E of 12.3x and P/B ratio of 3.8x. The P/S ratio is also not cheap at just 3.9x. The stock valuation has gone up by almost ~25% in the last one year, as the stock price has increased with the broader stock market.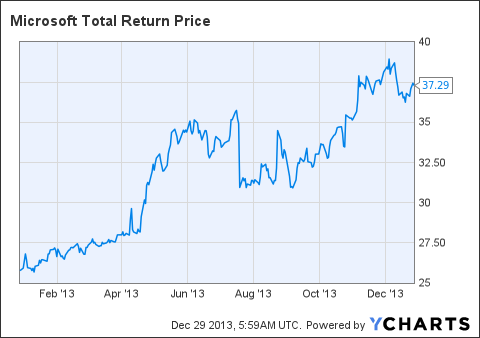 MSFT Total Return Price data by YCharts
Summary
Microsoft is a software behemoth and it is not going to go down rapidly like Nortel or Palm. However, the long term trends are certainly unfavorable for the company. Despite its strengths in the enterprise software, Microsoft is losing badly in the consumer technology market. We have seen how consumer technology has started to influence enterprise technology. Companies who ignore the consumer technology segment do so at their own peril (look at BlackBerry (NASDAQ:BBRY)). Microsoft is obviously getting desperate if it is thinking of giving Windows away for free. The stock is also not undervalued (when I recommended buying the stock). I would look to reduce my position in Microsoft and switch to stocks with better prospects.
Disclosure: I have no positions in any stocks mentioned, and no plans to initiate any positions within the next 72 hours. I wrote this article myself, and it expresses my own opinions. I am not receiving compensation for it (other than from Seeking Alpha). I have no business relationship with any company whose stock is mentioned in this article.