American Capital Agency (NASDAQ:AGNC) is threatened by a continued rise in interest rates, but the stock is selling at a steep discount to book and I believe there is reason to believe the company's prospects aren't as bad as the market consensus assessment. Despite this, I am reluctant to invest at all and am not even considering a large position because of the uncertainty, but if shares get just a little bit cheaper - maybe to $18.50, I'd make an entrance. Put it this way - long or short, I'd much rather be long at this price than short.
Company Overview
American Capital Agency is an mREIT that invests in GSE-guaranteed RMBS. AGNC finances the RMBS investments primarily with short-term repurchase agreements. Rates on the short-term repurchase agreements are typically substantially lower than the yield on the RMBS portfolio, creating a spread that is the basis for AGNC's profitability.
As a REIT, AGNC's profits are tax-exempt at the corporate level so long as the company disburses at least 90% as dividends to its owners.
The company pays a reasonable management fee to American Capital (NASDAQ:ACAS) that is based solely on its equity.
Management
President and CIO Gary Kain runs the show at AGNC. He has an engineering background, with degrees from UPenn and Johns Hopkins. He was slowly converted to expertise in the housing market in his 20 years at Freddie Mac, where he started out writing computer models for mortgage cash flows and left as SVP Investments and Capital Markets. At Freddie Mac he was managing about $700B in MBS levered 50-1, compare to <$100B at AGNC with leverage typically around 7-8x.
I like to listen to conference calls and watch investor presentations to get a sense of whether management is candid/competent, and after watching the latest Citi 2013 Global Financial Conference at which Kain spoke for 45 minutes, I believe he is very thorough and experienced. He seems to understand the importance of expanding and contracting the enterprise according to market conditions and I think his focus is in the right areas.
He has a $14.9mm direct stake in the business and has been making big investments recently at prices substantially higher than where the stock is now:

Source: Jivedata
Besides Kain, there have been other insiders buying and relatively insignificant direct selling: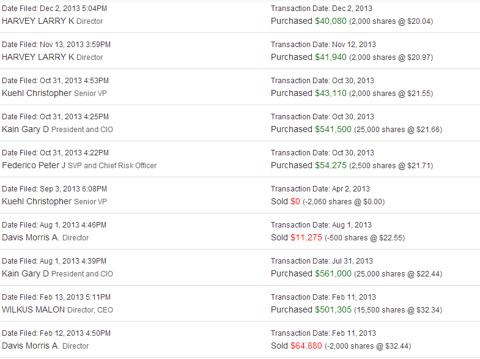 Health of the Business
Because of its business model designed to benefit from interest rate spreads and the sheer size of its levered fixed income portfolio, movements in interest rates have a huge, magnified impact on AGNC. It invests almost exclusively in agency MBS, so credit risk isn't really a concern.
Interest rates have been at historic lows, largely due to the policies/actions of the Federal Reserve. In the Fed's December statement, it was announced that tapering, a reduction in the amount of Treasuries and MBS purchased by the Fed under QE, would officially begin. The Fed reiterated that ZIRP - the other Fed policy that is even more important than QE, would remain (federal funds rate of 0-.25%) so long as unemployment remains above 6.5%. The statement went on to say that as long as inflation remained below 2%, ZIRP would stay for the foreseeable future even after unemployment gets below 6.5%. Unemployment is on pace to drop below 6.5% in mid-2014: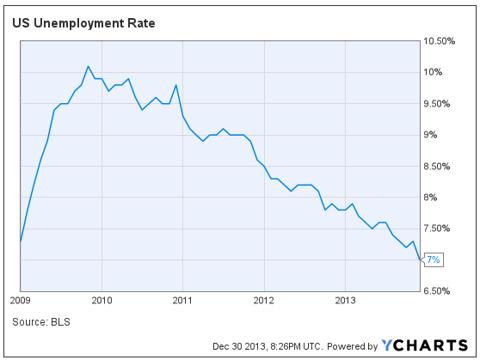 Inflation, on the other hand, is well below 2% and it's difficult to say with any degree of certainty how it will trend in the next 12-24 months. Even the Fed seems uncertain and reluctant to make any definitive projection on it.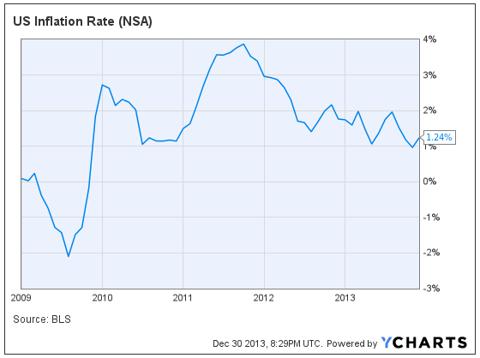 Janet Yellen is extremely dovish and will be taking over in February. Most investors seem to think she will lower the unemployment goal to 6% or 5.5% and end up maintaining ZIRP for another 2 years. I don't know that that's a given, but I like the probability as does Kain.
At the same time, most investors seem really concerned about tapering and its impact on interest rates. This has been a large contributor to stock price declines that REITs have seen. From what I gather though, QE does not have nearly as large an impact on interest rates as ZIRP does, and the impact is seen much more in long-term rates (Fed was and still is buying long-term treasuries and long-term MBS, excellent article on the subject), not short-term rates. With less Fed purchases, MBS yields will increase, but rates on AGNC's repo agreements should be more stable. The increase in MBS yields will result in a decline in AGNC's book value, but the steepening yield curve will increase the spread that the company profits from. The chart below confirms that thought process, showing the steepening of the yield curve in the last 3 months: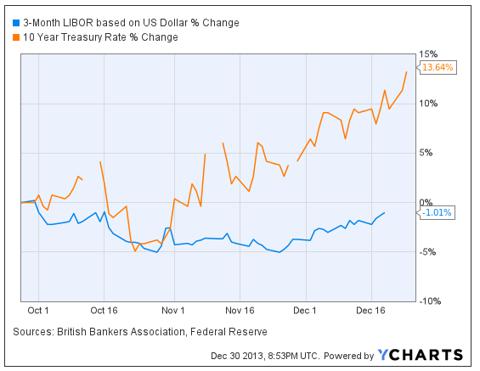 Regarding declining book value, the company is heavily hedged for rising rates, but declines have already been seen to a large extent in the past few months and we'll inevitably see more. I don't think, in the next 2 years, it will be as bad as the market is pricing in though. I'll talk more specifically about this in the Valuation section.
One of Kain's greatest strengths as a manager is his ability to select MBS with low CPR (refinance rates). He highlighted the importance of low CPR rates in his Citi presentation: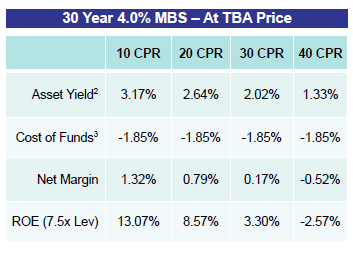 Holding everything else constant, ROE goes from +13.1% to (2.6%) as CPR increases from 10 to 40. By investing in mortgages near maturity that have already been refinanced, he's got AGNC's CPR significantly lower than its competitors at around 10, and the recent trend has been very good: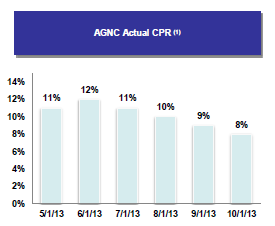 This should only continue as long-term rates rise. It's only attractive to homeowners to refinance when market rates are lower than the rate on their existing mortgage.
Net spread hasn't trended well of late, but again I expect this gap to widen as MBS are turned over and higher yielding MBS are purchased with the cost of funds remaining relatively stable.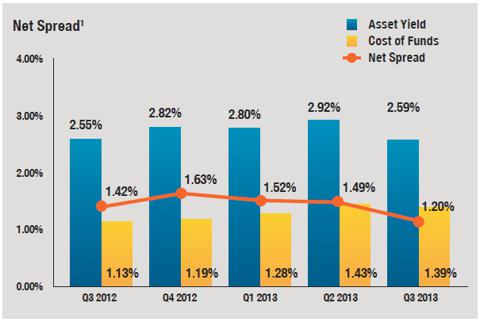 Valuation
Back to book value. It's important to look at book value because historically, AGNC stock has tracked it closely.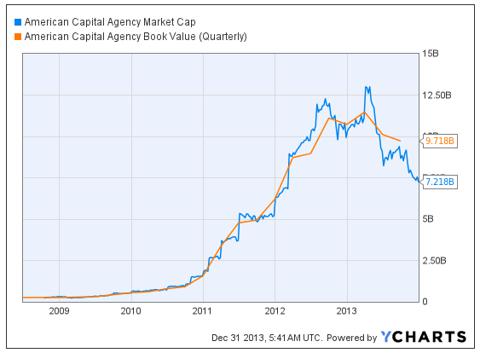 Price/Book has stayed in a pretty narrow range and averaged 1.12 in the last 5 years.
Shares have dropped 44% since April 1st of this year, but more than ¾ of the decline is attributable to contraction in the P/B multiple.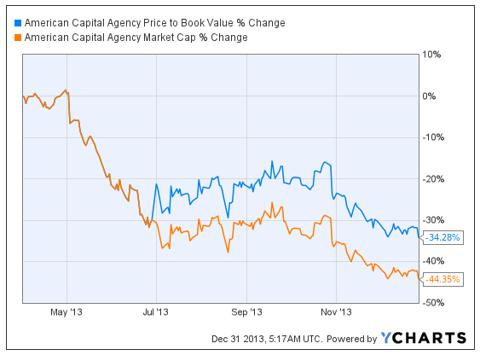 The stock is now at a 26% discount to Q3 book and a 34% discount to average P/B. Rates have gone higher since the Q3 results and so book will likely be reported lower in the Q4 results, but Kain mentioned that, without any hedging, a 100 bp increase in rates would only result in a 8% decline in book value. With the hedges, it should be even less than that. A 100bp move in rates is a big deal. Since the Q3 press release on October 28, rates are about 50bp higher. They'll probably continue to increase and I think an expectation for rates to be 100bp higher when the Q4 results come out is conservative. Even in that scenario, book probably only decline 4-6% and yet the stock sells at a 26% discount to book. Obviously the market is pricing in a much larger increase in rates than 100bp, but I'm not sure that will happen in the next year or two which is really what my investment timeframe for AGNC is. I also mentioned that AGNC is selling at a 34% discount to its 5-year average P/B valuation of 1.12. Clearly at this point with the macroeconomic cloud overhead, AGNC's prospects are less than average, but I don't think this large a discrepancy is completely warranted. Overall, P/B analysis seems to indicate at least 15% undervaluation.
REIT structure lends itself to valuation by the Gordon Growth model. It's a simple formula so I figured I'd perform it under a variety of scenarios.

In every scenario I completely ignore beta in the calculation of the cost of equity because I don't believe beta is an accurate measure of the risk inherent in an investment. I did use a rather high cost of equity of 11% to reflect the high risks I associate with AGNC, a business I see as largely at the mercy of macroeconomic trends. I also assumed a 100% payout ratio in every scenario, with 1.5% dividend growth only intended to match inflation, not attributable to reinvestment. Scenario 5 reflects the current dividend of 65 cents annualized and shows significant upside from current market. I think further dividend cuts are likely but even if the dividend drops all the way to 45 cents quarterly, the stock is fairly priced. To me that range of scenarios seems a likely range for what the dividends will actually be, and there is an obvious skew in the results towards undervaluation.
One more point I'd like to mention before concluding: As Gary Kain recently pointed out, regular companies trade under book often, but it's a big deal for an investment vehicle of extremely liquid assets to sell at a steep discount to book. It's almost comparable to a closed-end fund selling at a 25% discount to book, which is an extraordinary occurrence. The market for agency MBS rivals the most liquid fixed income market in the world - US Treasuries, and is far more liquid than US corporate bonds: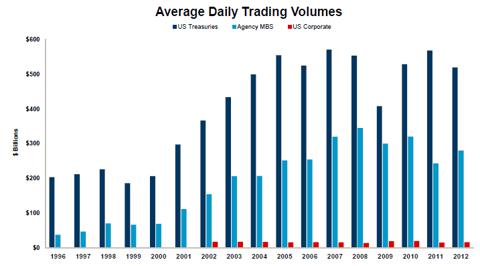 Essentially through purchasing AGNC, you can purchase agency MBS for 75 cents on the dollar. That's why the company has been buying back shares so heavily. They just sell MBS at par or a much smaller discount than 25% and repurchase their own shares with the proceeds. When the company announced its most recent dividend on December 18, they also announced that in Q4 alone they've repurchased 7% of their shares outstanding, and done so at a large discount to book at an average price of $20.82. That's a big statement from Kain and his team, and what originally led me to believe shares might be very cheap and dig deeper into the story.
Goldman Sachs
A few weeks ago, Goldman Sachs initiated coverage of AGNC with a sell recommendation and an $18.50 PT. I tend to discredit their opinion though because, as investigative SA members pointed out, Goldman has purchased 3mm shares of AGNC since April. Sell-side equity research divisions work with other divisions of the company and so it is accurate to assume all the analysts and managers at Goldman, both those working on the sell recommendation and those who were instrumental in the company's investment in AGNC, collaborated. I'm not suggesting foul play, but it's definitely concerning enough for me to discredit the opinion.
Conclusion
Though the valuation is very compelling, the business will actually benefit in some ways from long-term rate increases and isn't performing so badly, insiders are buying, and the company is repurchasing a huge sum of shares, the macroeconomic uncertainty keeps me from considering this a high conviction idea and entering here. Everything about the story itself is pretty compelling but the truth is that a REIT does not fit my typical criteria for investments. I don't like the idea of my money being so dependent on macroeconomic developments. Despite that, if shares continue to decline, say to $18.50, I'd enter into a small stake.
Disclosure: I have no positions in any stocks mentioned, but may initiate a long position in AGNC, over the next 72 hours. I wrote this article myself, and it expresses my own opinions. I am not receiving compensation for it (other than from Seeking Alpha). I have no business relationship with any company whose stock is mentioned in this article.