Apple (NASDAQ:AAPL) has returned a measly 5.14% in 2013 (at the time of writing this article) and is still down approximately 21% off of its highs in September 2012. Analysts have been disappointed by Apple's 10% decline in net income this year, while revenue has grown 8%. Questions remain as to whether 2014 will be the year of Apple, as commented by some analysts and authors. I believe those analysts and authors are correct. 2014 will be the year of Apple, because the company will release an iTV, and it will help boost Apple.
Global TV Market
The global TV market is expected to fall to 226.7 million units in 2013, down approximately 5% from 2012. This is in addition to the 7% decline in TV units in 2012. Factors contributing to this decline include economic weakness as well as market saturation. However, the LCD market (also known as the flat-panel TV market) will only decline 1%, and the majority of TV units sold in developed nations are this type of TV unit. Moreover, the global TV market will grow to 229 million units in 2014, up 1% from 2013. Growth in LCD units will offset the decline in other types of TV units. I believe that the TV market is stabilizing and is recovering from its decline in previous years.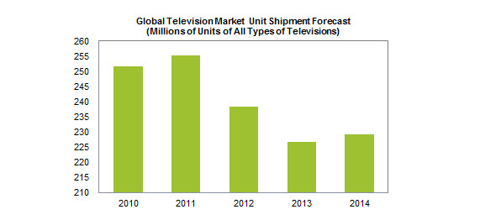 Source: IHS October 2013
US TV Statistics
Although people in the US have shifted toward digital media, and digital media surpassed TV viewing time for the first time this year, TV viewing time remains strong, with the average US adult spending 4 hours and 31 minutes per day watching TV. This has remained steady over the last few years. Watching TV remains one thing that people will continue to do regardless of the rise in digital media. This further supports Apple's opportunity in this space.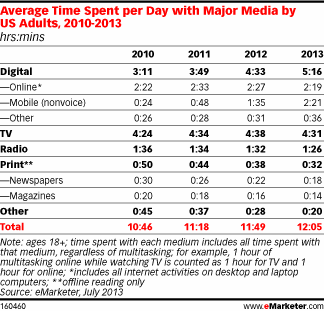 How the iTV Affects Apple
The iTV presents a great opportunity for Apple. People continue to watch TV, and this is a big market that Apple has not yet tapped. Considering that 229 million TV units are expected to be sold in 2014, we can safely assume that 200 million units are flat-panel displays. The average price of a flat-panel TV in the second quarter of 2012 was $1,224. This has increased over the last few quarters as consumers purchase TV units that are internet-enabled, have 3D capabilities, and are larger (50'' or above).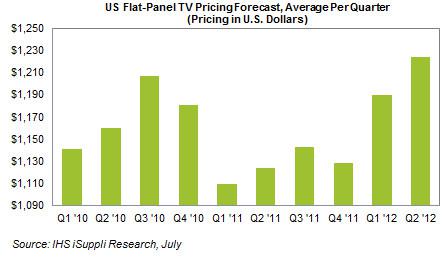 I believe that Apple will release an iTV as a 55'' set. This will include all of the capabilities of TV units that consumers are purchasing today. Most likely, I estimate that the iTV will start at $1,500. Below lists how much revenue Apple could make by capturing a variable percentage of the global flat-panel TV market (based on market size of 200 million units and $1,500 Average Selling Price):
| Percentage of Market | Number of Units Sold | Revenue |
| --- | --- | --- |
| 5% | 10M | $15B |
| 10% | 20M | $30B |
| 15% | 30M | $45B |
| 20% | 40M | $60B |
Conservatively speaking, if Apple makes an iTV, it could add $30B to its revenue. Based on 2015 estimates of $196B in revenue, this alone could boost revenue by 15% in 2015. I don't expect the iTV to be on sale until at least late 2014, which is why I am not comparing the revenue addition to 2014 revenue estimates. In terms of net income, the iTV could be more helpful to the bottom line than it may seem. Below outlines how much the iTV could add to the bottom line based on a net profit margin of 12.5% and variable revenue:
| Revenue | Income |
| --- | --- |
| $15B | $1.875B |
| $30B | $3.75B |
| $45B | $5.625B |
| $60B | $7.5B |
Challenges
One big challenge Apple may face in the TV industry is market penetration. The TV market is dominated by a few players.
Half of the Smart TV market is dominated by Samsung (OTC:SSNLF), LG (NYSE:LPL) and Sony (NYSE:SNE). This could make it difficult for Apple to get a small percentage of the market. However, Apple has built a great ecosystem revolving around three core products: the iPad, iPhone and Mac product lines. This will help entice consumers to purchase the iTV from Apple, rather than Smart TVs from other manufacturers.
Conclusion
The iTV is a perfect addition to Apple's brilliant ecosystem. It will fit well with their current product lines, and I am sure that Apple will find a way to integrate it within the ecosystem. There is a big opportunity here for Apple, with the potential of $3.75B of net income on $30B of revenue, an almost 9% increase in earnings. The iTV is a perfect way to help boost the popularity of other Apple products, because the Apple ecosystem is even stronger than ever. In conclusion, the iTV will boost Apple and prepare it for the next leg up in its growth stage. For this reason, Apple remains a buy for 2014 and beyond.
Disclosure: I have no positions in any stocks mentioned, but may initiate a long position in AAPL over the next 72 hours. I wrote this article myself, and it expresses my own opinions. I am not receiving compensation for it (other than from Seeking Alpha). I have no business relationship with any company whose stock is mentioned in this article.