Alcatel-Lucent (ALU) has fallen out of the spotlight over the past few weeks, despite being among the top performers in 2013, returning an impressive 225.93%, or more than tripling this year. However, sentiment has turned sour against Alcatel-Lucent. Nonetheless, Alcatel-Lucent remains a great buy for 2014. Although we won't see the same returns in 2014 as we saw in 2013, Alcatel-Lucent's stock definitely has room to grow. Here are the top three reasons why I believe you should buy it for 2014, and by no means is this an exhaustive list:
1) Shift Plan
The Shift Plan was introduced earlier in 2013 by Alcatel-Lucent's new CEO Michel Combes. In a nutshell, the Shift Plan is a plan to help refocus Alcatel-Lucent as an IP Networking and Ultra-Broadband specialist. The Shift Plan will help get Alcatel-Lucent on track financially, and prepare it for future innovation and consistent, profitable, growth. The key points of the Shift Plan include:
IP Networking and Ultra-Broadband Access representing 85% of R&D investment in 2015
1 billion euros in fixed-cost savings over 2013-2015
Asset sales of more than 1 billion euros
2 billion euros in debt reprofiling
Future debt reduction of 2 billion euros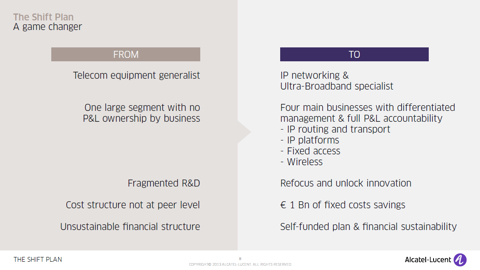 The Shift Plan will definitely help Alcatel-Lucent to compete with other companies in the telecommunications equipment sector. Alcatel-Lucent is shifting its focus to two key segments: the IP Networking and Ultra-Broadband specialties. This will help drive innovation, as well as decrease costs. Also, these two segments are expected to grow at a healthy rate over the next 5 years. This will help ensure that Alcatel-Lucent's revenue grows, giving management enough time to execute a turnaround.
Additionally, the 1 billion euros cost savings plan will increase net income and free cash flow, which can be used to bring down debt. The asset sales will help unlock value of assets currently on its balance sheet, and will supply Alcatel-Lucent with cash to supplement its current net losses. Finally, the debt refinancing and elimination of debt will help increase shareholder equity as well as decrease interest payments, further increasing net income.
2) Contract Wins and Strategic Partnerships
On November 14, 2013, Alcatel-Lucent announced that it had been selected as part of China Mobile's (NYSE:CHL) 4G rollout. This will be the world's largest mobile ultra-broadband network. The company was awarded 24% of the overall rollout, and had to compete against companies such as Ericsson (NASDAQ:ERIC), Huawei, and Nokia Solutions and Networks (NYSE:NOK). This contract win fits perfectly with the company's strategy of focusing on IP Networking and Ultra-Broadband Access. This contract will increase Alcatel-Lucent's revenue and net income in the short and long term, as well as open doors to future contract wins as telecommunications companies roll out 4G networks. Mobile data on metro networks is expected to increase an astounding 570% by 2017, and Alcatel-Lucent will be able to win future contracts as a result of increased telecommunication network spending.
In addition, Alcatel-Lucent and Qualcomm (NASDAQ:QCOM) entered into a strategic partnership to develop small cell base stations for ultra-broadband wireless access. This partnership will help accelerate the development of this product, as well as increase opportunities to sell the product to telecommunications companies. Like the China Mobile contract, this partnership fits perfectly with Alcatel-Lucent's Shift Plan, and its efforts to focus on IP Networking as well as Ultra-Broadband Access. Alcatel-Lucent has been constantly winning contracts in both segments over the past few months, and they will definitely be rewarded in the long term.
3) Valuation
Despite Alcatel-Lucent's gains in its stock this year, it is still undervalued relative to its peers. In most statistics, it trades at valuation more attractive than its competitors, including Cisco and Ericsson. Alcatel-Lucent is still deeply undervalued, and the company is increasing shareholder equity, which further undervalues it. I expect it to be profitable by 2015, and this will definitely help drive the share price up based on its current, cheap valuation.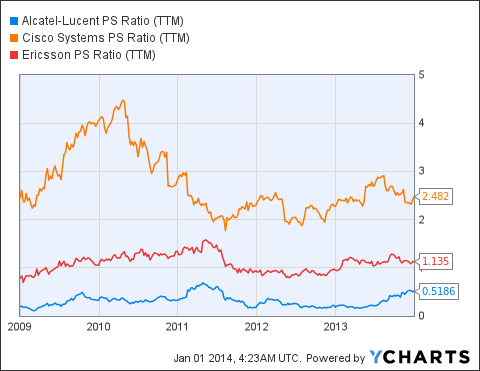 ALU PS Ratio (NYSE:TTM) data by YCharts
Conclusion
I believe Alcatel-Lucent still has plenty of room to grow as it implements the Shift Plan, increases revenue and net income, decreases debt. Also, contract wins will help supplement its income statement while management works on increasing shareholder equity. Finally, it trades at a very low valuation relative to its peers, and has much more to offer in terms of growth over the next few years compared to other companies in the sector. I expect Alcatel-Lucent to be in the $6-$7 range by the end of 2014 as good earnings reports and positive financial developments drive the share price up. Alcatel-Lucent has been a great stock in 2013, and it will definitely be a winner in 2014 as well. Alcatel-Lucent is a strong buy for 2014.
Disclosure: I am long ALU. I wrote this article myself, and it expresses my own opinions. I am not receiving compensation for it (other than from Seeking Alpha). I have no business relationship with any company whose stock is mentioned in this article.