The Dividend Champions spreadsheet and PDF have been updated through 12/31/13 and are available here. Note that all references to Champions mean companies that have paid higher dividends for at least 25 straight years; Contenders have streaks of 10-24 years; Challengers have streaks of 5-9 years. "CCC" refers to the universe of Champions, Contenders, and Challengers.
New Year: New Companies, New Columns
As 2013 drew to a close, I was adding new Challengers that actually become "eligible" in 2014, since their fifth year of dividend increases becomes "official" with the next dividend payments, which are increased from the prior quarter's payout. The Pay Dates for these companies range from January 10 to early March, so I've added a notation of "2014=Year 5" in Green. Once I post the January 31 update, I'll remove that notation, since 2014 will be the "current" year. Likewise, I'll remove the "&" notation for multiple dividend increases, since that currently refers to 2013. The new Challengers boosted the number of CCC companies to 476 and that number should grow steadily throughout 2014, since there are now over 170 Near-Challengers (companies with 4-year streaks of increases) listed in Appendix B (on the Notes tab).
The latest update includes a few new columns, which I'll describe below, along with updated formulas that reflect 2013 as the new "base" year, replacing 2012. As mentioned previously, the 2013 Dividends column includes some amounts that were accelerated into December 2012 because of the uncertainty surrounding tax rates, and those amounts were not included in the 2012 column. Such companies include the "#" symbol in column AS. What's new:
New column AL: Past 5yr DEG: The DEG ratio stands for Dividends-to-Earnings Growth and simply divides the 5-year DGR (Dividend Growth Rate) found in column AP by the Past 5yr Growth rate for earnings, found in column AF. The idea is to compare how the two elements of the EPS Payout Ratio (column S) have grown over the past five years. A ratio above 1 means that the dividends have grown at a faster pace than the earnings - which would have increased the Payout Ratio - and a DEG ratio below 1 would mean that earnings have grown more than dividends have increased - which would have lowered the Payout Ratio. Of course, that's just the simple version of how the DEG relates to other metrics. The more important question of why the ratio seems "high" or "low" is a matter for each investor to consider as part of due diligence.
New Column AR: 2013 (Dividends per Share): As mentioned above, adjustments were made for any dividends accelerated into 2012 in order to show the 2013 and 2012 columns in a "normalized" fashion, so as not to "penalize" companies for acting in the best interests of shareholders by showing a "phantom" dividend cut in 2013. See this article for more on this phenomenon. Most important, the new 2013 Dividends column replaces the 2012 amounts as the base for the 1-, 3-, 5-, and 10-year Dividend Growth Rates, or DGRs - located in columns AN through AQ - along with the estimated 2014 Dividend (column CD) in the Dividend Growth Model.
New Column BI: 15 yrs ('99-'13) Reg Divs: This new column simply totals the annual dividends per share in columns AR through BH in order to show how much each company has paid in dividends per share over the past 15 years. To some, this may simply be a curiosity, but others may find the total payments to be a meaningful figure in relation to the current share price. (Capital gains investors might even suggest that the current price "would have been" this much higher if dividends had not been paid.) Note that the 15-year dividend total does not include Special Dividends, which can be a significant amount for some companies.
New Column BJ: 2013 vs. 2012: This column extends the year-to-year comparison (in percentage terms) that runs through column BW and feeds the Mean (Simple Average) and Standard Deviation found in columns BX and BY. Although the percentage found in the new column is the same as the 1-year DGR found in column AN, it will remain in place for comparison to other recent years, whereas the 1-year DGR will be updated each year. Some investors may want to focus on the specific annual increases - such as 2013 vs. 2012 vs. 2001, etc. - rather than (or in addition to) comparing the 1-, 3-, -5, and 10-year DGRs.
Note that the columns listing each year's dividends per share have been changed from 4 decimals to three and narrowed slightly. I did this because additional columns push existing ones to the right and the main spreadsheet already spans almost five pages in width. The new columns added this month pushed the Sector column onto the right-most page, which has little more room in terms of width.
December featured continued strength in the stock market, as can be seen in the table below. The average price of CCC stocks, which rose by over $1.45 in November, tacked on another 71¢, pushing the average yield down to 2.73%, from 2.74%. The average of the Most Recent Increases edged down slightly, from 9.52% to 9.49%, although the CCC companies averaged dividend growth of 10.2% in 2013. As always, please use the CCC only as a starting point for more in-depth research. Feel free to leave any suggestions in the Comment area below.
Quick Summary
The Summary tab includes a table comparing the composite numbers from the latest update to those from the previous month and the end of the previous year. Below that is a summary of the latest month's activity, in terms of companies added, deleted, or promoted. That is reflected below:
Quick Summary:

12/31/13

Champions

Contenders

Challengers

Total

No. of Companies

105

210

161

476

Ave. No. of Years

39.8

14.5

7.1

17.6

Average Price

64.42

65.14

57.74

62.48

Average % Yield

2.49

2.60

3.06

2.73

Ave. MR % Increase

8.68

8.78

11.10

9.49

11/29/13

Champions

Contenders

Challengers

Total

No. of Companies

105

211

155

471

Ave. No. of Years

39.7

14.4

7.2

17.7

Average Price

65.14

63.89

56.60

61.77

Average % Yield

2.50

2.61

3.07

2.74

Ave. MR % Increase

9.00

8.74

11.11

9.52

12/31/12

Champions

Contenders

Challengers

Total

No. of Companies

105

183

170

458

Ave. No. of Years

39.0

14.3

7.2

17.3

Average Price

53.48

50.89

45.25

49.39

Average % Yield

2.93

3.02

3.62

3.22

Ave. MR % Increase

7.75

8.58

10.43

9.06

MR = Most Recent

Additions:

Autoliv Inc. (NYSE:ALV) to Challengers

Balchem Inc. (NASDAQ:BCPC) to Challengers

Bristol-Myers Squibb Co. (NYSE:BMY) to Challengers

Moody's Inc. (NYSE:MCO) to Challengers

PennyMacMortgage Investment Trust (NYSE:PMT) to Challengers

Rent-A-Center Inc. (NASDAQ:RCII) to Challengers

Toro Company (NYSE:TTC) to Challengers

WD-40 Company (NASDAQ:WDFC) to Challengers

Deletions:

Molex Inc. (NASDAQ:MOLX) from Contenders

Nippon Telegraph & Telephone (NYSE:NTT) from Contenders

NV Energy Inc. (NYSE:NVE) from Challengers

Promotions:

Texas Pacific Land Trust (NYSE:TPL) from Challenger to Contender
(Table from author; may include underlying data from FinViz.com)
Every Picture Tells a Story
As a bonus, I'm inserting one of Chuck Carnevale's F.A.S.T. Graphs below, highlighting one of the companies listed above. When the price line is in the green area, it suggests possible undervaluation.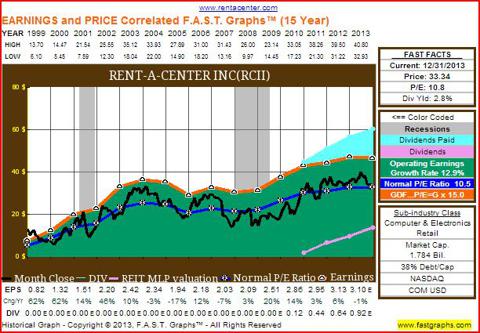 Disclosure: I have no positions in any stocks mentioned, and no plans to initiate any positions within the next 72 hours. I wrote this article myself, and it expresses my own opinions. I am not receiving compensation for it (other than from Seeking Alpha). I have no business relationship with any company whose stock is mentioned in this article.