It's been more than a week now since BlackBerry (NASDAQ:BBRY) announced another terrible quarter. The Canadian device maker badly missed estimates for both revenues and earnings. The company also did have a drop in its net cash position, after you factor in the debt it took out during the quarter. After earnings, the stock rose thanks to the company's announcement of a deal with Foxconn. However, there are still plenty of skeptics when it comes to BlackBerry. Today, I'll examine how much worse the situation looks now.
Results in 2013 were very disappointing:
BlackBerry has a fiscal year that ends in February, but like any company, has four quarterly reports during the year. During the 2013 calendar year, the company announced fourth quarter results for fiscal 2013, and the first three quarters of fiscal 2014. Here are the results for those reports, via Seeking Alpha's earnings current page. The earnings per share numbers below are adjusted, meaning they take out certain one-time items. Also, the revenue numbers are rounded to the nearest tenth of a billion in some instances.
March 28th - Revenues of $2.68 billion missed by $0.16 billion, earnings per share of $0.22 beat by $0.54.
June 28th - Revenues of $3.1 billion missed by $0.26 billion, earnings per share (loss) of $0.13 missed by $0.20.
September 27th - Revenues of $1.6 billion and earnings per share (loss) of $0.47. Originally, analysts were looking for $3.06 billion and a loss of $0.15, but BlackBerry announced a huge warning prior to earnings.
December 20th - Revenue of $1.2 billion misses by $0.38 billion, earnings per share (loss) of $0.67 missed by $0.24.
You might notice a common theme there. Revenues always missed expectations, and by wide margins as well. When looking at a company like Apple (NASDAQ:AAPL) or Google (NASDAQ:GOOG), a tenth or two of a billion may not seem like a big miss. But when you have a company that is only producing revenues of a couple billion, it's a huge miss. BlackBerry had the huge warning for fiscal Q2, which forced estimates way down, yet the company still missed greatly for Q3.
BlackBerry also had large losses in three of the four reported quarters. The company's new CEO John Chen believes the Foxconn deal will help the company become profitable by fiscal 2016. Considering the huge expected losses that I'll discuss in the next section, this might be quite a feat if the company can turn things around.
Current estimates continue to fall:
Analysts are getting more and more skeptical when it comes to BlackBerry. The following table shows a history of BlackBerry estimates going back to that Q2 warning, which was announced on September 20th. Since then, estimates have only gone lower and lower. The December 10th estimates below were used in the earnings preview article I did a week or so before Q3 earnings.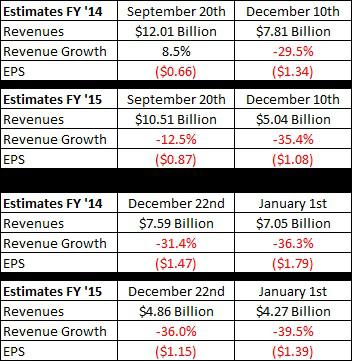 When BlackBerry reported on December 20th, estimates were calling for fiscal 2014 revenues of $7.81 billion and a loss of $1.37. As you can see from above, the average revenue estimate is down by about $750 million since then. The average earnings per share figure is down by 42 cents. Remember, these earnings numbers are adjusted figures. They take out extraordinary items, like the huge write-downs the company took in Q3.
Since there are less than two months left in fiscal 2014 for BlackBerry, I think the more important year to look at is fiscal 2015. Since September 20th, fiscal 2015 revenue estimates have plunged from more than $10.5 billion to less than $4.3 billion, a fall of nearly 60%. The earnings per share loss has also increased by more than 50 cents. When it comes to BlackBerry being profitable in fiscal 2016, there is a lot of work to be done. Analysts are expecting big losses going forward. Even though these estimates have come way down, the sad part is they could go even lower if BlackBerry's Q4 numbers miss.
Recent analyst comments:
I won't go into every single analyst note since the Q3 report, but I'll briefly discuss some analyst comments. On December 23rd, a Bernstein analyst reiterated his Market Perform rating and $5.50 price target. BlackBerry closed Tuesday at $7.44. The analyst noted that the large write down could put BlackBerry's liquidation value towards the lower end of some estimates. Also, the company's debt deal has bought the company more time, but the company's cash burn in Q3 may not have been fully digested by the street. The analyst believes that the initial pop after earnings may have been an overreaction.
Even some of the analyst notes that seem positive at first, paint a gloomy picture for the company. FBR capital increased its price target on BlackBerry from $6.50 to $6.75 after the Q3 report, but maintained an Underperform rating. In regards to the Q3 report, the analyst noted "a candid and sobering assessment of the business that is in desperate need of a new and profitable direction."
The key theme seems to be the same. Analysts believe that this is a troubled business, but most analysts seem to see a glimmer of hope in new CEO John Chen. Chen has been painting a positive picture of a turnaround going forward, which will be tough for BlackBerry to achieve. However, I must remind investors that we heard a similar stance when the last CEO took over, and we all know how that turned out. Overall, the mean and median price targets are around $6.75, with a range of $3 to $20. Given the latest close at $7.44, the average target sees a stock that will decline by nearly 10% from here.
Short interest has come down:
One interesting BlackBerry item to discuss is short interest. BlackBerry has had a large amount of shares short in the past year or two, with a huge increase in short interest during the latter part of 2012 and early part of 2013. The chart below shows BlackBerry's short interest going back to early 2012.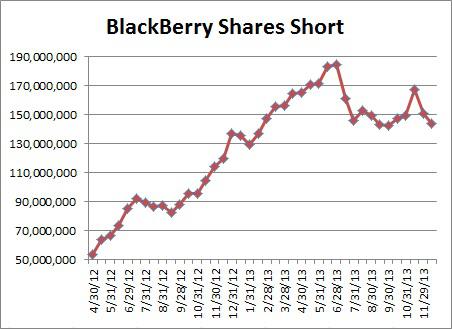 At the mid December update, BlackBerry short interest was a little under 144 million shares. That's about 40 million shares below the peak from earlier this year. A number of short sellers have covered, but still about 30% of the float is short. BlackBerry bulls have been hoping for a massive short squeeze, but that generally happens when a company announces good news. We haven't seen too much of that lately. It will be interesting to see the end of December numbers in about ten days. That will be the first short interest report after the Q3 earnings report and Foxconn deal.
Final thoughts:
After terrible third quarter results, analysts have been scrambling to reduce their estimates for BlackBerry. The struggling device maker has seen its fiscal 2015 revenue estimate cut by nearly 60% in the past couple of months. The company believes that a turnaround is coming and that profitability will be here in two years, but I'm not sure I buy the punch line this time around either. It didn't work last time, and BlackBerry 10 was not the savior it was supposed to be. BlackBerry remains an excellent short candidate, and most analysts agree with the average price target nearly 10% below where shares closed last.
Disclosure: I have no positions in any stocks mentioned, and no plans to initiate any positions within the next 72 hours. I wrote this article myself, and it expresses my own opinions. I am not receiving compensation for it (other than from Seeking Alpha). I have no business relationship with any company whose stock is mentioned in this article.
Additional disclosure: Investors are always reminded that before making any investment, you should do your own proper due diligence on any name directly or indirectly mentioned in this article. Investors should also consider seeking advice from a broker or financial adviser before making any investment decisions. Any material in this article should be considered general information, and not relied on as a formal investment recommendation.