Chimera Investment Corporation (NYSE:CIM) is a company that many investors have been talking about as of late. The company has recently restated earnings as far back as 2007 and has also been delayed in filing the most recent SEC required documents. Investors have become concerned and Wall Street seems to have looked past this name as some uncertainty seems to exist. We are here to examine the facts behind Chimera Investment Corporation and believe that a long-term opportunity exists in this name going forward. Great buying opportunities tend to present themselves when most are negative, and we believe that this is one of those opportunities. Investors looking for a solid dividend and long-term upside need to take a second look at Chimera Investment Corporation.
Our goal is to present a comprehensive review of Chimera Investment Corporation, what the company is all about, and why a strong buying opportunity exists in shares today. The company is currently working hard to move past the restatement of earnings (which did not have a significant impact on the company) and delayed SEC Filings. Chimera has a market cap of $3.03 Billion and reports the company's next quarter on January 27, 2014. With this in mind, we value CIM at $3.05 by year-end of 2013 and $3.50 by August 1, 2014, an increase of 18.65% from current levels. We believe that once CIM provides more clarity into operations, submits all required filings, and with the highly skilled management at CIM, that this company will strongly outperform in the future. We will later highlight:
Chimera Investment Corporation at a Glance
Chimera Investment Corporation is a specialty finance company that invests in mortgage-backed securities, residential and commercial mortgage loans, real-estate related securities, and other types of assets. It is focused on providing risk-adjusted returns to investors over the long term through dividends and capital appreciation through a business model that evolves with market opportunities. The company operates as a REIT for federal income tax purposes. It is also important to know that Fixed Income Discount Advisory Company (FIDAC), a subsidiary of Annaly Capital Management, Inc (NYSE:NLY), manages it. Chimera's portfolio is being positioned in the same manner as Annaly, with lower durations and less sensitivity to interest rates.
Chimera Investment invests primarily in non-agency residential mortgages that are not insured against loss by US Government agencies like Fannie Mae or Freddie Mac. Now, because it is uninsured, returns are driven by credit risk rather than interest rate risk. The company's non-Agency portfolio carries minimal leverage and is the primary driver of investment returns. CIM has sold off since Mid-May along with other mortgage REITS relating to interest rate fears and bond market disruptions, but has stabilized in the $2.95-$3.00 range and looks like a great investment for the long term with a strong dividend. The economics of its underlying collateral continue to improve and the risk/reward profile has substantially improved at the current price and based on the performance of the collateral underlying the mortgage portfolio.

Investment Strategy
What makes Chimera Investment Corporation different from its peers? Firstly, it has an interesting, diverse portfolio of mortgages and mortgage backed securities that sets them apart from competitors. We will later highlight the geographic diversification and quality of these loans and securities. The underwriting involved in this space requires a certain amount of skill and expertise when it comes to evaluating risk and Chimera is the best in the business and we believe that these results will show in the near future. The company's high quality of underwriting and unique depth of market intelligence makes them an interesting play in the REIT business with a great deal of upside. The intelligence and strong management team is crucial to the business of underwriting large, complex risks. These are the capabilities that have become CIM hallmarks. It utilizes the company's resources to the max including risk management strategies, proprietary real estate models, and expertise in collecting and analyzing facts and data.
Chimera Investment has focused its investment activities on acquiring Non-Agency and Agency RMBS. The difference between the two is that Agency RMBS is the purchase of mortgage-backed securities issued by government-sponsored enterprises such as Ginnie Mae, Fannie Mae or Freddie Mac and Non-Agency RMBS are not backed by government entities. The company investment portfolio is weighted toward Consolidated RMBS and Non-Agency Loans (58%), Agency RMBS (29%), Non-Agency RMBS (7%), Non-Agency Senior Debt (4%), and Cash (2%). Approximately 65% of the total investment portfolio was Non-Agency RMBS, 29% of the investment portfolio was Agency RMBS, and 3.5% of the investment portfolio was securitized residential mortgage loans. Chimera primarily investing in Non-Agency RMBS also makes them less exposed to interest rate risk, which benefits the company in multiple environments. The total value of the CIM portfolio is $7.1 Billion and the company has slowly become more risk averse as the concentration in Non-Agency RMBS has decreased over the last three years.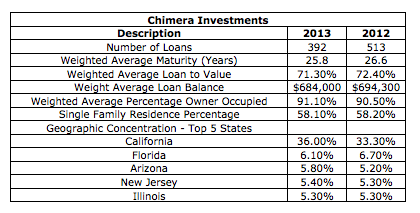 Understanding the Bulk of Chimera Investments Portfolio - Non-Agency RMBS
Chimera has invested in RMBS which are typically pass-through certificates created by the securitization of a pool of mortgage loans that are collateralized by residential real estate properties. The securitization process is governed by Fitch Ratings, Moody's Investors Service, and Standard & Poor's. Bonds that are rated from AAA to BBB by the rating agencies are considered "investment grade and bond classes that fall below BBB are considered "non-investment grade." The risk of nonpayment for the investment grade RMBS is lower than the risk of nonpayment for the non-investment grade bonds. This also means that investment grade typically sold at a lower yield compared to the non-investment grade classes, which are sold at higher yields.
Chimera has also invested in and may in the future invest in residential mortgage loans (mortgage loans secured by residential real property) primarily through direct purchases from selected mortgage originators.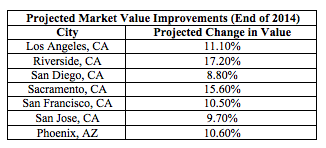 Loan to Value Ratio - A Key Metric When Assessing the Risk of a REIT
A lending risk assessment ratio that financial institutions and other lenders examine before approving a mortgage or the risk associated with real estate transaction. Typically, assessments with high LTV ratios are generally seen as higher risk and, therefore, if the mortgage is accepted, the loan will generally cost the borrower more to borrow. Chimera Investment Corporation has steadily lowered the Loan to Value Ratio to 71.4% in 2013 and is expected to see a continued decrease through 2015 to 70.10%. This makes the companies investments far less risky as what has been seen traditionally.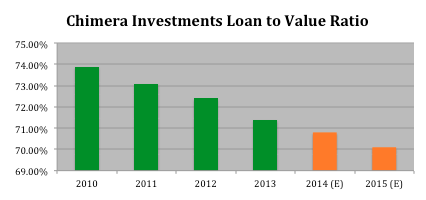 Positive Trends for the Future - Factors that Make REITs Attractive in Non-Favorable Environments
When evaluating a REIT like Chimera Investment Corporation, it is important to evaluate the current trends of the business. Moving into the end of 2013, CIM is seeing many positive trends for the underlying assets of the business portfolio. Some of these trends moving into 2014 include:
Strong prospects for rent increases (2%-5% depending on geographic location)
Consistently improving occupancy rates (improvement from 82.5% in 2010 to 84% in 2013)
Potential to upgrade properties - popular and successful tactic by many players in the REIT has been to acquire "low-end" properties and upgrade them to attract a higher quality tenant - better tenants have lead to higher occupancy rates (fewer evictions) and higher rents (average credit score increases across all locations) - in the end, this leads to higher quality properties for increased ROI in the future - although CIM is not directly in the property management business, the properties being upgraded will impact the firms quality of investments in the future
External growth prospects - growth through acquisition - CIM must distribute most of its profits and therefore does not have a lot of excess capital to deploy - CIM has managed to successfully improve portfolios by selling underperforming properties to finance the acquisition of undervalued properties
The charts below also show the improving business trends in all geographical areas where Chimera holds properties and is continuing to invest.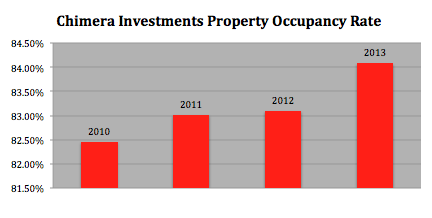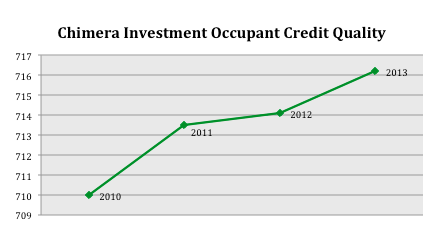 Other Factors and Trends for Chimera Investment Corporation
Prepayment Speeds - Prepayment speeds vary according to interest rates, the type of investment, conditions in financial markets, and other factors, none of which can be predicted with any certainty. In general, when interest rates rise, it is relatively less attractive for borrowers to refinance the mortgage loans, and as a result, prepayment speeds tend to decrease. When interest rates fall, prepayment speeds tend to increase. Now applying this to the CIM portfolio. For mortgage loan and RMBS investments purchased at a premium (higher quality investments), decreases in prepayment speeds result in increased income and can extend the period over which the company will amortize the purchase premium. Chimera has seen slower pre-payments on these higher quality investments, helping the company generate higher revenues on these assets.
For mortgage loan and RMBS investments purchased at a discount, as prepayment speeds increase, the amount of income we earn increases from the acceleration of the accretion of the discount into interest income. Conversely, decreases in prepayment speeds result in decreased income as the accretion of the purchase discount into interest income occurs over a longer period. Recently, the correlation between interest rates and prepayment has started to normalize and as economic improvements continue and credit conditions are less restrictive, pre-payments on these discounted assets have begun in increase into the end of the year.
Interest Rate Environments (Looking at Both Sides) - As interest rates rise, prepayment speeds generally decrease. Rising interest rates, however, will increase financing costs for Chimera which may have a negative impact interest income earned from the portfolio of investments. The use of the company's leverage will allow Chimera to continue to increase revenue going forward and the company already boasts industry leading gross profit margins. If CIM acquires Agency and Non-Agency RMBS using monthly adjustable-rate mortgages, or ARMs, interest rate increases could result in decreases in investment income, as the increase in adjustable rate assets may increase slower than adjustable rate financing, so an important consideration for Chimera to make is whether or not to engage in fixed or adjustable rate financing. We expect that the company's fixed-rate assets have the potential to generate significantly more revenue in the future in a rising interest rate environment and the ability to use the company's leverage will allow Chimera to take advantage of significant investment opportunities, even if tighter margins may exist.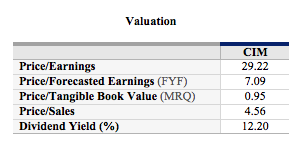 In the case for Chimera Investment Corporation, considering the future prospects and improved pricing surrounding the company's real estate products, it appears to be undervalued compared to its peers. The company will see increased income from properties and mortgage backed securities as pricing continues to improve in the lower interest rate environments around the world. The recent pullback should be used as a buying opportunity as CIM continues to diversify its business and expand investments. Investor's should focus on the firms low Price/Forecasted Earnings ratio (7.09) compared to the industry trading at twice this metric. The company continues to use leverage to its advantage and investing in high quality properties. When it comes to valuation, CIM appears to be a Strong Buy at this point in time. The company also boasts a strong dividend yield at 12.20%.

Sales Growth is another key metric to look at in the REIT space. This is an area that has slowed for many companies involved in this sector as many competitors needed to re-vamp investment products. CIM has continued to lead the pack, even as margins have tightened a little but, the company is still able to create favorable and profitable spreads for the securities developed. With sales growth of 22.38%, Chimera has proven that high quality investments can be successful even in a tough environment. This sales growth does not appear to be slowing down based on the company outlook and sales thus far in 2013 and forecasts for 2014 show improving residential and commercial real estate prices in Chimera's major markets.

Chimera boasts solid margins across the board with Gross Profit Margins at 88.74% and Operating Profit Margins at 15.58%, which outpaces other best of breed companies in the REIT sector. This industry has been challenged by the high costs of developing products and tightening margins, but CIM has been very successful in terms of cutting costs and structuring securities and properties in a manner that will make them profitable.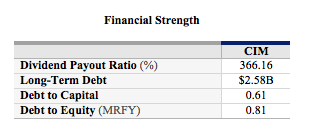 Chimera Investment Corporation is in a strong position from a financial standpoint as it currently has very low Debt/Capital ratio at 0.61. Although the company has cut the dividend over the past few years, we expect cash flows to significantly improve, making this a safe dividend play. These improved cash flows going forward should support the company's dividend and ease nervousness of any investors seeing this ratio as risky. The cuts in the dividend in recent history have caused the stock to be looked on poorly by investors, but we believe the selling has been overdone. As property values continue to increase, investors can look for Chimera to become fundamentally stronger overall, especially with regards to the company dividend.

Obviously when looking at these measures, CIM is succeeding on all fronts when compared to the industry. When specifically focusing on the ROA of 1.13%, the company is performing well when it comes to the operating efficiency based on the firm's generated profits from total assets, but this is also an area where management has focused on improving. The ROE of 3.13% shows the solid performance in terms of the shareholders rate of return on investment in the company. CIM has outperformed its peers in a tough environment, but there is still a great deal of improvement expected to come over the course of the next two years.
The Dividend Play
To maintain qualification as a REIT, CIM must distribute 90% of taxable income to shareholders. The company has declared and paid regular quarterly dividends in the past and intend to do so in the future. The Board of Directors determined that there would be a regular quarterly dividend of $0.09 per share for each quarter of 2013. The Board of Directors will then review this program after the conclusion of 2013. Chimera offers a 12% annualized dividend yield. Investors in this name have less exposure to long-term fluctuations in the dividend payout and stock price. The company mostly recently paid a $0.09 dividend on October 31, 2013. This dividend payment was one that many investors thought was up in the air. We do not see Chimera cutting the dividend in the future as business prospects continue to improve.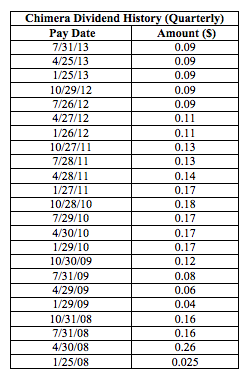 Details of the Chimera Restatement
Chimera Investment Corporation has failed to report results since the third quarter of 2011, citing errors in its accounting for earnings from bonds purchased at discounts. The company discussed that revisions to its net income under generally accepted accounting principles will lower that number by $695 million during the affected years (back to 2008), with interest income falling by $411 million.
"The company's previously reported GAAP or economic book values, actual cash flows, dividends and taxable income for any previous period will not change." - Matthew Lamblase, Chimera CEO
Chimera will continue to pay a dividend of 9 cents in the third and fourth quarters of 2013, after lowering the dividend from 11 cents in 2012.
Big Money Betting on Chimera Investment Corporation
There is increasing bullishness surrounding Chimera Investment. Investors should note that the same management was used to run Crexus Investment, which was bought out by Annaly not too long ago, so there is potential for a takeover here as well.
Billionaire Leon Cooperman loves Chimera and believes the company is set to outperform for the rest of this year. His fund disclosed ownership of nearly 49 million shares of the company in March, an increase in his holding in Chimera Investment by 121.5%. Other big names Dan Loeb and David Tepper are among Chimera shareholders. Dan Loeb added a new holding of 15 Million shares in March and David Tepper holds roughly 4.6 Million shares.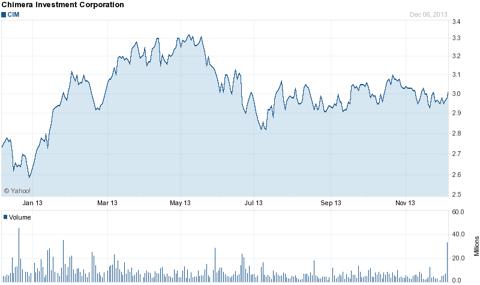 What Investors Need To Know
As the company moves forward after restating earnings and filings SEC documents on time, the next earnings release will give investors insight into how the firm is position its product portfolio and investment portfolio for 2014 and beyond. Expect this company to outperform in the REIT Industry as it has one of the best business models and management teams. The 2013 fiscal year proved that the company has adapted to a new environment and can weather the tougher markets in this space, while positioning the company for strong future growth. This is a firm that has a great opportunity to grow and become recognized over the next year as the environment surrounding the company begins to become more favorable. We believe that investors will see major value late in the year as real estate prices continue to improve in multiple geographic areas. With this in mind, we value CIM at $3.05 by year-end of 2013 and $3.50 by August 1, 2014, an increase of 18.65% from current levels (not including the additional 12.20% earned from dividends).
Disclosure: I have no positions in any stocks mentioned, and no plans to initiate any positions within the next 72 hours. I wrote this article myself, and it expresses my own opinions. I am not receiving compensation for it (other than from Seeking Alpha). I have no business relationship with any company whose stock is mentioned in this article.
Additional disclosure: AlphaStreetResearch is a team of Investment Research Analysts. This article was written by Mr. Hunter Orr, Director of Research, with research assistance from Mr. Aaron Zander, Junior Research Analyst.