As income investors navigate the waters of 2014, sector diversification is essential to balance risk and reward. Utilities offer lower growth for example, however, they operate in a government-sanctioned, monopolistic array of industries that offer relatively safe, stable and slow-growing dividends.
In balancing out the slower growth, income investors may ask "what about growth in the fast lane?" In classifying the S&P 500 into ten sectors, three sectors are projected to beat the index average for 5-year earnings growth rates. By investing for income in these areas, investors may be aligned to add growth into their portfolios at a faster clip than in slower-growth sectors of the economy.
According to the S&P Senior Index Analyst Howard Silverblatt, as of December 12, 2013, the consumer discretionary, information technology and energy sectors are the only three sectors that are projected to pounce the S&P 500 growth rate over the next five years.
S&P 500
S&P 500 5YR
S&P 500
2014 EST
PROJ ANNUAL
PEG
OPER P/E
GROWTH %
Consumer Discretionary
17.20
17.19
1.00
Information Technology
13.71
13.27
1.03
Energy
12.29
12.16
1.01
Index
14.52
11.85
1.23
Industrials
15.48
11.47
1.35
Materials
14.98
11.41
1.31
Health Care
16.02
11.32
1.41
Financials
12.84
10.12
1.27
Consumer Staples
16.65
9.52
1.75
Telecommunication Services
13.75
8.12
1.69
Utilities
14.28
4.07
3.51
Investors must note that this is for index components only and not for entire sectors of the economy. For example, mid-cap and small-cap growth rates hold variable growth rate projections. For mid-cap stocks, telecommunication services and industrials are added to the list.
MIDCAP
MIDCAP 5YR
MIDCAP
2014 EST
PROJ ANNUAL
PEG
OPER P/E
GROWTH %
Telecommunication Services
126.12
19.40
6.50
Consumer Discretionary
18.99
17.84
1.06
Energy
16.79
17.55
0.96
Industrials
15.51
14.60
1.06
Information Technology
17.26
14.42
1.20
Index
17.34
13.04
1.33
Health Care
17.17
12.77
1.34
Consumer Staples
17.59
11.70
1.50
Materials
14.47
10.45
1.38
Financials
19.24
9.26
2.08
Utilities
16.59
6.17
2.69
For the smaller-cap stocks, healthcare took the lead and is projected to compliment the three S&P 500 Index-beating sectors.
SMALLCAP
SMALLCAP 5YR
SMALLCAP
2014 EST
PROJ ANNUAL
PEG
OPER P/E
GROWTH %
Health Care
20.24
20.29
1.00
Energy
15.86
19.88
0.80
Consumer Discretionary
17.73
18.37
0.97
Information Technology
17.86
16.72
1.07
Index
17.83
15.09
1.18
Industrials
17.68
14.97
1.18
Materials
16.98
14.19
1.20
Consumer Staples
18.94
12.82
1.48
Financials
17.34
10.36
1.67
Telecommunication Services
26.51
8.12
3.27
Utilities
16.37
4.72
3.47
Investing For Income In The Fast Lane
Income investors typically manage lower-risk portfolios that are designed to provide distributions while protecting against inflation with capital growth. To maintain growth at a lower risk, large-caps and diversified funds are usually recommended as great starting points.
To recap the current 5-year projected growth rates of the S&P 500, there are three sectors that look to beat the index. By looking for income in these sectors inside the S&P 500, investors may find options where celebrated growth compliments beloved dividends.
S&P 500
S&P 500 5YR
S&P 500
2014 EST
PROJ ANNUAL
PEG
OPER P/E
GROWTH %
Consumer Discretionary
17.20
17.19
1.00
Information Technology
13.71
13.27
1.03
Energy
12.29
12.16
1.01
Index
14.52
11.85
1.23
If the investment sector highway was ten lanes, with one sector per lane, consumer discretionary would be in the fast lane at 17.19% projected growth over the next five years.
Hot Sector: Consumer Discretionary
5-Year Growth Projection: 17.19%
Growth Rate Premium Vs. S&P 500: 497 Basis Points
S&P 500 Consumer Discretionary Index Components: 83
When looking at consumer discretionary stocks, investors must be cautioned as financial resources may combine both consumer discretionary and consumer goods into a "consumer goods" category. The difference between discretionary and staples are very simple. Staple items like flour and bananas come first, while discretionary items like jewelry and new exercise gear can be put aside for later during times associated financially challenging circumstances.
The following ten companies comprise the largest weightings in the S&P 500 discretionary index (as of September 30, 2013):
| | |
| --- | --- |
| CONSTITUENT | SYMBOL |
| Comcast Corp | (NASDAQ:CMCSA) |
| Amazon.com Inc | (NASDAQ:AMZN) |
| Home Depot Inc | (NYSE:HD) |
| Walt Disney Co | (NYSE:DIS) |
| McDonald's Corp | (NYSE:MCD) |
| Twenty-First Century Fox, Inc | (NASDAQ:FOXA) |
| Ford Motor Co | (NYSE:F) |
| Time Warner Inc | (NYSE:TWX) |
| Starbucks Corp | (NASDAQ:SBUX) |
| NIKE Inc B | (NYSE:NKE) |
When looking for yield here, investors may choose an all-inclusive fund or individual stocks. The Consumer Discretionary Select SPDR Fund (NYSEARCA:XLY) follows the S&P 500 consumer discretionary index and charges 0.18% in management expenses.
For investors looking for exposure to this high-growth sector with larger, more stable names may find XLY to be the best bang for the buck. As we know now indexes are tough to beat and at 0.18%, the XLY expense ratio is very appealing. In 2013, XLY returned 40.87% to investors, excluding dividends.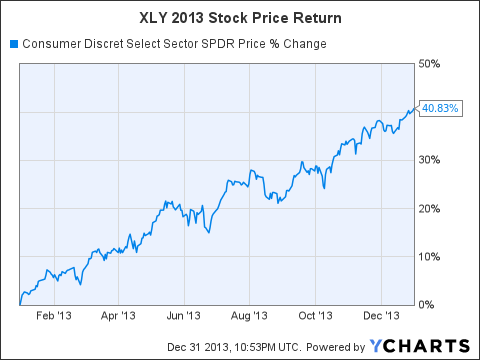 The only downside to the XLY is the current yield is only 1.16%, based on 2013 distributions and the December 31, 2013 closing price. Investors looking to increase this yield may compromise growth in the same process, as index components offering significantly higher yields may not grow at pace with the index itself. As such, higher dividend-paying stocks likely suffer from a slower growth rate.
Those looking for higher-dividend, lower-risk plays in this hot sector may consider the following two companies that yield at least twice as much as the index and have increased their dividends consistently for over 30 years.
Hot Sector Company #1: McDonald's Corporation
Yield: 3.34%
5-Year Growth Rate Estimates: 8.1%
McDonald's Corporation is the world's largest restaurant company valued at $96.5 billion with over 34k locations globally. MCD as of 2012 had a revenue break down as follows:
32% U.S.
39% Europe
23% Asia-Pacific
6% Other (Canada, Latin America, other income)
With a diversified global presence, MCD holds quite the brand presence and is seen by many as a lower-risk bet on both global population growth increasing consumer incomes.
The primary risks to MCD at this time include slower economic growth in the U.S., Europe or Asia as well as shifting consumer trends towards healthier, "slow-food" options. In light of this, MCD performs in any economy due to the low-cost structure. Also, as the largest restaurant group in the world, investors can be confident that MCD can keep up with the research and amend menus accordingly to preserve future business according to changing taste preferences.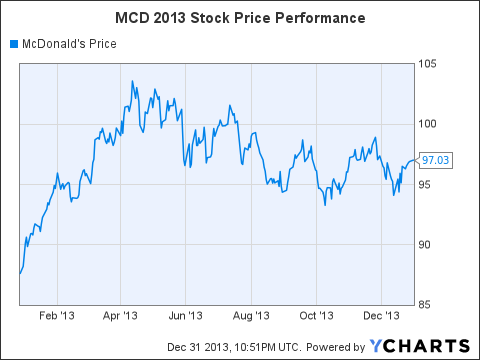 Hot Sector Company #2: Target Corp. (NYSE:TGT)
Yield: 2.72%
5-Year Projected Growth Rate: 11.2%
Target is a $40 billion retailer that operates 1,538 Target stores, 251 Super-Target stores and eight CityTarget stores in the U.S. Unlike McDonald's, Target is very limited in international reach and experience. As of November 2013, Target has expanded to Canada with 91 stores with very limited success.
As TGT focuses on middle to upper-income customers, it is labeled a discretionary play versus Wal-Mart Stores, Inc. (NYSE:WMT), which is a consumer staples index component.
With an excellent store-brand track record as well as viral-fashion campaigns that include bringing in huge designer names for special, limited-edition lower-cost TGT lines, the store has increased brand value and same store sales.
Risks to TGT include the recent data breach which affected 40 million debit and credit card accounts, as well as struggling international growth in Canada. For the data breach, many would consider this a one-time charge but the impact on earnings in 2014 are uncertain.
Regarding international growth, the Canada unit impacted 2013 earnings with a loss above analysts expectations. Investors fear a turnaround in Canada may take longer than expected and as such, shares have been negatively impacted.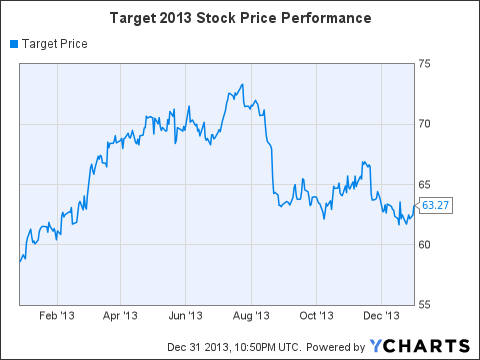 Comparing McDonald's & Target To XLY
In each comparison, the mean is given to establish the characteristics of an equal-weight MCD, TGT and XLY portfolio. In 2013, the index clearly outperformed MCD and TGT. For the income investor however, each return here is acceptable.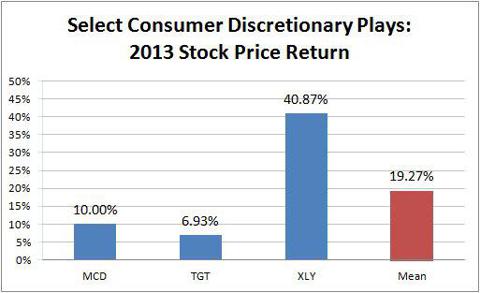 Click to enlarge
Regarding total return, the XLY outperformed MCD and TGT by a landslide. While MCD and TGT underperformed XLY and the S&P 500, income investors should be pleased with any of these plays in 2013.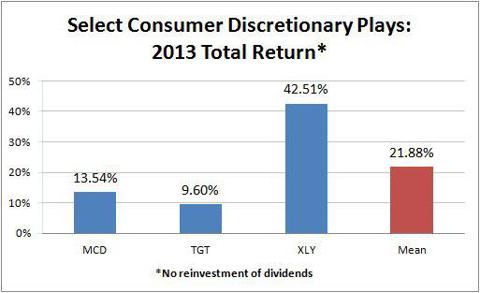 Click to enlarge
Moving forward, the XLY is expected to grow much faster than TGT and MCD. On average, the portfolio is expected to grow at 11.93% over the next five years, which is just slightly above the S&P 500 estimate.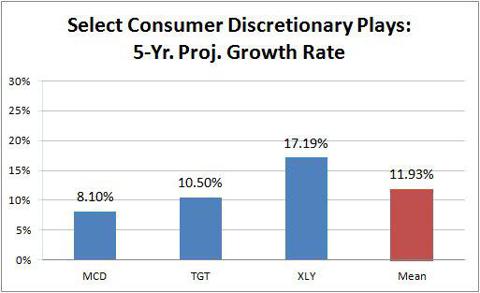 Click to enlarge
Historically both Target and McDonald's have a history of increasing dividends. According to David Fish, author of the U.S. Dividend Champions list, McDonald's has raised its dividend for 38 straight years while Target has done the same for 46 years.
Over the past five years, this group has increased dividends at a average 15% compound annual growth rate. The CAGR used below is based on the most recent quarterly payout for MCD and TGT and the annual payout of XLY (due to uneven quarterly distributions).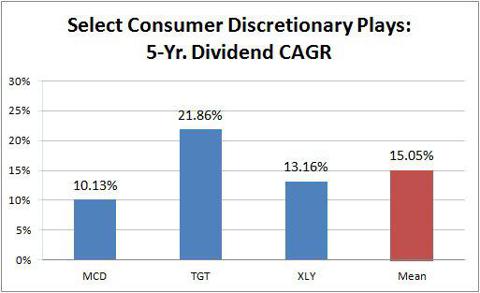 Click to enlarge
Conclusion
While the S&P 500 index is expected to grow at 11.58% over the next five years, the consumer discretionary index component of the S&P 500 is poised to grow faster at 17.19% over the same time period. Income investors who are looking to take advantage of this may purchase XLY, the SPDR consumer discretionary ETF that tracks the 83 companies composing the index.
As yield on the S&P 500 consumer discretionary index is unappealing at only 1.16%, long investors were well-compensated in total return in 2013. Investors looking to track this sector may diversify with dividend achievers such as McDonald's and Target Corp., which offer slower growth rates and higher-yields.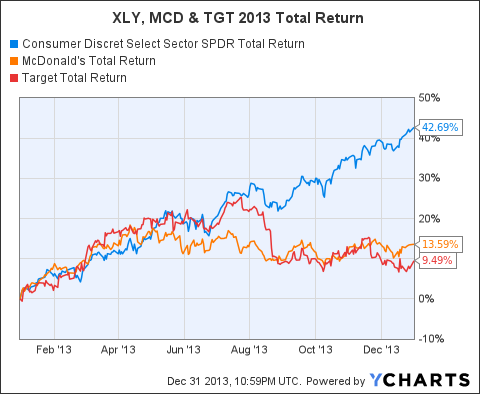 Packaging these three securities together would provide great exposure to the large-cap U.S. consumer discretionary sector while hedging the downside with stable, slower-growth corporations. Also, companies like MCD and TGT offer stable, growing yields which will heighten the income investor's portfolio yield (within this consumer discretionary sector) in this risk-adjusted play.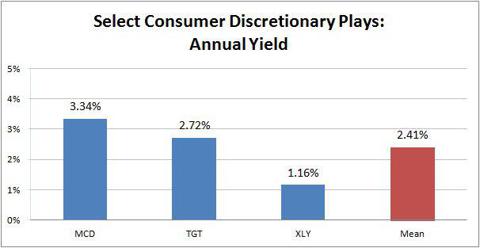 Click to enlarge
Annual yield is calculated by the forward 2014 dividends for MCD and TGT. The yield of XLY is from 2013 and does not include 2014 projections. As such, XLY may likely distribute a higher yield in 2014 if economic growth continues as projected.
Disclosure: I have no positions in any stocks mentioned, and no plans to initiate any positions within the next 72 hours. I wrote this article myself, and it expresses my own opinions. I am not receiving compensation for it (other than from Seeking Alpha). I have no business relationship with any company whose stock is mentioned in this article.