2013 was a year for the record books and not a great year for short sellers. Just about everything went up except gold and material stocks. The Standard & Poor's index had a terrific year, up close to 30 percent. We will soon have data from professional fund managers. My bet is that most had a tough time beating the index.
I follow a number of stocks and write about them on SA, both long and short. This article recaps 2013 for those stocks and presents an outlook for 2014. Of the eight short calls I made during the year, only two posted declines and in summary these stocks (excluding Twitter which has not moved since I called it as a short) were up 12.5%.
Anyone short this package of stocks lost some money. I did.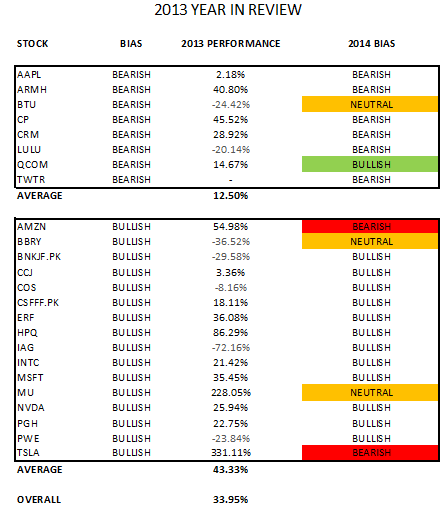 On the other side of the market, I made 16 long calls which on average were up 43%. Five were down for the year as a whole, most notably BlackBerry (NASDAQ:BBRY) where I took a bath. Bankers Petroleum (OTCPK:BNKJF), Canadian Oil Sands (OTCQX:COSWF), IAMGOLD (NYSE:IAG) and Pennwest (NYSE:PWE) were also down, but of those my bullish calls were long after their fall from grace excepting Pennwest where I have been under water all year.
Averaging out the whole package, an evenly balanced portfolio would have earned almost 34% which was really not that much better than simply buying the index. Like I said, beating the index was a tough game in 2013.
Looking into 2014, I have shifted my feet a bit. I am now bullish on Qualcomm (NASDAQ:QCOM) which has the wind at its back with its imminent entry into 64-bit processors for Android devices and its compelling solutions in the fast growing LTE segment. I have become bearish on Amazon (NASDAQ:AMZN) simply because its valuation is so stretched. It is a great company and while I am bearish I am not so bold as to short the stock. I have turned from a bull on Micron to neutral. I can thank SA author Russ Fischer for making a compelling case for Micron in 2013, but the stock has grown into its tailwinds and in my view is now fairly valued given the risks in the commodity end of the semiconductor market. And, reluctantly given my high admiration for Elon Musk, I have become a Tesla bear. Tesla has provoked the major players in the automobile industry to take electric cars seriously and the range of competition is now broad and deep. The car industry has killed many companies in its history and while I don't think Tesla is in any mortal danger, I think it might find the road to a higher stock price filled with potholes and subject to the odd detour. It is too rich for my blood.
For the bulls in the crowd, I think Microsoft (NASDAQ:MSFT) and Intel (NASDAQ:INTC) will have their day in the sun in 2014, while in my view Apple (NASDAQ:AAPL) faces some headwinds. Gold stocks like IAMGOLD are pretty beaten up and are worth a bet for a small holding in many portfolios. Oils like Bankers Petroleum , Enerplus Resources (NYSE:ERF), Pengrowth (NYSE:PGH) and Pennwest are good value in my view.
One thing is clear from this review. Diversification is insurance. Those who concentrated their investments in only one or two stocks could readily have been hurt. The stock market is no place for an evangelical commitment to one idea or one stock. Reading comments from SA readers on the various articles posted, I frequently see a great deal of emotion and in some case over enthusiasm suggesting the commentator is highly exposed to a single security. I shudder at the thought.
Good luck in 2014.
Disclosure: I am long MSFT, INTC, IAG, PWE, PGH, COSWF, ERF, CCJ, BBRY, BNKJF, . I wrote this article myself, and it expresses my own opinions. I am not receiving compensation for it (other than from Seeking Alpha). I have no business relationship with any company whose stock is mentioned in this article.
Additional disclosure: I am short CRM, AAPL, CP,