BlackBerry (NASDAQ:BBRY) has been forced to undergo a second round of restructuring after failing to find a buyer. The company made a painful round of changes in 2011-2012, after Apple (NASDAQ:AAPL) and Android players captured the lion's share of the fast growing smartphone market. BBRY tried to fight back by launching a touch screen smartphone and a tablet. However, these efforts came a cropper, leading to the exit of its founder CEOs. The company made a drastic overhaul of its technology platform launching a totally new smartphone OS and two new flagship models. The stock increased to high double digits as investors saw a lot of promise in the new software. However, BB 10 has proven to be a failure with billions of dollars in inventory charges being booked for unsold smartphones.
Despite its decent liquidity position, BBRY faces a tremendous amount of pressure from the billion dollar losses that it had made in the last couple of quarters. The company has brought in another new CEO, John Chen, to make a radical overhaul of the company's strategy. The Foxconn partnership is one of the major initiatives of this new strategy. BBRY hopes that the large smartphone hardware losses will be curtailed, as Foxconn takes on the risks of inventory and supply chain management. However, I do not still understand how this strategy will work given that BB 10 has become a niche OS, and Foxconn may not have the capability to turn around the declining trend of BBRY's smartphone sales. While the stock is cheap, I remain on the sidelines until the management lays out a credible turnaround strategy.
What is Blackberry's Foxconn Strategy?
Blackberry has signed a 5 year strategic partnership with Foxconn (OTC:OTC:FXCOF) to jointly develop and manufacture new BlackBerry devices and manage inventory. The JV will also launch smartphones for Indonesia and other emerging markets. As I have written before, it was impossible for BBRY to sustain the large costs of a global marketing and distribution organization given its current revenue run rate. Even Nokia (NYSE:NOK) was losing money, though it sold more than 70 million devices per quarter. With less than 2% of the global market, BBRY has little probability of surviving in a "business as usual" manner. Blackberry has shelved the introduction of two new cheap BB 10 smartphones after the JV was announced. BBRY has only launched high end BB 10 models (Z10, Q10, Q5 and Z30), leaving emerging market customers in the cold.
The new partnership will be launching smartphones for emerging markets. Foxconn is one of the largest manufacturers of electronics in the world, with over 1 million employees. The company produces smartphones for major manufacturers such as Apple. BlackBerry hopes to stem the massive losses from its smartphone hardware division through this JV. The company will be able to focus on its core strength of design, enterprise security, software and services while leaving the production and supply chain management to Foxconn. BBRY was also becoming uncompetitive, as its small volumes made it unattractive for component suppliers. Foxconn on the other hand, can leverage its massive scale to keep component costs competitive.
What is in it for Foxconn?
Hon Hai (the parent company of Foxconn) is the world's largest EMS supplier due to its relationship with top technology companies such as Apple, Nokia , Sony (NYSE:SNE) etc. Though the company has seen strong topline growth in the past few years, the company's margins have been quite abysmal. Apple has managed to squeeze Foxconn like its other suppliers. The Cupertino company has kept the lion's share of profits leaving only morsels for its supply chain partners. Hon Hai has been looking to alternative high margin businesses to improve its profitability. The company was in talks to buy a large stake in Japanese electronics giant Sharp. However, the deal fell through due to control and valuation issues. Hon Hai wants to move into higher value added activities in order to grow. While the company is good at manufacturing and production, it needs to invest more in branding and marketing. BlackBerry suits its purpose as it will get ready access to one of the well known smartphone brands.
Why the partnership does not make sense to me?
How will cheap Foxconn smartphones target BBRY's enterprise users - Blackberry wants to convert itself into an enterprise technology company with focus on mobile device management [MDM] and secure messaging [BBM]. QNX is another division that the company wants to grow in the M2M area. The smartphone devices division will be spearheaded by the Foxconn JV. The Foxconn partnership will launch smartphones for the Indonesian and other emerging markets. We can safely assume that this smartphone will be targeted towards the lower to middle segments of the smartphone market. Enterprise users are mostly premium segment customers. So the Foxconn phones will not be able to target BBRY's core user segment.
Who will manage the inventory of older Blackberry devices - The Foxconn partnership press release says that, "Under this new relationship, Foxconn will jointly develop and manufacture certain new BlackBerry devices and manage the inventory". This statement implies that BlackBerry will still have to manage the existing BB 10 devices. BBRY will have to manage the supply chain and distribution till the existing models are phased out.
Can Foxconn make BB 10 a success - It seems highly doubtful to me that BlackBerry will manage to increase its unit volumes substantially to offset the large marketing and development costs of maintaining and upgrading a mobile OS. While Foxconn is good at production and manufacturing, the company does not have much experience or expertise in marketing. It seems doubtful whether Foxconn can differentiate itself from the scores of Android vendors which sell pretty good smartphones at very cheap prices. Blackberry's brand or software has not been able to compete with iOS or Android. I am not sure if adding Foxconn to the mix will help.
Stock Price and Valuation
BlackBerry's stock price jumped almost 25% to ~$7.8, after the company announced its Foxconn partnership. I think a major factor in driving the stock price up was the large short interest. Also investors would have been happy to see management make progress in chalking out a survival strategy for BlackBerry after its failure to find a buyer. The stock has again retraced half of its gains.
BBRY's valuation is not looking as cheap as it was 6 months ago, as the company has made large losses in the interim. BlackBerry has a market valuation of ~$4 billion and trades at a relatively low valuation, with a P/B of 1x and P/S of 0.5x. BBRY will not be profitable till 2016, so valuing it using the P/E ratio does not make sense. The stock is extremely volatile.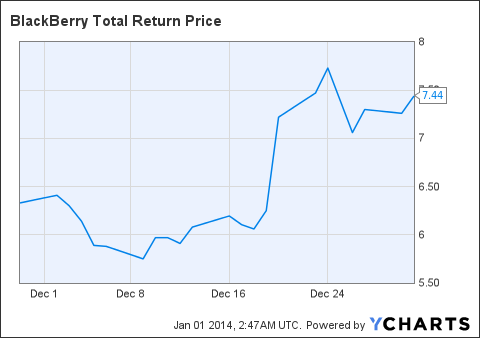 BBRY Total Return Price data by YCharts
Summary
BlackBerry's Foxconn partnership faces many difficulties and challenges as both the companies look to increase BBRY's smartphones sales. The smartphone market is arguably the most competitive technology segment, with well capitalized players fighting fiercely to get a bigger piece of the pie. BBRY has admitted that it will not be profitable till 2016, as its main growth drivers are not generating material revenues and profits. While Foxconn partnership may buy BBRY some breathing space, the company still has not given a clear roadmap on what it wants to do with the smartphone hardware segment. I advise investors to remain on the sidelines till the top management lays out a credible strategy for a turnaround.
Disclosure: I have no positions in any stocks mentioned, and no plans to initiate any positions within the next 72 hours. I wrote this article myself, and it expresses my own opinions. I am not receiving compensation for it (other than from Seeking Alpha). I have no business relationship with any company whose stock is mentioned in this article.