Thank you for all of your support and readership in 2013. I will briefly summarize the 2013 performance of each strategy and portfolio tracked on Scott's Investments. The changes to individual portfolios that are regularly updated on the 1st of the month will be posted separately.
Ivy Portfolio
The Ivy Portfolio, inspired by Mebane Faber, uses 10 month simple moving averages for 10 different ETFs to generate buy and sell signals. The strategy had a low total return for 2013 when compared to a balanced portfolio like the iShares S&P Balanced-Growth Allocation (NYSEARCA:AOR):
(backtests courtesy of ETFReplay.com)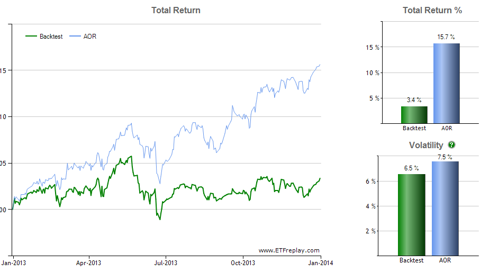 ETFReplay.com Portfolio
The ETFReplay.com portfolio uses a momentum strategy to invest in up to 4 ETFs each month. It is intended to be a low volatility portfolio by requiring ETFs to also be ranked above a cash filter. The portfolio finished up 5% for the year, lagging SPY and AOR: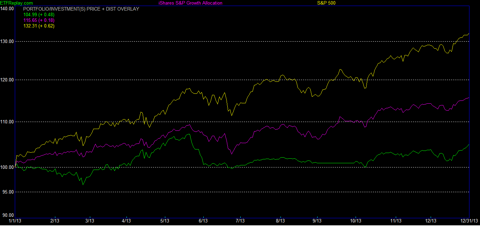 All-Season ETF
The objective of the All-Season portfolio is not to create a one-sized fits all portfolio, but to create a simple, low volatility portfolio with exposure to different asset classes that perform well in different market environments. The spreadsheet also calculates risk-parity and minimum correlation weightings based on trailing volatility and correlation. There are a variety of variations that can be applied to this portfolio (moving averages, momentum, risk-parity weighting, additional holdings within each asset class, etc.). The buy and hold performance for 2013 is below, with a 10 month moving average system using the buy and hold allocated percentages-as opposed to equal weight-in the second graphic: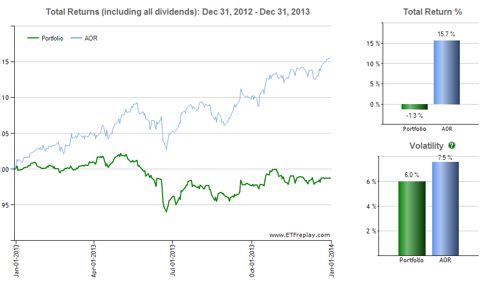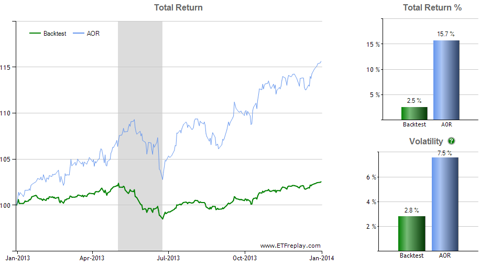 High Yield Dividend Champion
The High Yield Dividend Champion portfolio invests in top rated dividend stocks from the Dividend Champion list compiled by David Fish. Valuation of dividend stocks is a concern headed into 2014, which will be addressed in the next Dividend Champion post. The portfolio returned close to 30% for 2013, in line with benchmarks: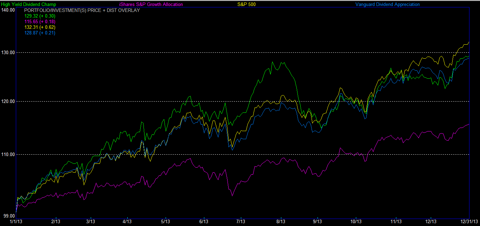 Graham Value Stock
The Graham Value stock portfolio was launched in 2013 and is intended as a lower turnover value stock portfolio. It was created using Portfolio123, which allows users to create and test stock and ETF portfolios. It will be updated again around the 15th of January.
It finished 2013 up 40%, outpacing benchmarks: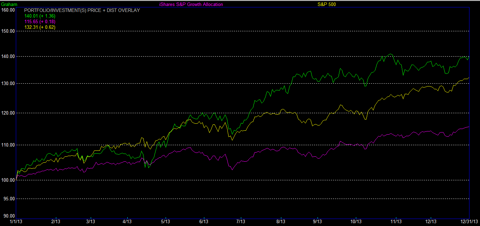 Dual ETF Momentum
The Dual ETF Momentum strategy was launched in 2013 and was inspired by Optimal Momentum. I backtested the strategy using Portfolio123 with a 4 week rebalance for 2013: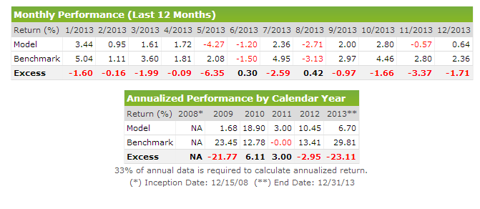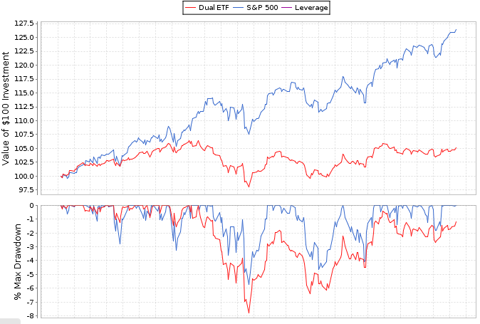 The 5+ year performance of the portfolio (12/15/08 to 12/31/13) is below: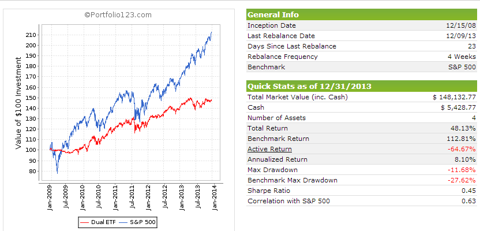 Disclaimer: Stock Loon LLC, Scott's Investments and its author is not a financial adviser. Stock Loon LLC, Scott's Investments and its author does not offer recommendations or personal investment advice to any specific person for any particular purpose. Please consult your own investment adviser and do your own due diligence before making any investment decisions. Please read the full disclaimer at the bottom of www.scottsinvestments.com.