Diversified Industrial companies are on a winning streak, their upward momentum pushing them to generate record levels of revenue and earnings and resulting in capital gains and dividend stability. These returns are strongly supported by the strategies these companies have been working on to cope with the current climate of economic volatility. Their strong, established business models, which can be altered to meet the changing needs of the business environment without having a huge impact on financial performance, enhances the potential of Diversified Industrial companies to generate strong cash flows, allowing them to continue to thrive.
It should be noted that these companies were some of the worst affected by the Great Recession that began in early 2008, when the entire industry posted negative returns of 45% in that year alone. The banking system teetered on the abyss and the financial sector suffered losses that have exceeded $3 trillion, joblessness exceeded 6.1% in the United States and went up even higher across many parts of the globe. Asset prices all around key segments dropped. People lost hope in the idea of the free market and its power to generate wealth and opportunity.
Nevertheless, these companies have taken this downturn as an opportunity to restructure their business models, making portfolio adjustments through innovation, acquisitions, dispositions and investing in their core brands and businesses. They are spending heavily on research and development to enhance their product portfolios, which is resulting in strong organic growth in emerging markets. What's more, these companies are also aggressively working on share repurchase programs in order to strengthen their EPS, dividends and share prices.
Consequently, companies in this industry have performed well by chasing the right strategy, managing to return 34.08% in the last year alone. In this article, I pick the two best players operating in this industry, General Electric (NYSE:GE) and 3M (NYSE:MMM), to see where they stand and what strategies the companies are working on to sustain their current levels of growth. I will also try to figure out whether 3M and General Electric are safe investments, as most of the companies in this industry are trading at premium prices.
Is GE a Safe Investment?
During the time of the Recession of 2007-2008, half of GE's earnings were coming from financial services, which made the company too big and added too much volatility. As a result of the financial and banking sector collapse, GE stock dipped and lost 75% of value in just 15 months. However, instead of folding under these blows, GE instead seized upon this challenging period as an opportunity to renew itself. Wisely, the leadership at GE realized that it must be an industrial company first, and thus, since then, it has increased investment in industrial growth and only looked to grow strategically in financial services. The company began restructuring its business and cut employment and dividends. In order to protect the GE brand and its long-term franchise, it has increased research and development expenses by 7%, and positioned itself to seize new opportunities through investments in fast-growing markets in Australia, Brazil, China and India. Since then, the company has made significant acquisitions and disposed of non-core assets.
At the moment, GE continues to carry out its balanced, disciplined capital allocation plan. At the end of the recent quarter, GE completed its acquisition of Avio Aero and Lufkin Industries, a leading supplier of artificial lift technologies. It also formed a global partnership with XD Electric Group to offer high voltage transmission and provide customers with localized grid automation equipment and services in China. Combined with investment in core businesses, the company is exiting non-core businesses as it has reduced GE Capital Ending Net Investment. GE plans to drop down its financial sales to 30% of the total sales. GE plans to achieve its goal by the year 2015 after the spin-off of its North American retail finance business unit. While this strategy could hinder its financial performance in the short run, nevertheless, it will improve GE's long-term performance, as it will result in a larger concentration of assets in its core businesses.
With this strong plan in place, GE's order backlog grew by 19% around the world, total segment profit increased by 12%, and industrial margins rose by 120 basis points in the recent quarter. GE Capital continues to perform well with a Tier 1 common ratio of 11.3%, up 116 basis points. Looking forward, it is seeking organic growth of 4%-7%. The main drivers behind this growth are leadership in technology, growth in China, India, Brazil and Mexico. Further, it is looking to expand industrial margins to 17% from around 15% in 2013 with cost saving and increasing more services revenues. The Power & Water segment is predicted to get back on the growth track with the rising demand from the developing and emerging markets. The Transportation segment, on the other hand, is projected to show a mild growth with the slower demand from the mining sector. With all these positive changes and reaching record backlog, it has again started to gain momentum and the stock is trading at around $28/share at present, which is still down 25% compared to before the depression. I believe its smart investment strategy is setting it on course to generate big profits in the coming year, and this will definitely help its share price to again reach pre-depression levels.
Is 3M a Safe Investment?
3M is a diversified global manufacturer, technology innovator and marketer of a wide variety of products and services. 3M stock also dipped and lost 50% during the Great Recession; however, having a focus on only core business, the company stood strong in front of economic volatility. The company continued to perform well in terms of financial performance with continued investment in research and development, improving its supply chains and strengthening its brands and customer relationships. 3M manages its operations in five operating business segments: Industrial, Safety and Graphics, Electronics and Energy, Health Care, and Consumer. At the moment, all of the company's business groups are generating positive organic sales growth and operating margins above 20%.
In the past three years, on average, its revenue growth is standing at 9%. At the same time, the company is further strengthening its business through increased investments in innovation, brands, commercialization and manufacturing. Its growth is supported by recent acquisitions, including Ceradyne, which is adding substantial value to its industrial segment. Looking forward, the company plans to invest around $1 to $2 billion on acquisitions that align with its business. 3M also looks to invest 6% of sales on research and development to produce innovative products that will strengthen its product portfolio and capture share in emerging markets, with the objective of reaching between 4% and 6% organic revenue growth and 9% to 11% growth in EPS, as well as 100% free cash flow conversion. The company is also looking to buy back outstanding shares of around $17 billion to $22 billion by the end of 2017, which can strongly impact its EPS, dividends and share price.
With a solid financial performance and a strong plan in place to grow both top and bottom line, 3M is gaining confidence, as can be seen by its recent dividend increase of 35%. Still, at the moment, its payout ratio of around 38% and free cash flow conversation rate of around 90% offer a lot of room to increase dividends. What's more, having achieved such a strong financial performance, its share price grew by 46.8% in the last year alone. This strong growth has taken the company's stock price to a record high of around $140/share, which is far above the fair value estimate of $120/share.
Here, investors have two lucrative options. First, they can capitalize on the gains the company has generated over the past year. Secondly, they can hold the stock, enjoy its increasing dividends and wait for more capital gains, which I believe the company will likely generate, given the attractive growth plans it has put in place, including aggressive buybacks. At present, 3M is trading at around 21 times earnings, 3.1 times sales and 5.2 times book value, all of which are above the industry average. Despite this stellar performance, I do not favor initiating a position in a company while its stock is trading at such increasingly high multiples.
Where Other Players Stand
Looking comparatively at industry peers can reveal key facts about whether investment in 3M and GE is profitable at this point in time when the entire industry is heating up, or whether investors can seek better opportunities in the peers.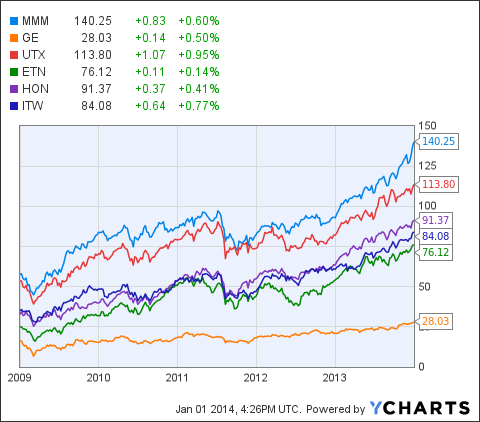 Eaton Corporation (NYSE:ETN), United Technologies (NYSE:UTX), Honeywell International (NYSE:HON) and Illinois Tool Works (NYSE:ITW) all are heating up and have gained significant value in the past year. As a result, all are trading at premium prices at current valuations. All of these companies have really performed well financially this past year, and some have been not just reaching but surpassing their full year projections. They have paid their quarterly dividends and increased them. As the table below demonstrates, 3M is clearly trading at a premium compared with its peers and GM is trading at a discount with the highest dividend yield. United Technologies and Illinois Tool Works also look undervalued among these companies with strong dividends. You can see my latest analysis on United Technologies here and about Illinois Tool Works here.
| | | | | |
| --- | --- | --- | --- | --- |
| | P/S | P/B | P/E | Dividend Yield |
| 3M | 3.1 | 5.2 | 21.0 | 1.9% |
| GE | 1.9 | 2.3 | 19.6 | 2.9% |
| United Technologies | 1.6 | 3.6 | 19.5 | 2.0% |
| Honeywell International | 1.9 | 4.7 | 22.1 | 1.9% |
| Illinois Tool Works | 2.2 | 3.5 | 15.5 | 2.2% |
| Eaton Corporation | 1.6 | 2.2 | 22.0 | 2.2% |
Source: Morningstar.com
In Conclusion
The International Monetary Fund has predicted the globe's economy to grow by only 3.8% in 2014. Nevertheless, diversified industrial companies are overcoming uncertainty and volatility, persisting in the current economic environment by chasing the right strategies and continuing to invest in growth opportunities.
3M is one of the strongest companies operating in this industry. 3M's future prospects are bright, but at the moment, it does not offer an attractive entry point in my opinion. General Electric, on the other hand, is moving slowly towards its strategic goals compared to other diversified companies, which, as a group, have gained sustainable revenue growth over the year. On the flip side, GE is making moves like aggressive acquisitions and dispositions to encourage sustainable growth, which is allowing them to set strong footprints for the company's future growth. At current valuations, GE looks like a good stock to buy and hold due to the big gains the company is set to achieve in coming days.
Disclosure: I have no positions in any stocks mentioned, and no plans to initiate any positions within the next 72 hours. I wrote this article myself, and it expresses my own opinions. I am not receiving compensation for it (other than from Seeking Alpha). I have no business relationship with any company whose stock is mentioned in this article.