Intel (NASDAQ:INTC) has been working to chalk out a strategy to penetrate the mobile processor market over the last 2-3 years. The company has not only been spending billions of dollars in R&D and manufacturing, but has also acquired communication assets to fill in the gaps in its mobile products. The company's previous processor launches (Clovertrail+, Medfield) were not as good as the competition and won few wins from mobile OEMs. However, these processors allowed Intel to gain valuable experience in the mobile processor market. Intel is a fringe player in the mobile processor industry, though it has a monopoly-like position in the PC/server processor market. The mobile market requires expertise in communication as well as integration abilities. Smartphone vendors have more bargaining power as the top mobile vendors Apple (NASDAQ:AAPL) and Samsung (OTC:SSNLF) design/manufacture their own app processors.
Apple won a lot of plaudits with its new A7 processor for its performance and power efficiency. Samsung is not only the world's largest smartphone seller, but also one of the biggest semiconductor foundries. Intel faces a very different market compared to its traditional PC market, where it owns the complete silicon supply chain (architecture, design as well as manufacturing). Intel has found it hard to gain substantial marketshare of the tablet market, even with its new leading edge 22 nm Baytrail chips based on the new Silvermont architecture. Finding it hard to break into the premium segment of the market, Intel is now targeting the lower and medium segments of the market. The company wants to increase its tablet sales by almost 500-600% in 2014 and it is pulling out all stops to get there. I remain positive on Intel, given the company's massive strengths in the server and PC market, growing sales in the mobile market and its low valuation.
Tablet Market Segmentation and Share
The tablet market is dominated by Apple and Samsung with almost 50% of the marketshare. While Apple sells premium tablets, Samsung sells a mix of medium to high end tablets. The PC OEM vendors Asus, Lenovo and Acer sell medium end tablets. The PC OEMs have shown the sharpest increase in growth as they try to offset the decline from PC sales. The "Others" (see table below) comprise some top companies such as Blackberry (NASDAQ:BBRY), Microsoft (NASDAQ:MSFT) along with the Indian and Chinese vendors. The "Others" comprises mostly of low end tablets, which sell for prices as low as $50-100.
Intel cannot target Apple as the company designs its own SoCs using ARM's (NASDAQ:ARMH) architecture. The company's new A7 SoC for the iPad Air has won rave reviews from analysts, besides gaining marketing brownie points for being the first 64 bit ARM processor for mobile devices. Different studies have revealed that Intel's Baytrail processors made on the 22 nm Tri-gate nodes is not outperforming A7, which is being produced through Samsung's 28 nm planar node.
Samsung, which is the second largest tablet vendor, also designs and produces its own processors, though it used an Intel processor with a Galaxy Tab tablet. Samsung is one of the biggest foundries in the world, and Intel will have to show major performance gains in order to convert Samsung to its x86 chips.
Top Five Tablet Vendors, Shipments, and Market Share, Third Quarter 2013 (Shipments in millions)
| | | | | | |
| --- | --- | --- | --- | --- | --- |
| Vendor | 3Q13 Unit Shipments | 3Q13 Market Share | 3Q12 Unit Shipments | 3Q12 Market Share | Year-over-Year Growth |
| Apple | 14.1 | 29.6% | 14.0 | 40.2% | 0.6% |
| Samsung | 9.7 | 20.4% | 4.3 | 12.4% | 123.0% |
| Asus | 3.5 | 7.4% | 2.3 | 6.6% | 53.9% |
| Lenovo | 2.3 | 4.8% | 0.4 | 1.1% | 420.7% |
| Acer | 1.2 | 2.5% | 0.3 | 0.9% | 346.3% |
| Others | 16.8 | 35.3% | 13.5 | 38.8% | 25.0% |
| Total | 47.6 | 100.0% | 34.8 | 100.0% | 36.7% |
Source: IDC Worldwide Tablet Tracker, October 30, 2013
PC OEMs and white box tablet vendors are the easiest segment for Intel to target
Intel has always been known for its premium products and pricing in the server and PC market. Its closest competitor AMD (NYSE:AMD) targets the lower and medium end of the market with lower priced processors. However, for tablets, Intel is reversing its strategy. The major PC OEMs are the easiest target for Intel, given their strong relationships with the company in PC processors. Asus has been one of the first adopters of Intel's x86 chips in its tablets (Fonepad), while Lenovo used Intel's Atom processors for its flagship K900 smartphone. Intel has set aside a huge fund to provide discounts and R&D support for its tablet partners. These PC OEMs currently source most of their processor requirement from Mediatek, Nvidia (NASDAQ:NVDA) and others. They don't have huge switching or performance issues if they buy chips from Intel. While these companies are selling tablets mostly for the medium end market, their growth figures have been impressive. Intel is also targeting the white box vendors in China which ship large number of tablets in emerging markets. Intel can win these companies over, through aggressive discounts and through technological superiority over Mediatek and others.
Intel's Competition and Risks
Intel faces competition from Qualcomm (NASDAQ:QCOM), Mediatek, Nvidia and Marvell (NASDAQ:MRVL) as it sets to capture a bigger marketshare in the tablet processor market. The tablet market at ~$3-4 billion is still 1/10th the size of the PC processor market. But while the PC market is going down by ~10%, the tablet market is increasing by almost ~50% a year. This is the reason that Intel is fighting so aggressively to capture the tablet market, as the future will increasingly belong to tablets and smartphones. Intel knows that the lower end of the market is much easier to win as compared to the higher end. Nvidia which got an early advantage in the mobile processor market has been hurt by Qualcomm.
Though NVDA has made a comeback with Tegra 4 in Surface 2, it looks unlikely that Nvidia has the resources to overcome Intel and Qualcomm. The same is the case with Marvell. I think Marvell will leave this field like Texas Instruments (NYSE:TXN) when it finds the going too hot. Intel hopes that once it captures the lower and medium segments of the market, it can start targeting the top end as well. The company will also build on its manufacturing superiority by launching the Broxton 14 nm chips in early 2014. These will even be faster and more power efficient than the current generation of 22 nm chips. I think that Qualcomm might remain the only major competitor for Intel in the tablet market.
Apple remains a big problem for Intel as the company has a terrific design team which has regularly released beautifully optimized ARM based chips, which work amazingly well with its proprietary software. The other companies such as Mediatek will also fight fiercely to remain relevant in this fast growing market.
Intel's Future Strategy
Intel is fighting a multi-year battle with competitors to gain ascendancy over the mobile processor market. In 2014, Intel hopes to become a big player in the tablet market and start making inroads into the smartphone processor market with 14 nm Merrifield chips. It hopes to become the No.1/No.2 player in the tablet market in 2015 using its Broxton chips. The company will also release chips based on the low end SoFIA platform in late 2014. Intel wants to become a major smartphone player in 2014, as it improves its communication expertise and starts volume production of the 14 nm Cherry Trail chips for smartphones. Intel has meticulously planned and executed its mobile processor strategy. While the company has faced some hiccups, it has used its massive resources to overcome the hurdles.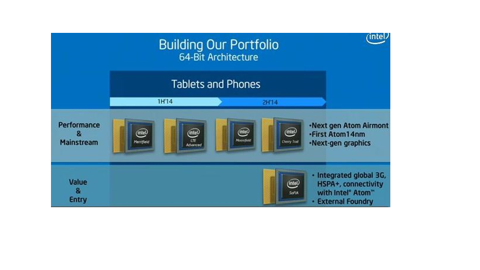 Click to enlarge
Stock Performance and Valuation
Intel's stock price has increased to the $25-26 levels, despite giving a tepid revenue forecast for 2014. The company's initiatives in the mobile market, IOT and networking processors have acted as catalysts for the stock. Intel's stock trades at a forward P/E of 13.6x with a P/B of 2.5x and P/S at 2.3x. The company's stock price should increase, as the company's multiple increases with marketshare gains in mobile processors.
Summary
Intel has managed to remain the No.1 semiconductor company for a long time through a laser focus on planning and execution. It has crushed competitors such as Advanced Micro Devices (AMD) in the past through its sheer size and spending power. The company is now using its technological and manufacturing expertise to displace entrenched leaders of the mobile processor market. The company is pulling out all stops to become the No.2 player in the tablet market by being aggressive in pricing, launching new products and targeting the most vulnerable segments of the market. It will start using the same strategy in the smartphone market as well. I think that Intel is one of the best technology stocks due to its manufacturing lead, technology expertise and marketing reach.
Disclosure: I have no positions in any stocks mentioned, and no plans to initiate any positions within the next 72 hours. I wrote this article myself, and it expresses my own opinions. I am not receiving compensation for it (other than from Seeking Alpha). I have no business relationship with any company whose stock is mentioned in this article.