By David Russell
VeriSign (NASDAQ:VRSN) has fought its way back to a key chart level, but traders apparently think that it will take a breather.
optionMONSTER's tracking systems detected two large strangle trades on the Internet-security stock as volatility traders looked to earn premium by writing calls and puts.
The larger trade included the sale of about 14,000 contracts of each the June 27 calls and the June 25 puts. The calls fetched $1.25 to $1.35 and the puts brought in $0.90 to $0.96, representing credits of $2.15 to $2.30.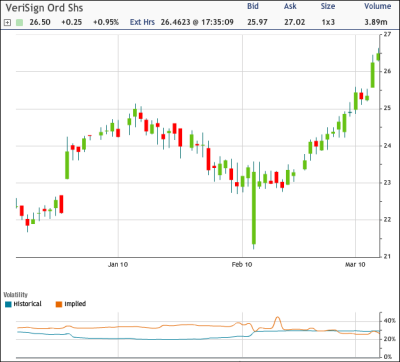 VRSN rose 0.95 percent to $26.50 yesterday and is up 14 percent in the last month. The shares have been climbing despite a weak earnings report on Feb. 2 and are now attempting to hold gains above the $26 level that's served as support and resistance for more than a decade.
The trades follow heavy call selling in the previous session as an investor wrote April 27 calls on a hunch the shares have limited upside potential. Unlike the call seller, Friday's "strangle" seller believes the downside is also limited. Thanks to the premium earned, they will make money as long as VRSN closes between about $22.85 and $29.15 on expiration.
The trades come one day after an unusually large number of straddles and strangles were detected across the broader market, apparently as investors struggled to guess the market's direction before the February employment report.
There was also heavy selling of VRSN's June 29 calls for $0.55 to $0.60, the June 24 puts for $0.65 and the June 23 puts for $0.40.

Overall options volume in the stock was 20 times greater than average. Our screening programs estimated that sales represented about 90 percent of the activity.
Disclosure: No positions