One of the first articles I wrote for Seeking Alpha was about Whole Foods Market, Inc. (NASDAQ:WFM). At the time of writing, the stock was trading at $94.59. Here's what I thought about WFM in February:
"WFM is now trading at $94.59, which is very close to the 52-week high. I would recommend buying WFM on any dips under $85, and holding on to it as the company expands further."
There were opportunities to get the stock at prices below $85 for a good part of the months March and April. When Whole Foods Market announced they would be performing a stock split in May, the stock went up like a rocket for months on a row, reaching as high as $65.59 (post split) in October.
On November 6th, Whole Foods Market released their Q4 results. I'd like to take a close look at these results and future expectations to determine if WFM is still such a good stock, or if it's overvalued at current levels. I will also be looking at WFM's dividend, as my investment strategy is mostly focused on stocks with safe, growing dividends.
Fiscal year 2013: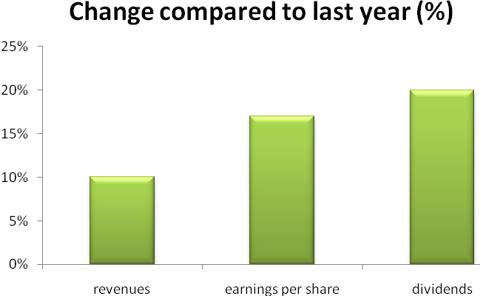 Click to enlarge
Sales for Whole Foods Market reached $12.9 billion in 2013, which is 10% higher than in 2012. Diluted earnings per share went up by 17% and reached $1.47. The number of stores increased by 32, compared to an increase of 25 in fiscal year 2012. Whole Foods Market repurchased $125 million of its own shares in FY2013. A dividend increase of 20% has been announced, which will bring the quarterly dividend per share to $0.12.
Future expectations:
For fiscal year 2014, Whole Foods Market expects to see revenues rise by 11% to 13%, in part due to the opening of 33-38 new stores, which will increase the total square footage by 8%-10%. Diluted EPS is expected to come in at $1.65 to $1.69, an increase of 12%-15%. This would give WFM a forward price to earnings ratio of between 34.2 and 35.0. This is pretty high but I believe Whole Foods Market's strong growth can justify this price, especially considering the fact analyst expect earnings per share to grow even further, to $1.99 in fiscal year 2015. Revenue expectations for the current fiscal year stand at $14.5 billion, with a further increase to $16.5 billion expected in 2015.
Dividends and conclusion:
Even after a 20% increase, Whole Foods Market's dividend is far from impressive. At $0.12 per quarter, investors buying shares at the current price will have a dividend yield of 0.83%. However, this dividend is very safe due to the low payout ratio. If analyst expectations for EPS are correct, WFM will have a payout ratio of only 28%. With EPS expectations at $1.99 for fiscal year 2015, I wouldn't be surprised if the dividend would be raised by at least 20% again at the end of this year.
Whole Foods Market currently has cash and cash equivalents of $290 million, which is more than enough to pay a full year of dividends (dividend payments are expected to cost the company $180 million this year). Furthermore, with a current ratio of 1.82, the company has amazing short-term financial strength. All things considered, I think WFM is a great stock and still quite cheap considering its bright prospects, despite the run up in price over the past year.
Disclaimer: I am not a registered investment advisor and do not provide specific investment advice. The information contained herein is for informational purposes only. Nothing in this article should be taken as a solicitation to purchase or sell securities. Before buying or selling any stock you should do your own research and reach your own conclusion. It is up to investors to make the correct decision after necessary research. Investing includes risks, including loss of principal.
Disclosure: I have no positions in any stocks mentioned, and no plans to initiate any positions within the next 72 hours. I wrote this article myself, and it expresses my own opinions. I am not receiving compensation for it (other than from Seeking Alpha). I have no business relationship with any company whose stock is mentioned in this article.