By Jon Najarian
Shares Up 17 Percent in Pre-Market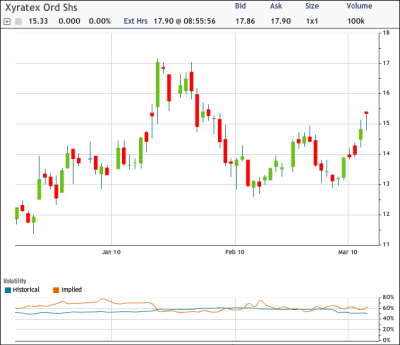 The corporate data-storage company Xyratex (NASDAQ:XRTX) said it expects first-quarter GAAP earnings of $0.77 to $0.87 per share on revenue of $313 million to $318 million. That's far superior to XRTX's previous guidance of $0.24 to $0.52 per share on revenue of $245 million to $285 million. The consensus estimate had called for earnings of $0.41 per share on revenue of $268.5 million, so this is very positive guidance. Shares closed at $15.33 last week but are trading at $17.90 on our Heat Seeker system this morning.
Apple (NASDAQ:AAPL) at New All-Time High
Whether its a positive note from Piper Jaffray about Mac growth rates or those cool iPad ads during the Academy Awards last night, AAPL shares are above $220 in the pre-market for the first time ever.
RIMM Pops With Upgrade
Research In Motion was raised to "outperform" from "market perform" at BMO Capital Markets. The BlackBerry maker is trading at $70.87 this morning after closing at $69.50 on Friday.
J. Crew (JCG) Up $1 Before Earnings
Our pal Jim Cramer told investors Friday night on his "Mad Money" show that he was buying J. Crew ahead of its earnings results tomorrow. JC called JCG "the finest retailer in the country," with strong management and easy comparisons. Shares are trading at $46.80, up from Friday's close of $45.61.
China Mass Media Trades Higher
The TV advertising company (NYSE:CMM) announced its unaudited financial results for the fourth quarter. Total net revenues were $17.2 million an increase of 51.2 percent from 2008's fourth quarter, an increase of 45.2 percent from the third quarter of 2009 and 11.6 percent over the top range of previous revenue guidance. CMM is trading at $3.80 in the pre-market, up from its close of $3.30.
Disclosure: No positions