Mobile TeleSystems OJSC [Mobil'nye TeleSistemy] (NYSE:MBT) is one of the Big Three telecommunications providers in Russia and the Commonwealth of Independent States (CIS), where it competes against Megafon and VimpelCom.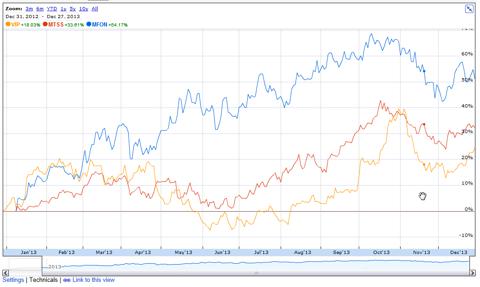 Click to enlarge
The company serves more than 105 million customers, of which more than 90% are located in Russia and the Ukraine. During the last twelve months Mobile TeleSystems incurred revenues of approximately $12.5B with full-year guidance for 2013 of $12.525B. This is comparable to about $12.4B earned in 2012. So far, since the market bottom of 2008-2009, the company has grown revenues at a CAGR of about 4% and now has experienced declines in growth rates to less than 1% in the current year. Mobile TeleSystems has increase key margins during 2013 achieving OIBDA (Operating Income Before Depreciation and Amortization, a widely-used term akin to EBITDA) margin of 43% thanks to improvements in churn and an increase in customer loyalty. Capital Expenditures dipped lower in 2013 to 20% of revenues (from 23% in 2012). Turning to the balance sheet, the company has about $6.7B in long-term debt against ~$3.6B in equity and approximately $1.6B in cash and equivalents. Free Cash Flows (defined here as Operating Cash Flows minus Investing Cash Flows) have been sufficiently large to cover debt service and helped the company maintain a credit rating on senior debt of B+.
The market has treated Mobile TeleSystems' equity quite well over the past five years: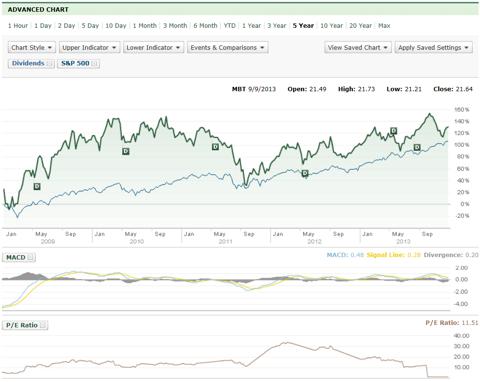 Click to enlarge
(Data Courtesy of TD Waterhouse)
A dip in price earlier this year pressed the stock's performance below that of the major indexes such as S&P 500 (not seen on this graph). This helped increase current yield, which now stands at 5.7%. This, in combination with smaller multiples, puts Mobile TeleSystems' equity in the bottom 50% among its peers (read: undervalued):

Click to enlarge

Click to enlarge
(Data Courtesy of TD Waterhouse and Google Finance)
The company pays dividends on ADRs once a year, in May (in 2013, the management decided to pay dividends semiannually from thereon). This has been done consistently over the past several years and the company has a rigid dividend policy:

Click to enlarge
(RUB 40B is approximately $1.22B at the current exchange rate)

Click to enlarge
(Data Courtesy of StockRover)
I quickly checked cash flow statements for the past 5 years and discovered that the company truly does follow its own rules.
In terms of historical relative valuation, the stock is more or less fairly valued on key metrics:

Click to enlarge
(Data Courtesy of StockRover)
Leverage
Like many European telecoms nowadays, Mobile TeleSystems is quite a leveraged company. According to S&P Capital IQ data, the company has a Long-Term Debt-to-Capitalization ratio of almost 60%, although, debt coverage ratios are more than adequate: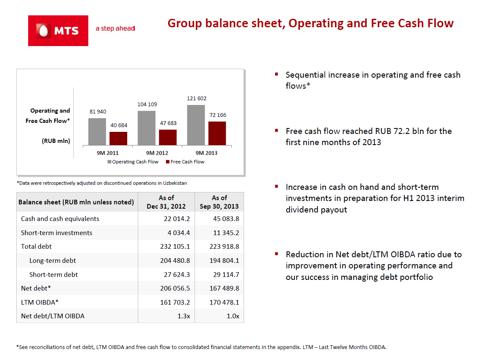 Click to enlarge
The aging of financial obligations takes a form of the following distribution: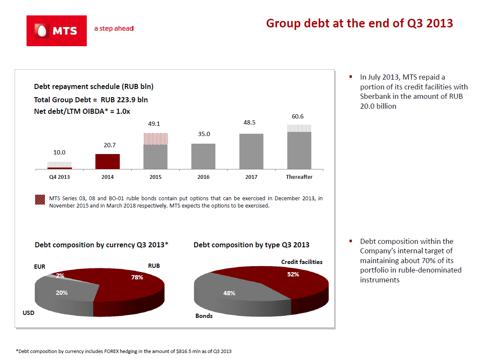 Click to enlarge
Looking at the presentation, it makes sense that debts be repaid in the same currency revenues are generated in. Thus, almost four-fifths of the entire debt load (estimated at $816.5M as of Q3 2013) is in Russian currency. Although dollar-denominated credit is usually cheaper, the company saves on currency hedging fees and reduces overall credit risk. Unsecured debt represents over half of the total debt composition. Even though this type of credit is generally more expensive, it has its own advantages. First of all, there is room left for further collateralizing in case the company wants to take on more debt (hopefully, at the right time and price). This is quite manageable given superb cash-generating abilities (cash flow yield stands near 20% at current stock price). Secondly, unsecured debt is more "creative" in that it usually includes special provisions that, although may dilute equity, save cash for shareholders.
EPS Forecasts
The following matrix was obtained from TD Waterhouse market research resources and demonstrates distributions of EPS estimates made by a number of analysts from different firms, by year: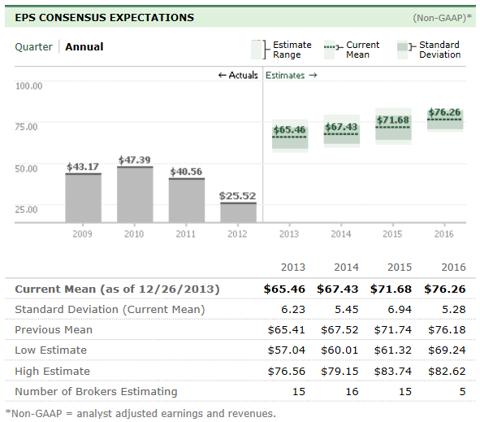 Click to enlarge
(Divide the numbers by 30 to get a meaningful base for ADR P/E ratio)
EPS is expected to grow just over 4% CAGR for the next 3 years. Assuming P/E ratio stays in the range of 9X - 11X, the stock should appreciate 4% - 9% a year. Adding to it a nice 4.5% - 6% yield gives us an expected return of 10% - 13% annually. This is a decent compensation for price volatility investors should be ready to embrace. Below is a plot of the stock's market risk during various time intervals: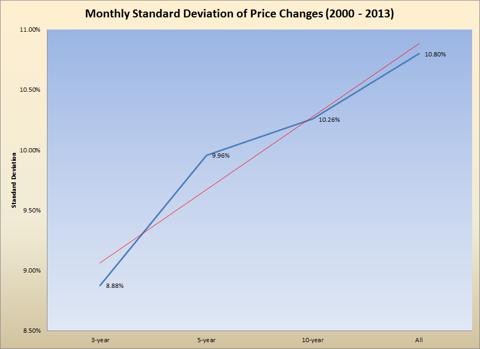 Click to enlarge
The readers may notice that the standard deviation of monthly returns has decreased in recent years by 17% when compared to the total time frame since IPO. Hence, the current dividend yield covers about two-thirds of the stock price volatility. Although long-term investors should not care about market price changes but should monitor progress of the business, it is always good to have a comfort of cash payouts for the waiting time.
Summary
Mobile TeleSystems has a strong position in the telecommunications market in Russia and CIS. The company has a formidable capital structure and a well-defined dividend policy: payments will be made twice a year from 2013. There is also room for capital appreciation through multiples expansion (on top of expected return based on retention ratios and returns on equity). The stock's volatility has reduced significantly in recent years, which gives shareholders a certain level of confidence.
Recommendation
I issue a "BUY" recommendation for shares of Mobile TeleSystems. The stock should definitely have its spot in emerging markets and dividends portfolios. Buyers beware of market and currency risks.
Disclosure: I have no positions in any stocks mentioned, and no plans to initiate any positions within the next 72 hours. I wrote this article myself, and it expresses my own opinions. I am not receiving compensation for it (other than from Seeking Alpha). I have no business relationship with any company whose stock is mentioned in this article.