A recent article of ours that anticipates increasing questions about Apple's direction returned a comment that inspired this article. Within my report, I suggested that Apple's (NASDAQ:AAPL) valuation discount to peers like Google (NASDAQ:GOOG) illustrates investor malcontent. One of our readers returned that this was because Google pursued every whim of an idea publicly, while Apple was focused and strategic about what it was working on. There may be some truth to the statement, but the proof may be in the pudding as to which strategy is best to pursue, given the return Google has offered shareholders over recent times. I would go so far as to say that Apple's innovation of the past inspires Google today. Though, perhaps it is Apple that should now emulate Google for the sake of shareholders. I estimate that significant locked down value could be released if it did so.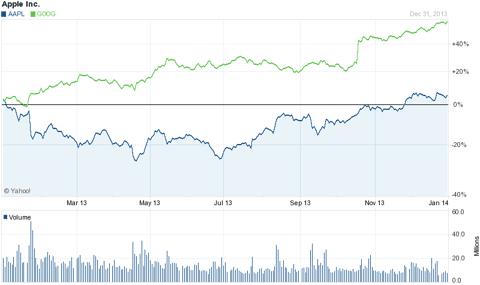 Click to enlarge
(Click to enlarge)
The one-year chart comparison tells the story; Google far outperformed Apple in 2013. Google shares appreciated 58.4%, while Apple gained just 5.4% of value. Google was in the green almost all year long, while Apple was below the watermark for most of the year. It seems fair to say then that Apple disappointed shareholders this past year while Google rewarded them fabulously.
Apple underperformance is also evident in the presence of activist investors in the stock. Carl Icahn does not commit to a stock as an activist investor if he does not believe he can create value. His presence in Apple should be an allure to other investors and welcomed by Apple shareholders, as they can be sure that he will pressure management, or in this case, respectfully lean on them, to focus a bit more on the equity owners of the company and the returns they demand and deserve.
The year was obviously disappointing for shareholders despite Apple growing its market share globally and refreshing its product lines against burgeoning competition. Another competitor seems about to bite the dust in BlackBerry (NASDAQ:BBRY) and one more was saved by acquisition when Microsoft (NASDAQ:MSFT) bought Nokia (NYSE:NOK). Everything is on schedule as far as the iPhone, iPad, iPod and Mac lines go, and yet the stock has been in limbo.
Icahn and others will tell you that could be helped if the company would buy back more of its shares. Apple does not seem to need capital today, with a hoard of cash and equivalents and other investments on its balance sheet. Why should the company then safe-keep this capital, when shareholders might make better use of it. So, the company is also pressured to pay more in dividends and accept a new role as mature company.
But Apple is not ready to stop innovating in new product areas yet. It's got a chip on its shoulder, and it wants to put chips to use to enhance other products Americans need and use. The problem is that the investment community has been waiting for so long for that next great thing, that it seems to me to have lost hope in Apple's ability to keep leading the way in what's cool.
I, for instance, have felt that television presents a super opportunity for Apple to really control the human experience at the center of the home. Steve Jobs use to say that he would not do a TV unless he could revolutionize the way content was distributed. But in the process of figuring that out, I believe Apple has lost first-mover advantage to Samsung (OTC:SSNLF) and perhaps someday Google. Sony (NYSE:SNE) is better prepared now than Blackberry was to defend its turf as well. I have not understood why 2.0 TV couldn't satisfy Apple's revolutionary vision while 1.0 generated a massive new revenue stream in the meantime.
Maybe credit is due Apple for preserving its brand. Introducing mediocre products no different than the rest could be viewed as a sort of prostitution of the brand. It could even damage the brand if product quality were to come up short. The focus argument of our reader has a point in this regard.
But why can't Apple at least talk about something? It's got the capital and intellectual property to get to market faster than new startups anyway, or it could even gulp them all up as they sprout. What's to fear for the big man atop the hill? Meanwhile, Google promotes all sorts of ideas like self-driving vehicles and smart glasses.
The excitement about the prospect of revolutionary product disruption draws capital into a company via its stock around such efforts. It's a part of the game that falls within the art of investing. There's nothing superficial or synthetic about the value it creates. A price-to-earnings multiple is shaped by actual earnings and a company's prospects moving forward. When a company makes known big plans, it only serves its shareholder base by expanding that multiple, as long as its claims are supported by real effort. Otherwise, companies face risk of legal repercussions for leading prospective investors on. Is that another reason why Apple lays low?
The key reason Apple likely lays low is not legal concern in my view. It's strategic secrecy. The longer it keeps its efforts secret, the less time competitors like Google and Samsung have to get busy as well. Rumors of a possible watch product seemed to inspire Samsung to quickly come to market with one. Perhaps the same thing occurred in television, with the Smart TV. If Apple publicly talks about the Specs of its next best thing, it gives those rivals a blueprint to follow. And now that we've seen the genius behind the plan, the new operating system and platform that give Apple gear that great razor & blade appeal that can unseat Microsoft, we can understand why it wouldn't want to let competing systems designers have a hint of what it's up to. In the end, this strategy could create the best protected value for Apple shareholders, rather than immediate value benefits that suffer erosion later due to premature promotion.
| | | | | |
| --- | --- | --- | --- | --- |
| Security | P/E | 5-Yr Growth Est. | PEG | P/S |
| Apple | 14.1X | 14.3% | 0.9X | 2.9X |
| Google | 30.5X | 14.5% | 1.6X | 6.5X |
| Microsoft | 14.0X | 7.2% | 1.95X | 3.9X |
Still, there must be some middle-ground where Apple can generate genuine excitement about its very likely awesome efforts and at the same time protect future value. But by not splitting its stock, companies like Apple seem to say, we want lifetime holders and smart money. We're not looking for fast and fickle traders, the sort that would be quickly drawn in by flashy promotions like Google's thrown around for Google Glass. So, then those long-term holders would get the best benefit from strategic rollout of world changing new products, if they really are coming and if Apple is not maturing. That is exactly the point, right there.
Apple needs to give us something to reassure us that they are still brilliant and that they will bring viable new disruptive gear to the game. When that happens, it will be a little more like Google, and likely benefit in the expansion of its valuation. Take note that Google and Apple have similar 5-year growth estimates, as seen by analysts. Yet, Google trades at a P/E of 21.5X the analysts' consensus EPS estimate for it for 2014. If Apple got that same multiple on its fiscal 2014 (Sept.) figure, its stock price would be $940. That represents approximately 68% appreciation from the value where it closed out 2013, or $343 billion of potential market value creation. Whether you are a short-term or long-term investor, that is something you prefer to see adjusted for sooner rather than later. It represents the difference between Apple and Google strategy today, though there are obviously many other factors at play in the various businesses of each company. Still, it's clear that there is something more Apple could do for shareholders that Google has done, and it has to do with communication. The prospective economic benefits to shareholders are so substantial that it really deserves significant consideration.
Disclosure: I have no positions in any stocks mentioned, and no plans to initiate any positions within the next 72 hours. I wrote this article myself, and it expresses my own opinions. I am not receiving compensation for it (other than from Seeking Alpha). I have no business relationship with any company whose stock is mentioned in this article.