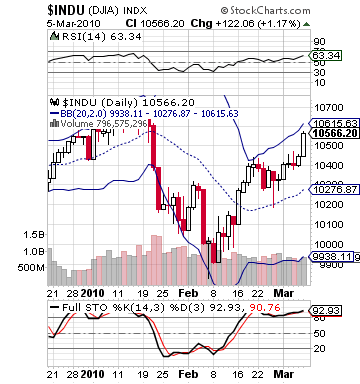 Hope everyone had a nice weekend. Today, we are starting off with a chart of the Dow Jones. This shows you that we have a market that, in the short term, is extremely overvalued. RSI is above 60, the average is moving towards the top of its bollinger bands, and it is overbought on stochastics. All this is showing to me that the market is toppy. That chart is how I want to start this week to show you that I think we are going to be looking at some short sales and inverse ETFs unless we have reason to believe the market will rally. Today, I do not see any major reason to believe that will happen. Also, be sure to check out my Weekend Wrap-Up and Portfolio Update, which shows how we have increased our Buy Pick Portfolio 129% in one year.
Buy Pick of the Day: Ultrashort Proshares Real Estate ETF (NYSEARCA:SRS)
Analysis: As I have been saying this morning and in my weekend post, I think we are looking at an overvalued market that will need something to boost it to keep it going. This morning, we got some slightly bullish news in the form of an AIG sale to Metlife (NYSE:MET), but it is short lived. As of 8:00 AM, futures on the Dow were up 20. As of 8:30 AM, they were at 10. As of 8:45 AM - 2. It is a slow decline because the market is in a position to fall, and the news is not great enough to keep it moving. There is no economic data to sustain the market, and earnings were non-existent. The only even slightly important company to report was Yingli Green (NYSE:YGE), who we will get to in our short sale.
For that reason, we can position ourselves well today in an inverse ETF for a buy. We want to avoid the financials and energy, however, because we had a major deal with Royal Dutch Shell (NYSE:RDS.A) and Australia Arrow Energy that could confuse the oil ETFs and oil market. AIG is in that financial sector. Therefore, I turn my attention to the under the radar Ultrashort Proshares ETF (SRS) for our Buy Pick of the Day. This one should be a bit of a slipper in the market today. It is sitting neutral in pre-market, but it is a volatile ETF that can really take off at the flip of a switch, which is what I am expecting. I rarely sell my upper sell range at 4%, and I did today.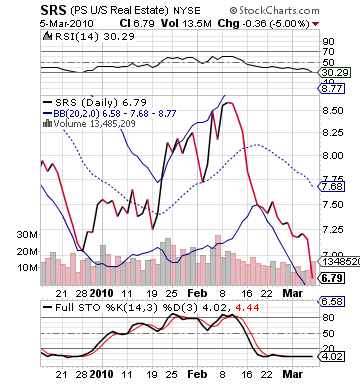 There is really no news out of the ten holdings for URE, which is what SRS inverses. The holdings are a group of REITs and real estate companies, including Boston Properties (NYSE:BXP), Vornado Realty (NYSE:VNO), Public Storage (NYSE:PSA), and Host Hotels (NYSE:HST). The lack of news and technical overvalue of the sector and market should be a reason to sell these stocks. URE is up over 7% in the past week and over 20% in the past month. It is definitely extremely overvalued. URE as an aggregate of the holdings shows the extreme overvalue of the sector.
SRS, technically, while hard to measure as an exact science like common stock is oversold, undervalued, and near its lower bollinger band. All the types of technical measures we like to see from a Buy Pick of the Day. As you can see, SRS has dropped just under 20% in the past month, following the inverse of URE. Look for a big move from SRS today and get excited for a possible 4% today.
Entry: We are looking to get involved at 6.75 - 6.85.
Exit: We are looking to exit on a 2-4% gain.
Stop Loss: 3% on bottom.