Often, when I write about companies that I think are doomed in the long term [like Crocs (NASDAQ:CROX) and J.C. Penney (NYSE:JCP), for example], I attribute a lot to the fundamentals - but there's a common denominator that these companies have as well: their names are tarnished and synonymous with the days of yore.
Obviously, fundamentals are the key with any business - you want to be generating profits, have cash in the bank, continue to innovate, and keep your balance sheet looking good. When this is in place, you can't continue to be mired by negative connotations surrounding your branding or your company name.
Fundamentals and branding - Sears (NASDAQ:SHLD) has both of these issues. I first wrote about Sears here, in my article "Date Wal-Mart, Marry Target, Kill Sears."
The problem that I have with Sears is the same problem I have with J.C. Penney; nobody wants to invest in or shop at an old, crusty, worn-out brand name. Simply put, "Sears Products" are synonymous with "Buying Crap". And, the company couldn't get shoppers under 40 in their doors if they changed their name to "Free Beer for Everyone Inside". While the young public is pondering how disinterested they are in Sears, the company is bleeding cash and destroying its balance sheet in the background.
Sears has performed wildly through 2013 - up 18% in the last year, but down 23% in the last three months. The stock has swung wildly since September - up as much as 50% before eventually correcting. It's definitely been a "battleground" stock, as investors and bloggers have been doing battle over what the potential future of the store chain is going to be.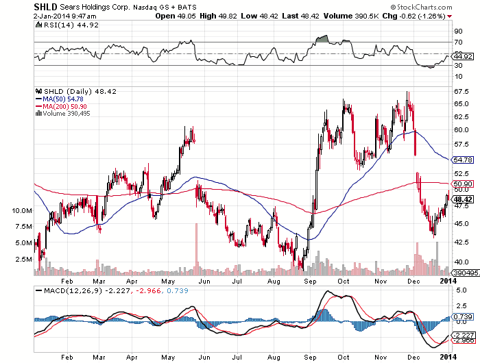 Click to enlarge
(Click to enlarge)
Years ago, Sears was synonymous with leading retail; it was your one-stop-shop for housewares, clothing, electronics and tools. They were backed by big names and reputable brands like Kenmore, Westinghouse and Craftsman. Now, Sears has fallen to the stores having the same air of desperation to them as RadioShack (NYSE:RSH) and J.C. Penney. Kenmore and Westinghouse are no longer prominent leaders in housewares, and Sears stores are deserted and mostly unkempt (at least in my recent experience here in the Midwest).
Even bulls like Nicholas Snyder - whose argument like many bulls is the value of Sears' assets - notes that on a recent visit to one of Sears' most valuable properties, it was poorly maintained:
While undeniably valuable, this store has also been poorly maintained and - in my belief - marginally profitable at best over the last few years.
Even if you take the very bullish valuation of Sears' assets, which is somewhere around $10 billion when all is said and done, the company is still faced with massive coming losses to the tune of hundreds of millions in the coming years.
Syncopy Research points this out in their article from October on Sears:
Sears is expected to record a $648 million loss in the current fiscal year, on revenues of $37 billion. The firm had negative FCF of ($707 million) in 2012. According to predictions by ISI analyst Matt McGinley, Sears' FCF this year is expected to remain in negative territory at ($900 million) this year and around ($600 million).
And, in keeping with the notion that two wrongs don't make a right, Sears' merger with K-Mart in 2004 has been anything but a success for either dying brand. Succinctly put, sales at Sears have been dropping for the past 27 quarters.
The company's debt to equity ratio has been climbing significantly:
(Charts courtesy of ycharts.com)

Click to enlarge
(Click to enlarge)
But, yet, the company's market cap remains nearly the same as it's been for the past few years.

Click to enlarge
(Click to enlarge)
And the company's diluted earnings per share have gotten simply atrocious since April of 2011.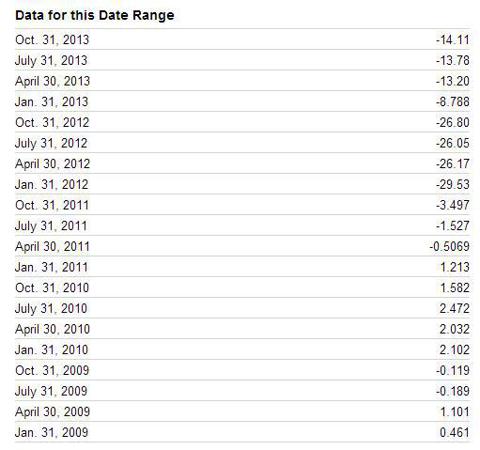 Click to enlarge
(Click to enlarge)
Earlier in December, it was reported that Sears had spun off aptly named "Lands' End" brand, which analysts generally pinned as yet another negative strike for the company, even though it's trying to shed assets and get leaner:
Eddie Lampert-controlled Sears Holdings Corp. said it would spin off its Lands' End clothing business, adding to the assets the company is shedding as it struggles with mounting operating losses and declining sales.

The company, operator of Sears department stores and the Kmart discount chain, has been selling or spinning off assets and closing stores for the past few years to try to turn around its business. Sales have been dropping since Lampert combined Sears and Kmart in an $11 billion deal in 2005.

The billionaire hedge fund manager, who took over as chief executive in February, has been criticized for not investing enough in the business, which has earned a reputation for dowdy merchandise and poor service compared to Wal-Mart Stores Inc. and Target Corp.

Sears shares were slightly down on Friday afternoon after rising as much as 4 per cent in early trading.

"... The spinoff announcement essentially points to a number of negatives, including an inability to find a buyer, as previously Lands' End was listed as an asset that the company would monetize," Credit Suisse analyst Gary Balter wrote in a note to clients.
They're still using this age old logo on their website and in their stores. At least J.C. Penney and RadioShack have gone through stages to try and re-brand the company's logo. Sears apparently is satisfied with this Mesozoic-era logo: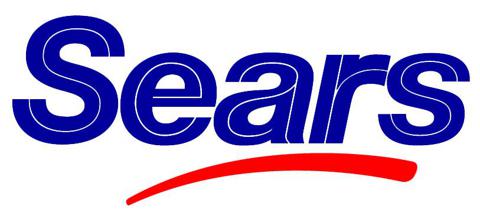 Click to enlarge
(Click to enlarge)
The worst part? Sears isn't trying to get younger - it's trying to embrace its old, crusty man within. The company is losing its urban shoppers, and apparently embracing that - focusing on a more middle aged suburban crowd. That just screams growth to me.
Additionally, recent reports seem to be alluding to more store closures for the once giant retailer:
With urban shoppers like Khojasteh going elsewhere, Sears Canada, the country's largest department store chain, is closing the Eaton Centre store along with four other locations as it shifts focus to middle-class families in smaller rural and suburban markets. The closures may not be the last, Chief Executive Officer Douglas Campbell said.

"There could be other opportunities where there is real estate that is greater than the trading value, it all depends what the offer is on those particular properties," Campbell said in an interview at the Eaton Centre store on Dec. 13. There is "opportunity for more store closures."
Like a drunken giant, Sears is stumbling around, dazed and just waiting for a stiff breeze to come by and knock it off its feet. There needs to be a solution quickly for the company, or it's not even going to have enough time to liquidate enough of its assets to save itself.
Which leads me to the investing portion of this article - why on earth would anyone put their money into this company? There are only two strategies that I would put into place for Sears. First, if I was long Sears now and managed to eke out gains over the last year, I would be selling.
Going forward from here the only two options I see viable for a Sears trade are as follows:
Go short, either through puts or through a downright short position. Use Sears as one of your macro-market hedges for the coming year.
Play an options straddle that expires towards the end of 2014. By then, the company is definitely not going to be trading at what it's trading at now. It'll likely be one step closer to defeat, or will have pulled off some unimaginable Hail Mary. The best part of playing a spread is that you get the insurance in case the company pulls off a miracle.
Otherwise, with tons of great companies out there, there's no need to be putting money into Sears. Best of luck to all investors.
Disclosure: I have no positions in any stocks mentioned, and no plans to initiate any positions within the next 72 hours. I wrote this article myself, and it expresses my own opinions. I am not receiving compensation for it (other than from Seeking Alpha). I have no business relationship with any company whose stock is mentioned in this article.