Although I have been working on mergers and acquisitions in the European transport industry in my professional life, I consider myself a mom-and-pop investor when it comes to personal finance. As many retail investors, I did not start investing with a plan but rather with a trial-and-error approach. My agenda was 1) to chase yields in order to replace my low interest CDs, and 2) to reduce my exposure to the euro. As a consequence, I purchased a number of high-yielding securities such as corporate bonds and REITs and took long positions in what was considered to be "safe haven" currencies at that time (mostly Scandies). Having gone through a learning process that included a large number of very helpful articles on Seeking Alpha, I have rephrased my objectives and put together a more structured approach. The rephrased objectives are, in order:
Protecting the purchasing power of my savings.
Achieving a "decent" total return until I retire in ~25 years.
Methodology
My "more structured approach" is built on three principles:
Diversification
Investment in individual securities
Sustainability
The diversification part can be best described as a diluted Permanent Portfolio (for more information on the Permanent Portfolio see, for example, here). When people like me start altering the Permanent Portfolio, it may seem a bit like a mediocre violinist trying to modify a Stradivari. But there is a twofold rationale: Harry Browne mentioned real estate as a relevant asset class himself, but found it would sit in a Permanent Portfolio "like a gorilla at a banquet," assuming an investment in real estate would equal buying a house. Therefore, it looks as if there were not as many opportunities to invest in real estate from a desk through REITs in his days.
The second reason relates to the downside of what is actually the beauty of the permanent portfolio: its simplicity. If you believe that over time there should be more periods of growth than of recession, you may want to go overweight on stocks. Having said that, I backtested a German Permanent Portfolio and could see that gold and bonds did the heavy lifting throughout the past 10 years until 2013 -- not stocks. Therefore, I concluded that if you do not feel comfortable predicting the future, it can still make sense to allocate a substantial part of your portfolio to these asset classes.
My target portfolio looks like this:
| | |
| --- | --- |
| Stocks | 49% |
| - European large cap | 13% |
| - European small cap | 13% |
| - International | 15% |
| - REITs | 8% |
| 30-year German government bonds | 17% |
| Gold | 17% |
| Cash | 17% |
I did not apply any further science to arrive at these values. They simply look "about right" to me. The bonds are 30-year German government bonds similar to Browne's recommendation for the original Permanent Portfolio. "Gold" means paper gold, which I understand is different to the Permanent Portfolio but more convenient to me.
The portfolio is still in transition as I prefer to cost average into positions. The current proportions are about 40% stocks, including 10% REITs, 4% bonds, 12% gold and 44% cash. I am also slightly overweight in REITs, which is a remainder from my yield chasing. With regard to bonds I have allowed myself to try some market timing and postponed further bond buys a little. The reasons why I prefer to hold individual securities rather than ETFs or mutual funds are:
Little benefit of investing in long-term government bonds through ETFs,
Unease about increasing voting power of the large ETFs,
Management fees, and
Most stock ETFs do not meet my preferences as they comprise holdings that do not pass my sustainability test.
I am aware that holding individual stocks is more risky and less convenient than investing in ETFs. Therefore, I have taken some safety measures that are mentioned below. Still, why do I apply rather strict standards to "sustainability," which adds another layer of complexity to investing? There are two dimensions of why sustainability matters:
Responsibility
Opportunism
The number of weather catastrophes is worldwide on the rise. Reinsurance companies such as Munich Re (OTCPK:MURGY) have extensive data on this: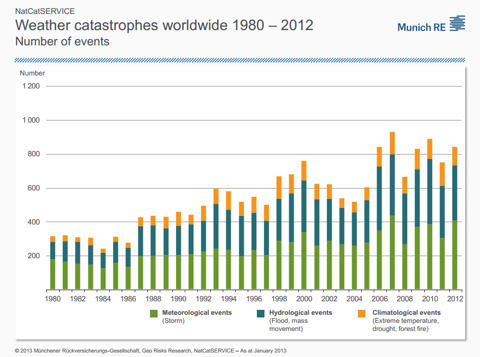 You can go even further back in time -- the trend is clear. A key driver of this trend is the steady rise in sea levels. Swiss Re (OTCPK:SSREF) points out:
The likelihood of extreme storm surge losses increases tremendously with rising sea levels.
The United States Environmental Protection Agency (EPA) visualizes the changes in sea levels as follows: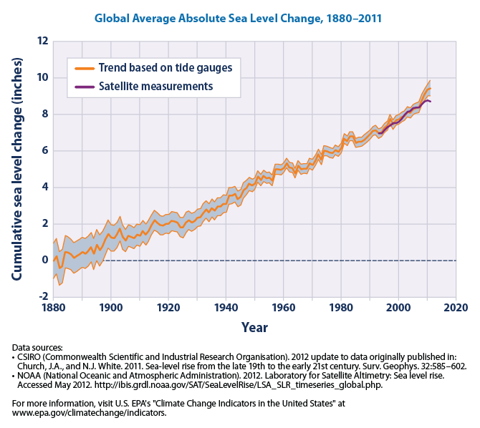 A technical analysis of this chart is pretty easy. Swiss Re concludes:
Further increases in sea levels are highly likely.
Is there a link between the above and the things that we do or don't? The EPA comments:
After a period of approximately 2,000 years of little change [...], global average sea level rose throughout the 20th century, and the rate of change has accelerated in recent years.
Munich Re's Eberhard Faust commented on the report "The Physical Science Basis" by the Intergovernmental Panel on Climate Change:
[...] we are now more certain that climate change is substantially caused by human activities. Whereas in 2007, it was assumed that at least half of global warming since 1950 was very probably caused by anthropogenic factors, this connection is now extremely probable. In statistical terms, instead of at least a 90 percent probability, we now talk of at least a 95 percent probability - so the link has become clearer.
Apart from discussions about how likely it is that human activities cause climate change, it is important to keep the potential impact in the equation as well. As "impact" means "severe weather catastrophes," it would take actually much less than 95% probability for me to be concerned. On that basis, there are three angles on the issue: responsibility, betting on the 5% chance, or risk ignorance. Responsibility equals substantiated optimism which is not the worst basis for taking long positions in stocks. Plus, it is entirely possible to align financial goals to sustainability goals since future challenges create business opportunities.
Stock Picks for the Long Run
What will be people's needs in five, 10 or even 20 years from now and what kinds of services and products are likely to be demanded then? Starting with this question I looked for businesses that are plausible providers of these services and products, which led me to the green stock space. However, since a large proportion of the green stock space consists of clean energy and/or development-stage businesses, I struggled to find enough diversity for de-risking my portfolio. I also had difficulties identifying the start-ups that are good enough for the long run. Therefore, not all stocks in my portfolio are plays on environmental challenges. I would not invest in a company that I consider to be part of the problem, though. Investment themes that are of particular interest to me apart from renewable energy include healthcare and demographic change, healthy food as well as rail transport. My stock portfolio is comprised of 18 holdings:
The number of positions should be big enough to offer a reasonable degree of diversification but is not too big for me to overlook. There do not seem to be any obvious "twins" in that selection. I did not backtest the correlations, though. While the positions are not set in stone, I try to keep the turnover as low as possible. I would definitely sell a position if I do no longer see its relevance to future customers or if it does no longer fit into my environmental agenda. I am likely to sell a position on non-temporary balance sheet weakness and/or pressurized free cash flows.
Although I cannot consider myself a dividend growth investor, I do pay attention to a company's track record of distributions. The main reason is that dividends are another measure helping me to reduce risk, but I also appreciate that a track record of well-covered payouts is a relevant signal of a stock's suitability for the long term.
Performance
In 2013, I started positions in all securities that shall form part of my portfolio, but I have not arrived at the targeted percentages yet. Still, I back-calculated the performance of my targeted portfolio for full year 2013. The total return would have been a modest +2%. With the German CPI at +1.3% in November 2013 I would have reached my goal to protect purchasing power, but compared to the 29.6% rise of the S&P 500 my portfolio would have failed to impress this year. The assets that had delivered in past years (gold and bonds) clearly underperformed in 2013.
In addition to that, my portfolio suffered from the euro's appreciation against all other major currencies. SMUPF, for example, appreciated in value by 17.7% in AUD, but on a EUR-basis it returned -2%. In that sense I have reached my initial goal to reduce EUR exposure, but it has backfired -- for now. Still, 2013 was a favorable example for my bias toward stocks. A Permanent Portfolio consisting of the same components but excluding the REIT part would have returned -3.5%. Then again, a year's performance does not say much when your investment horizon is 25 years.
Disclosure: I am long OTC:CLPBF, CNI, OTCPK:CRTSF, DLR, ECL, OTC:GPTGF, HASI, HCP, OTC:IARSF, KYO, NVS, PW, OTC:SMUPF, OTCPK:SSREF, STKL, and OTCPK:SWGNF. I am long Energiekontor (EKT) and Schaltbau Holding (SLT) as well. I wrote this article myself, and it expresses my own opinions. I am not receiving compensation for it (other than from Seeking Alpha). I have no business relationship with any company whose stock is mentioned in this article.
Disclaimer: This article is meant to provide food for thought and by no means advice or recommendations of any kind.