Johnson & Johnson (NYSE:JNJ) is maintaining a competitive advantage in the industry. According to sources, in the coming weeks J&J will sell its ortho-clinical diagnostics unit, that develops blood-screening equipment and laboratory blood tests, to Carlyle for nearly $4 billion. The decision to divest the division comes as drug makers are shedding businesses and cutting costs in response to overseas price controls and pressure on payments from insurers and the government.
This means that the company will influx another load of cash and become more efficient than in its last reported quarter. During the latest quarter, sales jumped 3.1% to $17.6 billion with the biggest impact coming from abroad where a growth of 7.1% and negative currency impact nearing 2.9% led to a net increase of 4.2% in sales.
Let us further analyze the Pharmaceutical and Medical device/diagnostic segment that represents 80% of the company's revenue. The consumer goods remained relatively stagnant with sales increasing by only 0.8%.
Pharmaceutical
Worldwide pharmaceutical sales of $7 billion for the third quarter reflected an increase of 9.9% with an operational growth of 10.9% and a negative impact from currency of 1% compared to the previous year. Domestic sales increased by 7.9% and international sales increased by 12% reflecting an operational increase of 14% and a negative currency impact of 2%.
Primary contributors to the operational sales growth were INVEGA and SUSTENNA/XEPLION, a once a month long-acting injectable medicine for the treatment of schizophrenia in adults; REMICADE and SIMPONI used for the treatment of inflammatory diseases; STELARA, medicine approved for the treatment of moderate to severe arthritis; VELCADE and PREZISTA, treatments for HIV; and the sales of new products. The graph above gives a clear picture of the contribution of these products to total sales and the graph below shows each drug's sales since the previous quarter.
In the US, REMICADE, excluding export sales, was up 7.8%, SIMPONI was up 19.4% and STELARA was up 23.9%. Results were driven by market growth across the major products complemented by increased market shares for both STELARA and SIMPONI. REMICADE outside of the US, adjusted for the supply chain change implemented this year, was up by approximately 15% operationally due to strong growth in Canada and the emerging markets.
The company is making significant progress in sustaining returns for shareholders. STELARA made significant contributions to growth outside the US due to market share gains and market growth across the major regions while SIMPONI's strong growth came with increased shipments to distribution partners complemented by additional country launches and strong growth in other markets.
Medical Devices
The segment's sales during the third fiscal quarter of 2013 were $6.9 billion reflecting a decrease of 2% compared to the third quarter of 2012. This quarter also brought an operational growth of 0.3% and a negative currency impact of 2.3%.

Click to enlarge
As can be seen from the table above, the medical device segment has been declining. The company trying to improve the segment and in the future we can expect better results. For example, the diagnostic sub segments that saw a 10.5% decline this quarter is being resolved with a $4 billion sell off of the company's ortho-clinical diagnostics business to Carlyle (discussed in the first paragraph). Also, the company sold off its Therakos business in this quarter to further optimize this segment and to generate higher returns.
Forecasts & Outlook

Click to enlarge
During the last 12 months, the company's share price has jumped by more than 30%. According to analysts' forecast, the median price could reach $96 with a high target of $104 and a lower target of $88 in 12 months. The median estimate reflects a 4.25% increase from the last price of $92. In the next 12 months the share price could go up to $104 reflecting a 13% increase or decline to $88 reflecting a 4.4% decline.
The high target price could be achieved because of the strong growth outlook. The company has been enjoying strong growth in the international market. It generated double-digit growth in the emerging markets with the best results coming from China, Russia and Brazil this quarter. This trend is going to continue as a research from PWC confirms future sales in the region (see graph below). Industry sales in China, India, Russia and Brazil are expected to double by 2020. Through its international operations J&J will benefit from the increase too.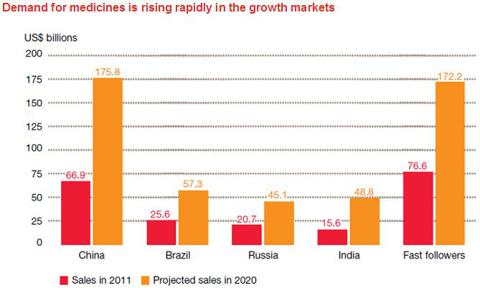 Click to enlarge
The global medical device industry has experienced significant growth over the last five years and is expected to continue. It is expected that the industry will reach approximately US $302 billion in 2017 with a CAGR of 6.1% during the next four years (2013-2017). Presently, North America continues to dominate the industry with 46% of total market share. Internationally, India and China have the highest market shares.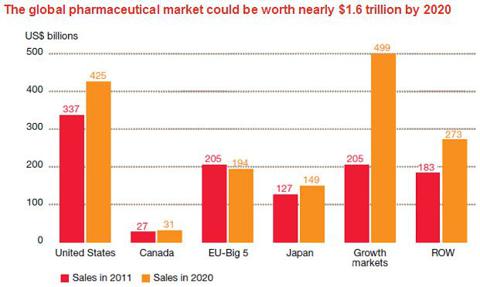 Click to enlarge
The global pharmaceutical market may be worth 20 billion by 2020. From the graph above, it can be inferred that future growth in the emerging market is expected to be the highest. J&J will reap the benefits from these higher sales as it owns DePuy Synthes. The acquisition made last year operates in a market that has very promising prospects for J&J.
There will be a lot of demand for the company's ortho and neuro products. The worldwide ortho and neuro market is expected to grow between 2% and 4% compounded annually by 2017. Also, as the population ages, the demand for the types of products the company offers will increase as many emerging markets are investing in their healthcare systems to provide better care for their citizens.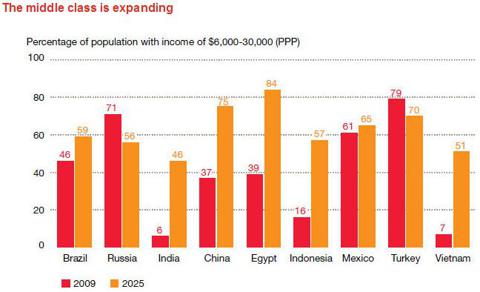 Click to enlarge
The middle class income has been growing in the emerging markets and will continue to do so (graph above). With higher income citizens will spend more on healthcare. DePuy Synthes as part of J&J is well maintained to offer valuable solutions and help transform healthcare delivery during this growth time period.
Conclusion
The scenario above reveals how the rising market in the emerging economies could benefit J&J. The share price target of $96 in the next 12 months reflects the opinions of analysts and myself. J&J is a strong company so its future and brand awareness are liable to bring returns for shareholders. Therefore, I recommend buying the stock.
Disclosure: I have no positions in any stocks mentioned, and no plans to initiate any positions within the next 72 hours. I wrote this article myself, and it expresses my own opinions. I am not receiving compensation for it (other than from Seeking Alpha). I have no business relationship with any company whose stock is mentioned in this article.