For dividend growth investors, nothing is better than a company that has steady growth in revenues and earnings while also paying a sustainable dividend with some room to grow. One company that fits this description perfectly is Comcast Corporation (NASDAQ:CMCSA). In this article, we will be looking at the recent history for this company as well as expected returns in the future. I will also judge Comcast on its valuation and its treatment of shareholders.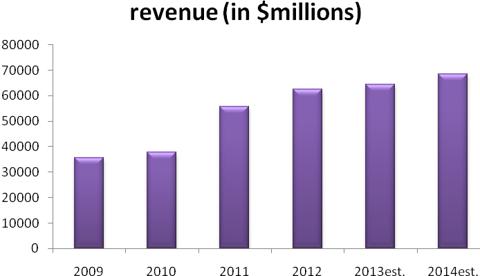 As we can see from the graph above, Comcast has had some impressive growth in revenue over the past 4 years. For the current fiscal year, analysts expect Comcast's revenue to reach an all-time high, at $64.35 billion, with a further increase to 68.45 billion expected in fiscal year 2014. In Comcast's most recent Q-10 filing, it shows year to date revenues of $47.7 billion, 2.4% higher than in the first 9 months of last year. However, last year's revenue was elevated thanks to the Olympics and the Super Bowl. If we exclude these items from last year's revenue, the first 9 months of the current fiscal year beat the same period last year by 5.6%. At the current market cap of $135.9 billion, Comcast is trading at 2.0 times next year's expected revenues. This is quite close to DISH Network Corp's (NASDAQ:DISH) forward price to sales ratio of 1.8.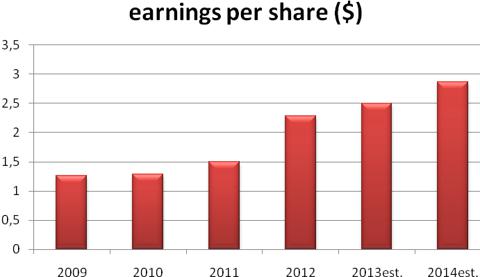 Comcast has had increasing earnings per share for years, and analysts expect this to continue in the next fiscal year. Looking at the Q3 quarterly report, we notice EPS for the first 9 months is up by only 7% compared to last year. However, when excluding gains on asset sales in fiscal year 2012, we find earnings per share are up by 29.3%. EPS is expected to reach $2.50 in the current fiscal year, with a further increase to $2.87 expected in fiscal year 2014. This puts Comcast's forward price to earnings ratio for next year at 18.1, a lot lower than DISH's forward p/e of 29.6.
At the current dividend of $0.195 per quarter, Comcast's yield stands at a decent but not very impressive 1.5%. However, a large part of Comcast's earnings go toward the repurchasing of its own shares. In the first 9 months of fiscal year 2013, Comcast bought $1.5 billion of its own shares. Reducing the number of shares boosts EPS and stock price, thus returning capital to shareholders. As we can see in the next graph, Comcast has bought back hundreds of millions of shares over the past few years.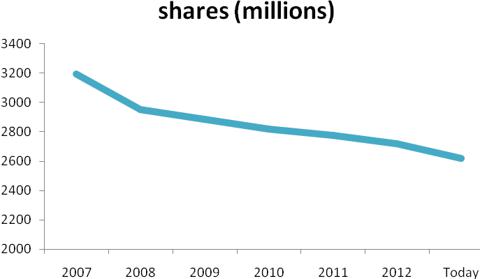 Comcast's earnings per share for the first 9 months were $1.84, while the company paid out $0.585 in dividends. This gives Comcast a payout ratio of only 31.8%. If analyst expectations for 2014's earnings per share are correct, I wouldn't be surprised to see Comcast raise the dividend to $0.25 per quarter. This would put the payout ratio at only 34.8%, while giving investors buying shares at the current price of $51.97 a yield on cost of 1.92%.
Comcast's dividend is protected by the huge amounts of profits rolling in each month, but also by the fact Comcast has over $1.6 billion in cash and cash equivalents. In my opinion, investors looking for a reliable, growing dividend needn't look any further.
Disclaimer: I am not a registered investment advisor and do not provide specific investment advice. The information contained herein is for informational purposes only. Nothing in this article should be taken as a solicitation to purchase or sell securities. Before buying or selling any stock you should do your own research and reach your own conclusion. It is up to investors to make the correct decision after necessary research. Investing includes risks, including loss of principal.
Disclosure: I have no positions in any stocks mentioned, and no plans to initiate any positions within the next 72 hours. I wrote this article myself, and it expresses my own opinions. I am not receiving compensation for it (other than from Seeking Alpha). I have no business relationship with any company whose stock is mentioned in this article.