This article is about the prospects of Sanofi's (NYSE:SNY) contingency value right, which trades as GCVRZ. This contingency value right (CVR) holders are entitled to some payments when certain milestones are reached. The details of these milestones can be found in this SEC document. The CVR expires at year-end 2020. The prospects of the CVR depend only on the drug Lemtrada, for treatment of multiple sclerosis.
The FDA recently issued a complete response letter to Genzyme for the Lemtrada application. It should have come as no surprise to those who followed the advisory committee proceedings. The feedback was very negative on both the safety and efficacy of Lemtrada. The FDA basically stopped short of saying that Lemtrada is nothing more than a sugar pill with serious side effects. The only solace for GCVRZ holders is the fact that Lemtrada is approved in Europe, Canada, and Australia.
Lemtrada is the trade name of Alemtuzumab. Alemtuzumab and its nearest competitor Natalizumab (Tysabri, Biogen/Elan) are favored as second-line therapies. They are considered highly effective for patients who fail the first-line therapies. The drugs for first-line therapies are Interferon-β (marketed as Avonex, Rebif) and Oral drugs (Fingolimod, Tecfidera, Aubagio).
Let's try to explore how much GCVRZ is worth at the moment. The FDA is asking for new trials. Genzyme is planning to appeal the FDA decision. The chances of FDA reconsidering the decision are very remote. Given the fact that the drug is given over a period of two years, a new Phase III trial will take a minimum of three years to complete. If we add another year for approval, we get to 2017. Lemtrada loses patent protection in the U.S. in 2017 and will face new competitors, like Ocrelizumab. The safest assumption to make is that the GCVRZ holders will probably only get the "Product Sales Milestone No. 1." This milestone pays $2 per CVR if Lemtrada net sales post-launch exceed an aggregate of $400 million within specified periods per territory.
The base case scenario is that Lemtrada will compete against Tysabri for the second-line therapy patients. Tysabri's major adverse effect is the possible development of fatal brain infection, progressive multifocal leukoencephalopathy (PML). Tysabri was recalled by FDA in early 2005 and was reintroduced in June 2006 for the treatment of relapsing forms of MS. The PML still casts a long shadow on Tysabri's prospects. The recent FDA drug safety communication gives the PML incidences as follows:
Click to enlarge images.

Click to enlarge
The PML risk was further stratified. The patients with all three known risk factors have an estimated risk of PML of 11/1,000 users. The risk factors are:
The presence of anti-JCV antibodies.
Longer duration of Tysabri treatment, especially beyond two years.
Prior treatment with an immunosuppressant medication, such as mitoxantrone, azathioprine, methotrexate, cyclophosphamide, or mycophenolate mofetil).
According to a recent Boston Globe article, "As of August 2013, there were 395 confirmed cases of Tysabri-associated PML with 118,000 patients treated globally, including 92 deaths, according to Biogen Idec's data." The patients who are negative on JC virus antibody test still have to contend with 3% false negative test result. Despite PML risks, Tysabri has reached blockbuster status with worldwide sales of more than a billion dollars.

Click to enlarge
ROW = rest of world.
The recent quarterly revenue for ROW has averaged $180 million.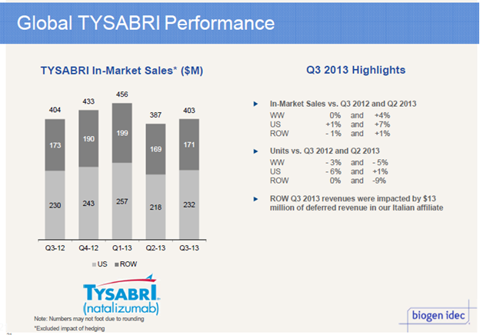 Click to enlarge
Lemtrada has to achieve 55% of Tysabri's ROW sales to qualify for the $2 milestone. It is tough, but doable, with an aggressive sales force given the safety and efficacy profile.
The Base-Case Valuation
If Lemtrada has a 70% chance of achieving the $2 milestone in two years, with 15% discounting, the NPV comes to $1.05. With 60% probability, you get an NPV of $0.9.
Is there any further upside left? Professor Alastair Compston, FRCP at Cambridge University, United Kingdom, who has pioneered the development of Alemtuzumab says that there is radical change in strategy occurring in MS.
'In the past, the culture has been to reserve the most effective agents until all else has failed. But this carries with it the risk of waiting too long and losing the window of opportunity. We are starting to realize that when patients get to advanced stages it is too late, and that the time to intervene with highly effective therapies is in the early stages. The modern view of MS is becoming "You have to nail it early."'

He claims this has been recognized by the European Union (EU) in its approval of alemtuzumab, which does not stipulate that it has to be used as second-line treatment. 'The EU license says "active relapsing remitting MS." This gives the physician enormous freedom to decide how to use it, and includes the possibility of first-line use. In doing this, the authorities have understood for the first time that the dividend for treating MS reduces over time.
If Alemtuzumab is used as first-line therapy even for a fraction of patients in EU, the odds of getting $2 goes up exponentially. With a 90% probability, we get a NPV of $1.36. Last but not least, if FDA changes its mind, the CVR holders may still get $13 over the next several years. The chances are really slim. The FDA changing its mind without additional Phase III trials is the best-case scenario.
What Is the Worst-Case Scenario?
The worst-case scenario is when Lemtrada fails to meet any of the milestones. Will the CVR rights holder go home empty-handed? Apparently not. The article 10 of the CVR agreement titled "Purchase of Securities Upon CVR Failure Event" throws some light on this event. If three years after the Lemtrada launch, with worldwide sales not reaching a billion dollars in the past four quarters and the volume-weighted average price paid per security for all securities traded over the 45 trading days prior to such date is less than $0.50, the GCVRZ will be purchased back by Sanofi. The purchase price (also called the failure purchase price) is average price of last 45 days of trading prior to the issue of failure notice. The purchase price in reality could be $0.50 or lower.
The payoff table can be summed up as follows:
| | | |
| --- | --- | --- |
| Probability | Payoff | Event |
| 70.0% | $2 | Product Sales Milestone #1 |
| 29.9% | <= $0.5 | failure purchase event |
| 0.1% | $13 | FDA approving |
Disclosure: I'm long GCVRZ (Genzyme's contigency value right). I wrote this article myself, and it expresses my own opinions. I am not receiving compensation for it (other than from Seeking Alpha). I have no business relationship with any company whose stock is mentioned in this article.