By Brad Zigler
When the skies cleared on Sunday, many backyard grills in our cabin-fevered neighborhood were fired up for the first time this year. The perfume of sizzling beef and pork that wafted over our street got me thinking about this spring's prospects for meat.
A month ago, we regarded cattle's, um, bullishness ("Is Meat A Hard Asset?") as positive for the iPath Dow Jones-UBS Livestock Subindex Total Return ETN (NYSE Arca: COW) that tracks live cattle and lean hog futures. The iPath note, then trading at $28.21, has risen 3.9 percent, as cattle's weighted backwardation trumped hogs' contango.
Live cattle comprise about 63 percent of COW's underlying index; lean hogs make up the balance. There's actually shortage in old crop cattle that's given rise to backwardation of about 0.8 percent per month, enhancing the spot return.
Lean hogs have also been on the rise, though the market's term structure is presently opposite cattle's: Backwardation's in the new crop.
iPath Livestock ETN (NYSE Arca: COW)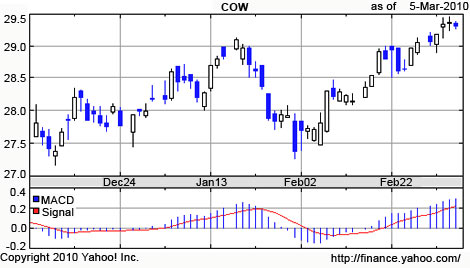 COW, well-supported above its 200-day moving average, just cleared a 79-percent retracement of last summer's price decline and seems poised to challenge its former high at $30.15.
There are a lot of commodities in tired or declining trends (seen sugar lately?), but livestock looks like an early-stage bull market. Just one question: You want fries with that?