I think that most people over the age 30 are familiar with Earthlink (ELNK), from the dotcom days. It was one of the big dial-up ISPs that boomed during the first wave of the internet adoption, but then crashed as people moved to faster DSL and cable access from the big providers.
However, it's been showing up on my value screens for several reasons: large cash hoard as a percentage of its enterprise value, high return on tangible assets, and very low EV/EBIT and P/E ratios. At first glance, it seems management has the right sense of running this company to maximize cash generation and not waste shareholder value on corporate adventures.
So, with the obvious backdrop of the company operating in an awful line of business, the contrarian in me thought this might be a good place to look for an undervalued run-off/liquidation scenario. My analysis is below and, unfortunately, the current market price doesn't seem to offer much in the way of an opportunity.
Business Overview
I'm not going to spend much time discussing their business model, but I've summarized the operating metrics over the past several years below.

(Click to enlarge)
Management seems to have done a great job cutting costs and managing margins in the face of a steep revenue decline. Importantly, the business doesn't require much in the way of new fixed investment or any increase in working capital. With the aid of the NOL shield built up from past losses, most of the EBIT above has actually translated into a growing cash balance at the company, which management has resisted the temptation (so far) to spend.
I normally try to avoid forecasting, but it will be important here to get a sense of how steep the annual organic decline is in the business. The analysis below runs the current trends forward in a conservative manner (i.e. no assumptions of price increases or stabilization of the customer base), and shows that the annual decline in revenue/EBIT seems to be running just north of 20%. Note that my inputs are in bold typeface.

(Click to enlarge)
Net asset value
Assuming that no one is looking to invest fresh capital into a new dial-up ISP, I pegged the NAV on a liquidation value analysis instead of reproduction value. Based on the balance sheet analysis shown below (based on the 9/30 10-Q with the cash balance rolled forward via their 12/31 operating results), I calculate the NAV at approximately $7.24 per share. This is basically a sum-of-the-parts based on the discounted balance sheet value plus a conservative multiple (2.5x) on their current, declining cash flow.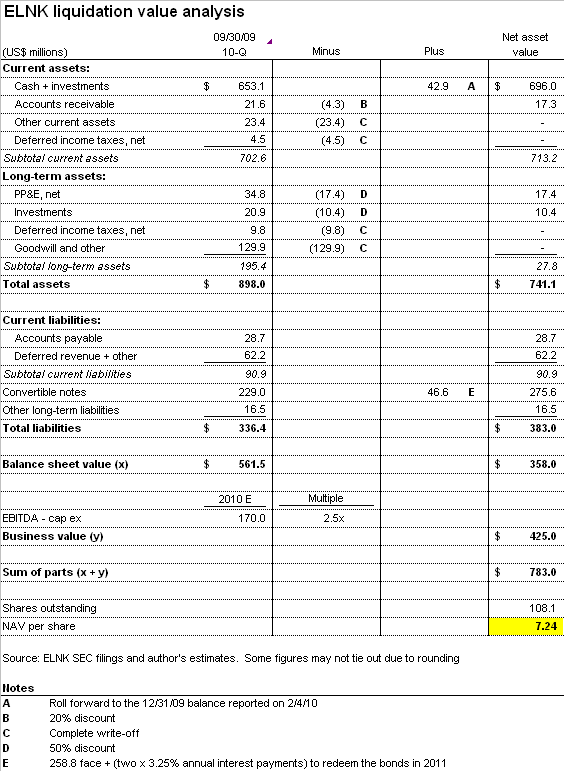 Discounted cash flow valuation
I believe the case of a run-off business generating ample profits with a cash/value-minded management team, a discounted cash flow analysis is probably the best tool to estimate value. Based on the projection model laid out above, my DCF valuation is as follows:
Valuation continuum and margin of safety assessment
Based on both of the analyses shown, Earthlink is clearly trading above a level that affords a buyer a margin of safety based on current trends in the business.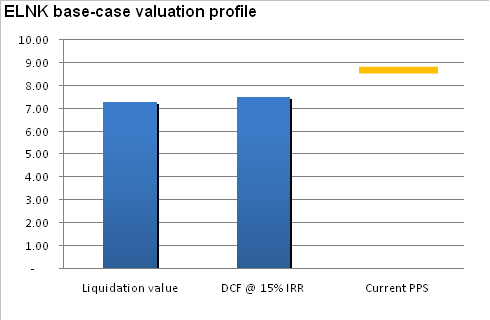 To avoid any risk of relying on the forecast that I provided above (which will no doubt prove to be wildly inaccurate in some future period) I have also prepared the sensitivity tables below: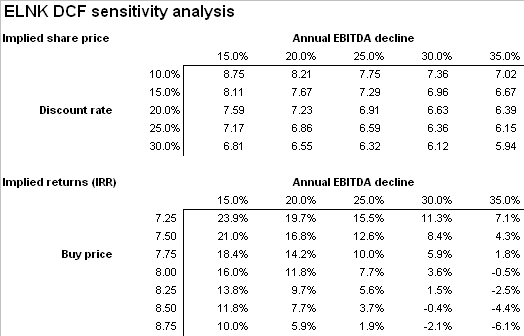 Summary and conclusions
Based on today's (3/8/10) price over $8.60 per share, ELNK is trading at a very rich level to where I calculate the intrinsic value. Based on the IRR sensitivity above, at an annual decline of over 20% and a price of $8.60, you are probably looking at base case returns in the 5%-6% range per annum, and taking quite a bit of risk that subscriber losses don't accelerate, management continues to hold margins, and they don't do anything dumb with the cash. If you are an optimist, you could flip this around and say that you are earning a corporate bond rate and have a free call option on the management team somehow getting traction with a stablized subscriber base, which you then own at a single-digit P/E.
Given the current trends and lack of any tangible catalyst to turn the tide, I think equity investors should be getting paid at least 15% to 20% to take on this type of execution risk, which would imply a fair value closer to $7.00 to $7.50 per share, and I think a margin of safety begins to be present when the price dips below $7.00. Might be interesting if the stock takes a hit in the future, but the current price seems far too high for a value investor.
Disclosure: No position