Warren Buffett capped his 2013 investment activity by having Berkshire Hathaway Inc. (NYSE:BRK.A) pay some $1.4B to buy Phillips Specialty Products Inc. (PSPI), a unit of Phillips 66 (NYSE:PSX). This business "leads the science of drag reduction and specializes in developing polymers to maximize the flow potential of pipelines." The announcement caused the stocks of refiners like Valero (NYSE:VLO) and Tesoro (NYSE:TSO) to move up 2% to 3% the day the transaction was announced.
Mr. Buffett, a master of tax avoidance, is using some 19mm shares of PSX Berkshire currently holds to complete the acquisition. These shares have run up some 45% since Berkshire acquired them and this transaction avoids having to pay taxes on those gains.
This transaction also makes sense in variety of other ways and also increases Mr. Buffett's exposure to the fast growing Bakken shale region which is quickly approaching the 1mm barrels of oil a day production level.
Mr. Buffett gained exposure to this energy producing area via Berkshire's purchase of Burlington Northern for ~$45B in late 2009. Thanks to the energy boom, the railroad now gets ~10% of its traffic from transporting oil from the region. 90% of the oil produced in the Bakken is currently transported via rail.
I can also see why the Oracle of Omaha has moved into the midstream and downstream energy space via this purchase and original pick up of 27mm shares of Phillips 66.
Pipelines are ten times as safe for transporting oil per mile travelled as via rail. Berkshire has unfortunate experience with this with a couple of oil train derailments and explosions recently at Burlington Northern.
* On a side note. Maybe he can also share this knowledge with his good friend, the president, so we can finally get the Keystone pipeline approved.
Second, the pipeline business is the type of easy to understand businesses Mr. Buffett typically invests in. The industry is shielded from commodity price swings at it charges transaction fees based on volume not price. The refining industry is more problematic this way but should continue to benefit from good crack spreads as the energy boom continues to make domestic oil (WTI) much cheaper than oil produced internationally (Brent).
It is also a business that throws off a prodigious and consistent amount of cash flow, another metric the Oracle of Omaha has historically found attractive.
Finally, it is a good way to position Berkshire to benefit from the exploding energy production happening in the United States especially in the Bakken. This development should continue for the foreseeable future.
I don't believe this will be the last acquisition in this space for Berkshire Hathaway. One entity I could see Mr. Buffett being interested in is Calumet Specialty Product Partners (NASDAQ:CLMT). I believe this acquisition would make sense for myriad reasons.
The company is building the first entirely new refinery built in the United States since the 70s with a partner. The refinery is located in North Dakota perfectly positioned for the increasing production coming from the Bakken. It also has a 10,000 barrel per day (BPD) refinery in Montana.
A recent positive for Calumet is that the EPA is cutting the amount of ethanol and other biofuels that must be blended into the nation's fuel supply. This should cut the company's renewable mandate costs which exploded in 2013 but have come down substantially since the EPA made its announcement.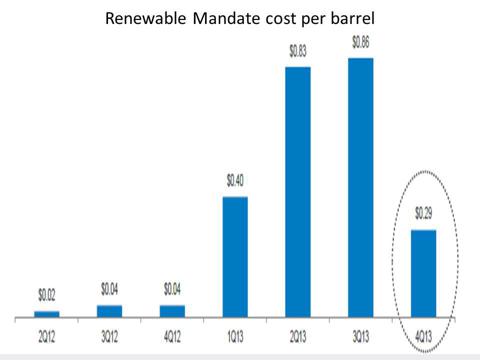 Click to enlarge
Calumet has an interesting niche much like Berkshire's new $1.4B acquisition. The company produces 160,000 bpd of petroleum-based specialty products and fuels from 11 domestic production facilities. It also has several storage facilities that might have interest to Berkshire as well.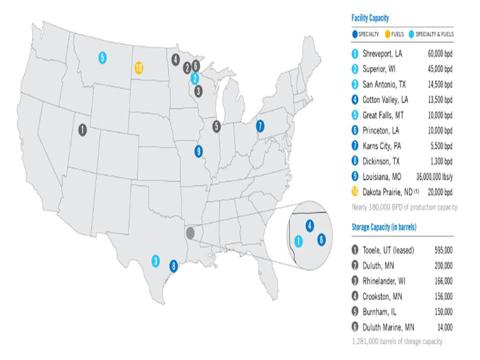 Click to enlarge
Calumet would be medium sized acquisition (~$2.5B enterprise value) for Berkshire. Operating cash flow was down more than 40% in FY2013 but should do better in 2014 as the divergence between Brent and WTI has widened over the past few months and hopefully renewable costs keep coming down as the EPA eases its mandates in the area.
The stock is selling at 9x its reduced operating cash flow and currently pays an over ten percent (10.3%) distribution yield while an income investor looks for business conditions to improve and/or a larger player ala Berkshire to come along and purchase Calumet. BUY
Disclosure: I am long CLMT. I wrote this article myself, and it expresses my own opinions. I am not receiving compensation for it (other than from Seeking Alpha). I have no business relationship with any company whose stock is mentioned in this article.