The ASX (Australian Stock Exchange) tracker for rate expectations dropped further to start the new year. The RBA (Reserve Bank of Australia) Rate Tracker dropped the odds of a rate decrease for the next meeting on monetary policy from 9% to 7%.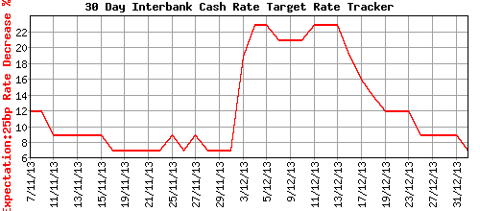 Click to enlarge
A round trip for rate drop expectations
Source: ASX RBA Rate Tracker
This decline in expectations should help firm up the Australian dollar (NYSEARCA:FXA) for at least the four weeks going into the February RBA meeting ... at least until/unless Governor Stevens reiterates his 0.85 target for AUD/USD in a new and creative way. Almost on cue, the Australian dollar experienced a small bounce and relatively strong start for 2014. AUD/USD has bounced around in a tight range since mid-December even as the steep downtrend in place since late October looms heavily overhead.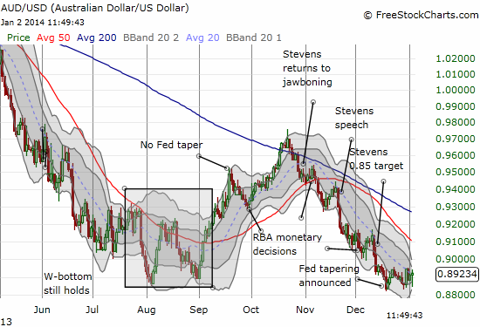 Click to enlarge
Australian dollar clinging to recent lows
Source: FreeStockCharts.com
I am inclined to bias long for trades on the Australian dollar unless it closed below 0.88 and follows through with additional weakness. It is very conceivable that the Australian dollar could rally into the (downtrending) 50-day moving average (DMA) in the weeks heading into the RBA meeting. The U.S. dollar (NYSEARCA:UUP) has been lackluster since December's Fed announcement of a "sample" of tapering, so I will not be surprised to see bets against the U.S. dollar migrate over to AUD/USD.
The February RBA meeting will be another one of those closely watched central bank pronouncements. In particular, will the RBA come up with rhetoric and/or policy to back-up the 0.85 target that Stevens issued in mid-December? If not, the Australian dollar could rally right through the meeting.
Be careful out there!
Disclosure: I have no positions in any stocks mentioned, and no plans to initiate any positions within the next 72 hours. I wrote this article myself, and it expresses my own opinions. I am not receiving compensation for it (other than from Seeking Alpha). I have no business relationship with any company whose stock is mentioned in this article.
Additional disclosure: In forex, I am net long the Australian dollar