When it comes to any utility-based play, the company's relationship with the state in which it does a majority of its business can play a key role in the company's overall performance.
In recent days, a pact between Consolidated Edison (NYSE:ED) and the state of New York was agreed upon to freeze the company's base electricity rates for the next two years and its base gas and steam rates for the next three years. In the wake of this announcement, I wanted to highlight several reasons why I'm currently staying bullish on shares of Consolidated Edison as an income-driven play.
#1 Recent Trend Behavior Could Create A Near-Term Buying Opportunity
On Tuesday, shares of ED, which currently possess a market cap of $16.19 billion, a forward P/E ratio of 14.52, and a dividend yield of 4.45% ($2.46), settled at a price of $55.28/share. Based on their closing price of $55.28/share, shares of ED are trading 0.51% above their 20-day simple moving average, 2.10% below their 50-day simple moving average and 4.07% below their 200-day simple moving average.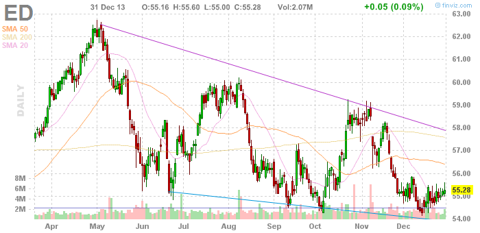 Although these numbers indicate a short-term uptrend and a mid-to-long-term downtrend for the stock, which would generally signal a moderate selling mode for most long-term investors, I think the company current trends actually signal a buying opportunity especially if the company can keep prices stable over the next two to three years and make a considerable improvements to the energy grid over the next 24-36 months.
#2 5-Year Dividend Behavior
Since February 13, 2009, the company has increased its quarterly distribution four times in the last five years, with the most recent increase having taken place in February of this year. The company's forward yield of 4.45% ($2.46) coupled with its ability to maintain its quarterly distribution over last five years, make this particular utility play a highly considerable option, especially for those who may be in the market for a higher-yielding stream of quarterly income.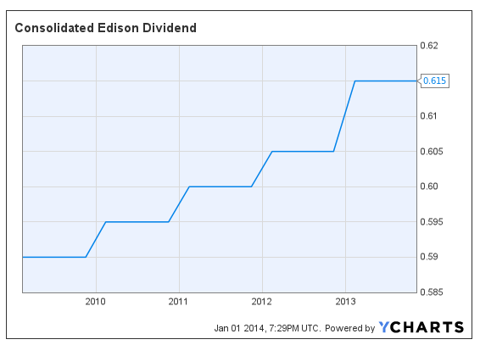 #3 Comparative Dividend Growth
Not only does the company's 4.45% dividend yield and 5-year dividend behavior make this particular stock a highly attractive option for most income-driven investors, its dividend growth over the last five years versus one of its sector-based peers is also something investors should consider. From a comparable standpoint, Consolidated Edison's dividend has grown a solid 4.24% over the past five years, whereas the dividend growth of its sector-based peer Empire District Electric (NYSE:EDE) has actually fallen 20.31%.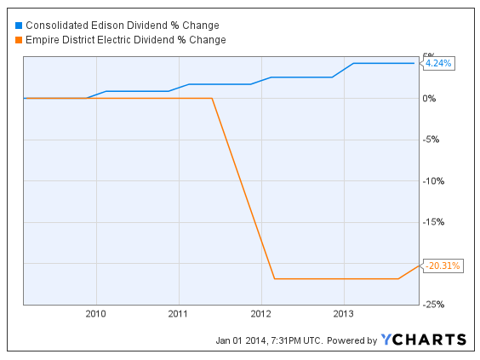 #4: Looking Ahead To Q4 Earnings
If we begin to look ahead to the company's Q4 earnings estimates, in which analysts are calling for ED to earn $0.65/share in terms of EPS (which is $0.06/share lower than the company had reported during Q4 2012) and $2.95 billion in terms of revenue (which is $50 million higher than the company had reported during Q4 2012), I suspect most investors would like to see an improvement over the company's year-ago results which came in at $0.71/share in terms of EPS and $2.9 billion in terms of revenue.
If the company can demonstrate an increase of at least 3.25%-to-4.25% in terms of its net cash flows from operating activities and find a way to improve its net income on both a quarterly and annual basis while keeping rates stabilized I see no reason why such EPS and Revenue estimates can't be met or even slightly exceeded when the company announces its Q4 results sometime in late January.
A Few Risks to Consider
According to Consolidated Edison's most recent 10-K there are a number of risk factors investors should consider before establishing a position. These risk factors include but are not limited to:
#1 - The failure to operate energy facilities safely and reliably could adversely affect each of the company's operations and performance.
#2 - Each of the subsidiary companies are exposed to risks pertaining to environmental consequences of their operations.
#3 - Any disruption in the wholesale energy markets or the failure of an energy supplier could adversely affect the performance and operating results of any number of the subsidiary companies that fall under the reach of Consolidated Edison.
Conclusion
For those of you considering a position in Consolidated Edison, I strongly recommend keeping a close eye on the company's dividend behavior, earnings growth and its ability to make key improvements in the energy grid over the next 12-24 months as each of these factors could play a role in the company's long-term performance.
Disclosure: I have no positions in any stocks mentioned, but may initiate a long position in ED, over the next 72 hours. I wrote this article myself, and it expresses my own opinions. I am not receiving compensation for it (other than from Seeking Alpha). I have no business relationship with any company whose stock is mentioned in this article.