Following Friday's jobs report, which came at the end of a week full of widely-anticipated data releases, trading got off to a slow start Monday, as most benchmarks finished nearly unchanged on the day. Overseas, Greek Prime Minister called on U.S. officials to investigate speculation in currency markets, alleging that current borrowing costs threatened to derail the country's fragile financial state. "We will have a very hard time implementing our reform program if the gains from our austerity measures are swallowed up by prohibitive interest rates," said George Papandreou.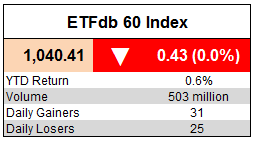 The ETFdb 60 Index, a benchmark measuring the performance of asset classes available through ETFs, finished down 0.43 points to close at 1,040.41. Trading volume was extremely light at just over 500 million shares.
The Vanguard REIT ETF (NYSEARCA:VNQ) gained 1% on the day, as the real estate fund continued a mini-rally that has seen share prices rise nearly 15% over the last month. REITs got a boost late last week when General Growth Properties (GGP), which filed for bankruptcy last year, returned to trading on the New York Stock Exchange. After rejecting an unsolicited $10 billion offer from Simon Property Group (NYSE:SPG) last month, GGP signed a deal with Brookfield Asset Management (NYSE:BAM) to help the troubled property owner emerge from bankruptcy. GGP isn't included in VNQ, but its improving prospects have helped to lift the entire REIT sector in recent sessions.
click to enlarge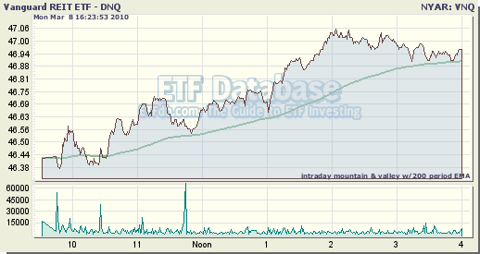 Click to enlarge
The United States Natural Gas Fund (NYSEARCA:UNG) continued its slide, losing 1.1% on the day to hit yet another all-time low. Despite ongoing weakness in prices, interest in natural gas companies remains hot. Royal Dutch Shell (NYSE:RDS.A) and China's state-owned oil company Petrochina (NYSE:PTR) are reportedly in discussions to pay $3 billion in cash for Australian natural gas developer Arrow Energy.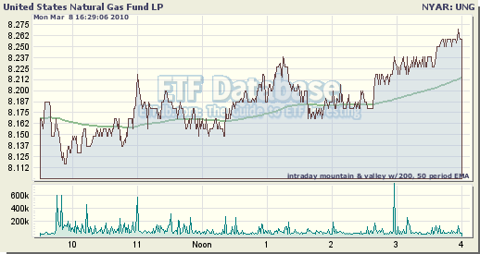 Click to enlarge
Disclosure: No positions at time of writing.