Arena Pharmaceuticals (NASDAQ:ARNA) is a small pharmaceutical company headquartered in San Diego with a manufacturing facility in Switzerland. It is solely reliant on its weight management product introduced this June to generate revenues. There are some products in their trial phases so their future is uncertain and therefore inconclusive for me to assess their future support in raising value for shareholders.
Belviq: The main driver
Belviq is what Arena calls their weight management drug. Through marketing agreements with Eisai, Arena derives its revenues as an upfront payment that it amortizes when they are earned.

Source: 10Q
As you can see from the table above, there had been no net product sales in the previous quarter of 2012 or the 9 months period. In its last quarter, Arena achieved $3.6 million in total sales. This was due to $2 million coming from Belviq. As I said above, Arena amortizes the revenue that is paid upfront by the marketing agency. By September, Arena possessed $75 million in deferred revenues. In the third quarter, Arena amortized $0.9 million of its revenue from Eisai. The other significant contributor was revenue received from the Siegfried manufacturing facility in Switzerland.
Currently, Belviq is only authorized and approved in the US. That means there is uncertainty concerning Belviq's success in the international market. The company's success depends on how Eisai markets Belviq internationally. In the US, Belviq seems to be growing well. The total number of prescriptions "TRx" is growing monthly and this is shown in the graph below. Belviq prescriptions have more than doubled in the 3 months since its inception.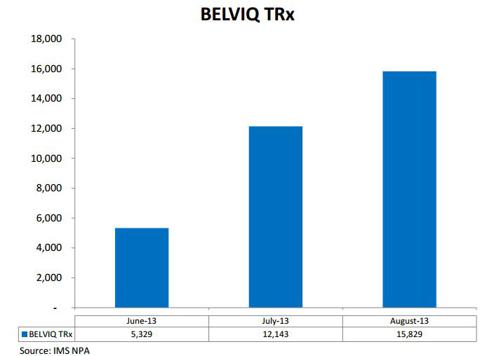 Eisai filed for approval in Mexico and Canada during the first half of this year. The company further plans to submit applications in South Korea and Brazil by the end of this month. When we receive the next quarter's filing we will see how much progress Arena has made. It should be brought to attention that Eisai failed to properly address the assessment requested by Switzerland to grant it marketing rights. We don't know how the product will be further assessed in the international markets so at present the risk of countries not granting approval persists.
Weight Loss Market
The weight loss market is growing with an anticipated CAGR of 9.4% to be realized by 2015. In 2012, the market grew by 1.7% while other sectors remained stagnant. The market is expected to grow by 2.6% this year from 2012's $62 billion in revenues. Arena's Belviq has a promising future compared to its competitor Vivus that launched Qsymia last year. It was believed to be a good product but somehow its sales share has been falling. Due to this decline, Vivus has decided to lay off 20 people from its sales force. Further, the Bank of America has cut its estimate of Qsymia's sales to $1.8 billion from the $2.3 billion target anticipated to be achieved by 2020.
The positive news for Belviq is that it is still in the approval process to gain international marketing rights. That means the results we have analysed were just nominal sales in the US. Also, Belviq's sales are less than what they should be in the US because Eisai is giving away tons of free samples right now to generate awareness. It's estimated that between 60-70% of all Belviq prescriptions filled are being provided free of cost.
Arena has many potential markets to gain from niche areas such as men's, teen, African-American and Hispanic health if it is granted approval. We may see the company's share value rise once TV advertisements begin and Arena starts exporting. This excludes Europe because even though Arena filed for application earlier withdrew owing to concerns that the company did not satisfy at the time of application. In the future, if the application becomes successful, Europe could become a source of profits.
Arena also plans to begin Phase 2 trials for Lorcaserine as a drug for smoking cessation in 2014.
In my opinion, until these plans materialize one cannot determine any real time value for shareholders. Belviq is one exception. It is the first drug for weight loss approved by FDA in a decade that helps losing weight without thinning the heart valves thus giving it an edge over its competitors.
Further, Arena announced plans to conduct a 12-week pilot study combining Belviq with phentermine, another approved weight-loss medicine. Given 12 weeks of treatment a rough guess would be top-line results being delivered in the second half of 2014. Belviq (lorcaserin) is chemically similar to fenfluramine except that the former is not supposed to cause the serious heart defects which caused the latter to be removed off the market.
The Risk: Great Ideas, Low on Cash
Arena has great prospects but, it is short on liquidity. Its research costs and expenses that will be required to market Belviq are putting further strain on reserves that are already low due to what is needed to launch Belviq. Arena chooses to remain open to debt and equity to finance the shortcomings.
In the short term, Arena has cash and equivalents of $180 million excluding a $60 million upfront payment from Eisai. This cash is sufficient to fund operations for the next 12 months. Nonetheless, Arena's short-term operating expenses will be substantial as it continues to fund BELVIQ-related activities and at the same time selectively advance certain research and development trials.
Long term, Arena needs substantial cash to achieve company objectives required for discovering, developing and commercializing drugs. The process typically takes many years and potentially several hundreds of millions of dollars for an individual drug. Arena may not have an adequate amount of cash available or assets that could be readily turned into cash to meet these objectives in the long term.
Conclusion
Arena can derive a lot in revenue if Belviq is able to enter the international market. Its other plans and trials have not reached a phase that could promise future success. The company is short on cash and plans to raise funds through equity or by selling assets but this is not good considering the fact that Arena has not provided any dividends to date.
Big plans do not guarantee future success. Arena's share value has fallen 35% in a year. Whatever jump the PPS got was through the Belviq launch and It has a negative EPS of $0.08. If the international launching is not successful Arena will be stuck at the sales figure it presently has. Therefore for investors it is best to stay away from this company even though it promises future success on the shoulders of Belviq.
Disclosure: I have no positions in any stocks mentioned, and no plans to initiate any positions within the next 72 hours. I wrote this article myself, and it expresses my own opinions. I am not receiving compensation for it (other than from Seeking Alpha). I have no business relationship with any company whose stock is mentioned in this article.