On Dec. 23, 2013, Kinder Morgan Energy Partners LP (NYSE: KMP) announced the acquisition of American Petroleum Tankers and State Class Tankers from two private-equity firms, The Blackstone Group LP (NYSE: BX) and Cerberus Capital Management, in an all-cash deal valued worth $962 million.
American Petroleum Tankers owns a fleet of five medium-range product tankers, each of which can carry 330,000 barrels of crude oil, refined products or certain chemicals.
State Class Tankers has contracted with General Dynamics Corp's (NYSE: GD) NASSCO shipyard in San Diego, Calif., to build four medium-range product tankers that also will have a nameplate capacity of 330,000 barrels apiece.
In addition to the cash Kinder Morgan Energy Partners paid to acquire these two companies, the master limited partnership (MLP) will need to spend another $214 million to complete construction of the four tankers slated for delivery in 2015 and 2016.
Kinder Morgan Energy Partners' acquisition of medium-range tankers is a savvy play on America's growing energy independence.
The Politics of Tankers
Former Speaker of the House Tip O'Neill coined the phrase "all politics is local" in the 1980s.
But the sentiment isn't new. Since the dawn of our republic, Congressional representatives have used their influence in Washington, DC, to secure favors and windfalls for constituents, business interests and supporters in their home states.
Wesley Livsey Jones, a Republican senator from the state of Washington, served from 1909 until his death in 1932 and dominated local politics.
The senator's support for The Merchant Maritime Act of 1920-more commonly known as the Jones Act-continues to have consequences for the US economy.
At the time, shipping interests in Seattle viewed Alaska's burgeoning production of gold, copper, fish, lumber and other natural resources as a huge opportunity for Washington's maritime industry. Merchant marines would need to transport these commodities to end-markets in the continental US.
However, Washington's maritime industry faced a major impediment: Shipping costs to the Lower 48 from Vancouver and other ports in nearby western Canada were cheaper.
Enter the Jones Act. The law requires that US-flagged vessels, built in the US, owned and operated by US businesses and manned primarily by US crews conduct all shipping between US ports. With the stroke of a pen, Washington's shipping magnates came to monopolize the trade flowing in and out of Alaska.
Because Alaska didn't become a state until 1959, Constitutional provisions that prevent one state from monopolizing commerce in another state didn't apply.
Almost a century after the Jones Act's passage, this piece of legislation continues to have widespread repercussions for the US economy.
Check out this map tracking the cost of transporting oil to and from various energy hubs in North America.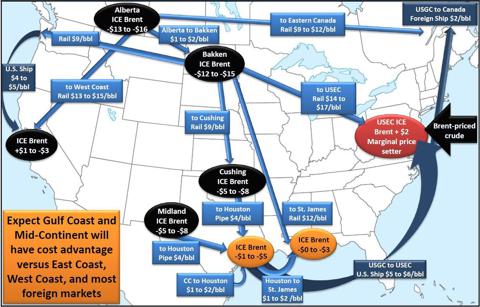 Source: Valero Energy Corp, November Investor Presentation
Independent refiner Valero Energy Corp (NYSE: VLO) estimates the cost of moving crude oil from the US Gulf Coast to the East Coast at $5.00 to $6.00 per barrel. However, the cost of shipping a barrel of oil from the US Gulf Coast to Quebec comes in at $2.00 per barrel.
Why the discrepancy? Whereas the Jones Act requires US-flagged, -built, -owned and -crewed tankers to transport crude oil between US ports, foreign-flagged vessels can handle shipments from the Gulf Coast to Canada.
A similar situation occurs on the West Coast, where shipping crude oil from Canada to California costs about half as much as transporting this commodity from Alaska.
Investors shouldn't confuse the market for Jones Act-compliant vessels with the ocean-going tankers that move crude oil outside of North America. Supply and demand conditions in these markets differ completely.
The Jones Act Market
Thanks to the rapid development of prolific onshore plays such as North Dakota's Bakken Shale and the Eagle Ford Shale in south Texas, US crude oil production recently topped 7.79 million barrels per day-a 25-year high.
Surging US oil production has outpaced the construction of new pipelines to transport these volumes to market. To offset insufficient pipeline capacity, producers have turned to alternative modes of transportation, including railroads, barges and tankers.
The US comprises five Petroleum Area for Defense Districts (PADD) created during World War II to help organize the allocation of fuels.
The upsurge in oil output from the Bakken Shale (PADD 2) has outstripped pipeline and rail capacity, prompting producers to rely on inland barges to transport volumes down the Mississippi River to the refinery complex on the Gulf Coast (PADD 3).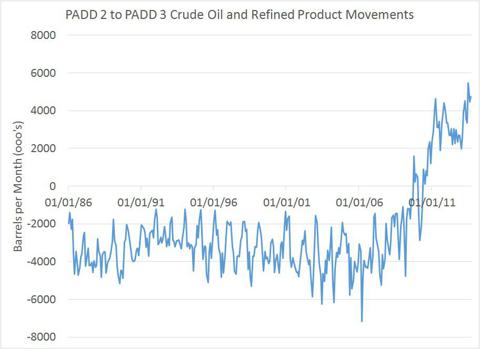 Source: Energy Information Administration
From the 1980s until late 2009, oil imported into Gulf Coast ports was loaded onto tanker barges and shipped north into the Midwest. Likewise, gasoline, diesel and other refined products also traveled by barge to the nation's midsection.
This traffic has reversed flow since development of North Dakota's Bakken Shale began to heat up; more than 4 million barrels of oil per month now travel from the Midwest to the US Gulf Coast. We expect the volumes of crude oil barged down the Mississippi to continue to grow, fueled by further production growth in the Bakken Shale.
Kirby Corp (NYSE: KEX), the largest operator of US inland tanker barges, has reaped the rewards of this trend. The company's fleet consists of almost 900 of these vessels and can transport more than 17 million barrels of liquid hydrocarbons.
Although Kirby's diesel-engine maintenance and repair business has floundered in recent quarters, this segment accounts for only a quarter of the firm's total revenue and the strength in its shipping business has more than offset this weakness.
Kirby's stock returned more than 60 percent last year and, at almost 22 times the Bloomberg consensus earnings estimate for 2013, trades near the top of its long-term valuation range.
Tanker barges that ship crude oil from PADD 2 to PADD 3 aren't the only US-flagged vessels that have benefited from the shale oil and gas revolution.
Wide price differentials between inland crude oils and markets on the East Coast and West Coast have encouraged producers to ship volumes to these markets via tanker, while refinery closures on the East Coast have led to an uptick in seaborne movements of refined products to this area.
Only two pipelines carry refined products from the Gulf Coast to the East Coast: Kinder Morgan Energy Partners' Plantation pipeline and the Colonial pipeline system, which is owned by Royal Dutch Shell (NYSE: RDS A) and a consortium of privately held firms.
With both pipelines operating at full capacity, refiners have engaged tankers to transport their products to the East Coast.
Meanwhile, six to eight Jones Act-compliant tankers move light crude oil produced in the Eagle Ford Shale from Corpus Christi, Texas, to refineries along the Texas and Louisiana coasts.
The West Coast is another market where demand for these vessels continues to grow.
For example, independent refiner Tesoro Corp (NYSE: TSO) formed a joint venture with privately held Savage Companies to build a rail-to-marine terminal at the Port of Vancouver in Washington state.
This facility, which will have a nameplate capacity of 300,000 barrels of crude oil per day, will load crude oil delivered by rail from the Bakken Shale onto tankers for shipment to Tesoro's refining complex in Los Angeles.
Rising Demand, Short Supply
Although demand for Jones Act-compliant tankers continues to increase, these vessels are in short supply. Not only do 32 of these vessels operate in the US (down from 48 ships in 2009), but also one-fifth of these tankers are at least 28 years old, suggesting that a significant portion of the fleet will soon be scrapped.
As for new supply, only two shipyards have the capacity to produce Jones Act-compliant tankers: the aforementioned NASSCO in San Diego and a facility in the Northeast operated by Aker Philadelphia Shipyard (OTCPK:AKRRF).
Rumors have emerged of a third shipyard coming onstream to help meet burgeoning demand; however, the capacity to build new vessels that comply with the Jones Act will remain constrained in the near term.
This tight supply-demand balance has increased the day-rates that these vessels can earn. For example, ExxonMobil Corp (NYSE: XOM) in June 2013 chartered Koch Industries' American Phoenix product tanker for a then-record $100,000 per day.
On Dec. 17, 2013, ExxonMobil engaged Petrobras' (NYSE: PBR) Overseas Cascade tanker on a six-month fixture that includes a day-rate of $110,000-a more than 50 percent increase from the previous day-rate. The tanker will continue to ship refined products from Port Arthur, Texas, to Port Everglades, Fla.
The record day-rates that vessels can earn in this niche market contrasts with ongoing weakness in the global tanker market.
The Baltic Exchange Dirty Tanker Index tracks day-rates for vessels that sail 12 common routes, providing useful insight into pricing trends. Although this index has surged by almost 72 percent since June 2013, day-rates for oil tankers remain at a fraction of the levels that prevailed during the 2004-07 bull market.
The culprit behind this persistent weakness: an oversupply of capacity. In 2008 orders for new very large crude carriers (VLCC) reached almost 50 percent of the global fleet. This influx of newly built vessels overwhelmed demand, sending the rates earned by these vessels to levels that were below the break-even point for many shipowners.
Although a shrinking order book and scrapping of older vessels should improve day-rates over the next two years, the tanker market remains oversupplied.
Investors should disregard any articles about Kinder Morgan Energy Partners' tanker acquisition that confuse the global VLCC market with US-flagged vessels that comply with the Jones Act.
A Kinder Assessment
Kinder Morgan Energy Partners' move into the domestic tanker market is a logical extension of its existing crude-oil and refined-products transportation networks.
Moreover, the tankers that the blue-chip MLP acquired operate under long-term agreements, guaranteeing a relatively predictable stream of cash flow over the next few years.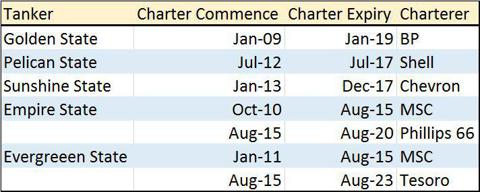 Source: American Petroleum Tankers, S-1 Registration Statement
These contracts obligate the charterer to pay for fuel and port changes and include escalation clauses that will offset any increases in operating expenses.
More important, the average day-rate that these vessels earn is roughly half the prevailing rate for similar tankers; market conditions would need to deteriorate significantly for re-contracting to become a significant risk.
And the four under-construction tankers have already secured long-term fixtures that will begin as soon as they leave the shipyard in 2015 and 2016. These five-year contracts include options for three-year extensions. The arrival of these new tankers will increase the fleet's average day-rate to more than $65,000 in 2016.
Management expects these assets to be immediately accretive to distributable cash flow and to generate about $55 million in earnings before interest, taxation, depreciation and amortization (EBITDA) in 2014.
The annual EBITDA generated by Kinder Morgan Energy Partners' newly acquired shipping assets will increase to $140 million, once the newly built tankers join the fleet.
To help finance the deal, Kinder Morgan Inc. (NYSE: KMI)-the MLP's general partner-will forego $16 million worth of incentive distributions rights (IDR) in 2014, $19 million in 2015 and $6 million in 2016.
Kinder Morgan Energy Partners' critics often cite the MLP's burdensome IDR obligations, which reduce the cash available for distribution to common unitholders and increase its cost of capital. (I discuss IDRs and their implications at length in Master Limited Partnership IDRs: Incentive or Impediment.)
But this bearish argument overlooks the general partner's long history of waiving its IDR to help Kinder Morgan Energy Partners fund acquisitions and expansion projects.
We expect Kinder Morgan Energy Partners to deliver on guidance calling for annual distribution growth of 5 percent to 6 percent over the next few years. Learn more about our favorite energy related MLPs in 3 Master Limited Partnerships to Buy Now.
Disclosure: I have no positions in any stocks mentioned, and no plans to initiate any positions within the next 72 hours. I wrote this article myself, and it expresses my own opinions. I am not receiving compensation for it (other than from Seeking Alpha). I have no business relationship with any company whose stock is mentioned in this article.