When it comes to the timber sector, many investors tend to think about some of the bigger names in the sector such as Weyerhaeuser (NYSE:WY) and Plum Creek Timber (NYSE:PCL), rather than some of the smaller names such as Pope Resources (NASDAQ:POPE).
With that being said, I actually wanted to shift my focus toward Pope Resources, LP and not only highlight the company but a number of reasons why I've chosen to stay bullish on this smaller-cap timber play that currently yields 3.28% and pays an annualized distribution of $2.20/share.
Company Overview
Founded in 1985 and headquartered in Poulsbo, Washington, Pope Resources, LP is a Delaware Limited Partnership engaged in management of timber resources here in the United States. It operates in three different segments that consist of its Fee Timber unit, its Timberland Management & Consulting unit, and its Real Estate unit.
Pope Resources also sells its logs to lumber mills and other wood fiber processors located in Western Washington and Northwest Oregon, as well as to export intermediaries located at the ports of Longview, Tacoma, Port Angeles, and Olympia, Washington and the port of Astoria, Oregon.
#1: Recent Performance & Trend Behavior Signals A Buying Mode For Long-Term Investors
On Tuesday, shares of POPE, which currently possess a market cap of $292.86 million, a P/E ratio of 33.50, and a distribution yield of 3.28% ($2.20), settled at a price of $67.00/share. Based on their closing price of $67.00/share, shares of POPE are trading 0.57% above their 20-day simple moving average, 0.32% above their 50-day simple moving average and 2.30% above their 200-day simple moving average. These numbers indicate a short-term, mid-term, and long-term uptrend for the stock, which generally signals a moderate buying mode for most long-term investors.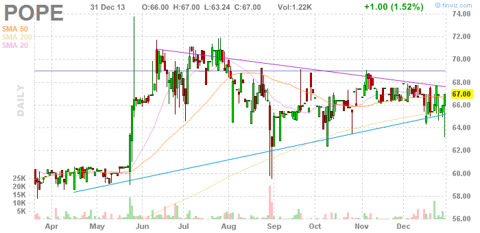 #2: 5-Year Dividend Behavior
Since December 1, 2009, the company has increased its quarterly distribution four times in the last five years, with the most recent increase having taken place in May of this year. The company's forward yield of 3.28% ($2.20) coupled with its ability to maintain its quarterly distribution over last five years, make this particular timber play a highly considerable option, especially for those who may be in the market for a sustainable stream of quarterly income.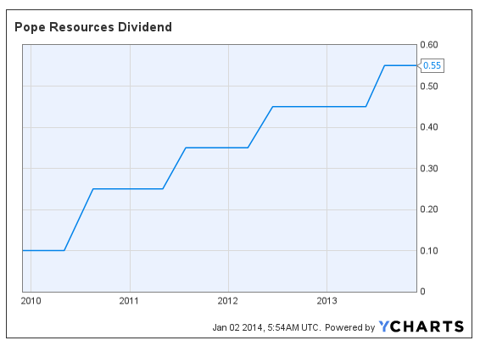 #3: Comparative Dividend Behavior
Not only does the company's 3.28% distribution yield and 5-year distribution growth make this particular stock a highly attractive option for most income-driven investors, its distribution growth over the last five years versus one of its sector-based peers is also something investors should consider. From a comparable standpoint, Pope Resources distribution has grown an impressive 450% over the past five years, whereas the distribution growth of its sector-based peer Plum Creek Timber has only grown a mere 4.76%.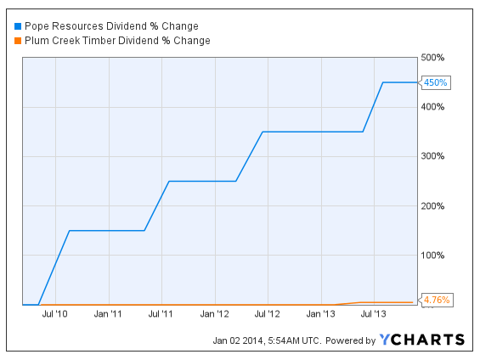 A Few Risks to Consider
According to Pope Resource's most recent 10-K there are a number of risk factors investors should consider before establishing a position in this particular timber play. These risk factors include but are not limited to:
#1 - The consolidation of sawmills within the partnership's geographic operating area may reduce competition among its customers, which could have an adverse effect on the company's log prices.
#2 - The partnership is sensitive to the cyclicality of demand and price issues relating to its sales of logs in both domestic and foreign markets.
#3 - Pope Resources competes with a number of larger competitors such as Weyerhaeuser and Plum Creek Timber which may be better suited to absorb volatile price fluctuations. They may also be better equipped to expend their resources on such things as production, and as a result may have greater access to much needed capital if a situation arose in which greater capital was needed.
Conclusion
For those of you considering a position in Pope Resources, I strongly recommend keeping a close eye on the US demand for timber or timber-related products as such a demand could have a direct impact on both the company's overall growth as well as its distribution behavior over the next 12-24 months.
Disclosure: I have no positions in any stocks mentioned, but may initiate a long position in POPE, over the next 72 hours. I wrote this article myself, and it expresses my own opinions. I am not receiving compensation for it (other than from Seeking Alpha). I have no business relationship with any company whose stock is mentioned in this article.