Nam Tai Electronics, Inc. (NTE) is a manufacturing company that specializes in consumer electronics and other tech products. However, it is also a real estate play now as it owns valuable property in China with strong development potential. With the shares trading at just about $7, it appears to be a deep value play with a lot of upside and very limited downside risk due to its strong balance sheet. It also could benefit from the success of companies like Apple, Inc. (NASDAQ:AAPL).
Why Nam Tai Electronics Could Benefit From Apple's Success And A New iPhone Deal In China:
Nam Tai Electronics manufactures electronic components for many leading tech companies. In fact, Apple is (indirectly) a major customer. As such, Nam Tai Electronics could benefit tremendously from the recent launch of the iPad Air, mini iPad and strong sales of other Apple products such as the iPhone. An article by "Valuable Insights" explains how Nam Tai Electronics has played a key role in the Apple supply chain and how it can benefit from increased iPhone and iPad sales. While this has not seemed to do much for the stock in 2013, that could be about to change since the iPad Air was launched only recently and also because of a huge new deal that Apple announced just days ago. Under the terms of the deal, Apple will supply the iPhone 5S and 5C to China Mobile (NYSE:CHL) and sales will commence on January 17, 2014, at Apple stores in China and also through China Mobile. While it is too early to know how much this could potentially impact a company like Nam Tai Electronics and others, the potential could be huge. A recent article on the Apple-China Mobile agreement details the tremendous opportunity this deal represents by stating:
"China Mobile is a big untapped market for Apple. The carrier is not only the largest in China but also globally with 760 million wireless subscribers. For perspective, Verizon and AT&T, the two largest wireless carrier in the U.S., combine to account for only around 200 million subscribers."
Why Nam Tai Electronics Shares Offer Major Upside As A Play On China Real Estate:
There also appears to be a substantial amount of "hidden value" that could become unlocked as this company develops very valuable real estate in Shenzen, China. Nam Tai Electronics has a report on this development project which was done by real estate industry experts at Jones Lang LaSalle (NYSE:JLL). This extensive evaluation suggests that Nam Tai Electronics could maximize gains by selling parts of this development project and by leasing the rest. Based on this report and other analyst projections, Nam Tai Electronics shares could be worth about $20.
Earlier this year, analysts at Topeka Capital Markets initiated coverage on Nam Tai Electronics with a buy rating and set a $20 price target. This bullish view was detailed in an article which stated:
"We are initiating coverage of Nam Tai Electronics with a Buy rating and a 12-month price target of $20.00. Based in China, Nam Tai Electronics is a specialty component solution provider with a focus on mobile Internet devices such as smartphones and tablets. We believe the ramp that Nam Tai began in 2012 still has momentum and if the Company is able to win new smartphone, tablet and Ultrabook programs, we believe there could be healthy upside to our projections."
A History Of Strong Profits And A Cash-Rich Balance Sheet Greatly Reduces Potential Risks:
This company has a strong history of profitability. In fact, over the past ten years, it has reported profits every single year and in many of those years it earned about $1 to $1.50 per share. The company also has a very strong balance sheet with nearly $240 million in cash (which is equivalent to $5.27 per share in cash!) and it has no long-term debt. With the stock trading at just about $7, if you back out the $5.27 per share in cash, this suggests you are buying the real estate and the electronics business for just about $1.73 per share. We know that the electronics business has a history of earning around $1.50 per share so if you can buy that type of potential earnings power for just about $1.73 (net of cash on the balance sheet) and also get the significant upside potential and value of the real estate, this stock appears dirt cheap.
Other factors that make this stock look cheap includes the market capitalization which is just around $314 million. (Remember, the company has about $240 million in cash and no debt.) Meanwhile, it has annual revenues of about $1.4 billion, which is equivalent to over $31 per share in revenues. The balance sheet strength and history of profitability greatly reduces potential downside risks, but there are some risks to consider including the fact that Nam Tai Electronics could be impacted if a major electronics company shifted production to another manufacturer. This appears to be the most significant risk, and then perhaps management execution would be next. However, it has faced global competition for years and management has been able to repeatedly generate strong profits as detailed above. A global recession would be a macro risk to consider, but that also does not appear to be likely at this time.
Nam Tai Electronics reported strong results in the third quarter of this year. Sales surged by about 61% from roughly $176 million to around $284 million, although profit margins dropped from about 11% to 8%. However, the company still earned a very respectable 40 cents per share during the quarter. There are not many $7 stocks in this market that can generate profits of 40 cents on a quarterly basis, so this appears to be yet another strong indication that shows this stock is undervalued. Investors who are selling or ignoring this stock because profit margins have declined recently are totally missing the big picture which is that the company is still reporting strong profits and revenue growth, plus it has a very cash-rich balance sheet and upside from the valuable real estate it holds.
When Compared To Other Companies In This Sector, Nam Tai Electronics Shares Also Look Deeply Undervalued:
Let's take a look at Jabil Circuit (NYSE:JBL) which is another leading company in this sector that provides manufacturing services to some of the world's largest tech firms, including companies like Apple. By comparing Jabil Circuit's balance sheet, it is clear to see why Nam Tai Electronics might have one of the strongest balance sheets in the industry. Jabil Circuit has about $769 million in cash and around $1.8 billion in debt. Even though it has more debt than cash, it is not necessarily a big concern, but it sure does not compare to the cash-rich (and debt-free) balance sheet at Nam Tai Electronics. It's worth noting that other companies in this sector like Jabil Circuit are also seeing profit margin pressures which shows that this is not a company-specific issue for Nam Tai. On December 17th, Jabil Circuit announced that for its second quarter, it will only earn between 5 to 15 cents on revenues of $3.5 billion to $3.7 billion, which is significantly below consensus analyst estimates of $4.3 billion in revenues and 52 cents per share in earnings. Based on this, it appears that Nam Tai Electronics could easily earn far more than Jabil Circuit in the coming quarter, and this is impressive when you consider that Jabil Circuit shares trade for about $17, which is around $10 more than Nam Tai Electronics shares. Jabil Circuit is a larger company, but in terms of value and balance sheet strength, Nam Tai Electronics appears to be the stock to buy now, especially with the upside potential from its real estate development project.
Some "Smart Money" Investors Appear To Find Value In This Stock:
As noted by "Insider Monkey," there are a number of top hedge funds and other "smart money" types that have reported an investment in Nam Tai Electronics this year. Kahn Brothers, which is managed by Irving Kahn, has a stake worth nearly $40 million and Jim Simons of Renaissance Technologies has a position valued at over $24 million. There are other value investors like Chuck Royce of Royce & Associates who also have significant stakes in Nam Tai Electronics.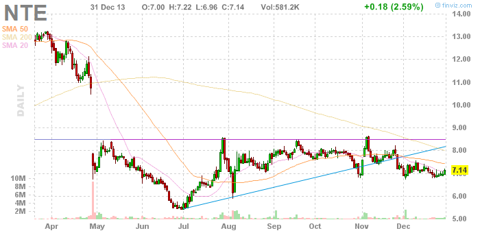 Click to enlarge
As the chart above shows, this stock was trading for over $13 in April, but investor disappointment over profit margins and more recently tax loss selling pressure have pushed the stock down to bargain levels of just around $7 (again, just barely above the cash on the balance sheet of about $5.27 per share). This stock had been trending slightly higher since bottoming out in July, and traded for about $8.50 in November, but it appears that tax-loss selling pressure has taken a toll and has given investors another chance to buy cheap. In the short-term, the stock appears positioned to rebound (once tax-loss selling ends) to at least $8.07 per share which is the 200-day moving average. Furthermore, as noted above, the downside risks appear minimal due to a rebounding global economy, increasing demand for mobile devices and other electronics as well as the cash-rich balance sheet. At just over $7 per share, this appears to be one of the best bargains in the tech sector today for either short-term gains in a "January Effect Rally" or for the longer-term upside potential as suggested by the analyst price target of $20, but this will depend on the success of the real estate development and the amount of business it can generate from firms like Apple and many of the world's other top electronics companies.
Here are some key points for Nam Tai Electronics:
Current share price: $7.14
The 52 week range is $5.55 to $16.01
Annual dividend: 8 cents per share which yields 1.1%
Here are some key points for Jabil Circuit:
Current share price: $17.44
The 52 week range is $15.30 to $24.32
Annual dividend: 32 cents per share which yields 2%
Data is sourced from Yahoo Finance. No guarantees or representations
are made. Hawkinvest is not a registered investment advisor and does
not provide specific investment advice. The information is for
informational purposes only. You should always consult a financial
advisor.
Disclosure: I am long NTE, . I wrote this article myself, and it expresses my own opinions. I am not receiving compensation for it (other than from Seeking Alpha). I have no business relationship with any company whose stock is mentioned in this article.