With a resurgent consumer and flat oil prices, it has been a pretty good time to be in the airline industry. Stock prices in this segment of the transport space have soared, and many appear well-positioned for 2014 gains as well.
However, while many airlines have seen strength, a few have fallen by the wayside and could see their stocks grounded this year. In particular, Ryanair Holdings (NASDAQ:RYAAY) may be in trouble and could be a name to avoid in this otherwise hot space.
While Ryanair was still up significantly for 2013, but its performance in the second half of the year has been terrible. The stock has tumbled by over 12%, while many of its U.S. counterparts saw some of their best gains in the past six month time frame.
The reason for this slump in the tail end of the year was largely due to slashed expectations for its full year profit. Now, the company expects between EUR500 million and EUR520 million for the year, down from its previous outlook of between EUR570 million-EUR600 million, as well as last year's EUR 569.3 million.
Thanks to this reduced guidance, shares of RYAAY plummeted followed the release, while analysts have also reduced their expectations for the company's earnings as well. Add in worries over price competition and concerns regarding the euro/pound exchange rate, and Ryanair's outlook appears to be pretty bleak.
Ryanair Earnings Estimates in focus
Earnings estimates have fallen like a stone after the company's bearish outlook, with the current quarter falling from 11 cents a share 60 days ago to just two cents a share today. Meanwhile, the full year estimate has dropped from $2.68/share 60 days ago to $2.49/share today.
With this drop, RYAAY looks to have an earnings contraction of roughly 7.7% for the current year, though if estimates had remained flat over the past two months, the earnings decrease would have been less than 1% year-over-year.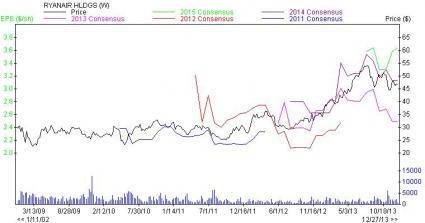 And though the company is expected to rebound in the next year period, competitive pressures are definitely building in the European market, and if the euro continues to strengthen against the pound it could hurt Ryanair's key British travel market.
With these factors in mind, it is pretty easy to see why Ryanair has fallen to a Zacks Rank #5 (Strong Sell). And with this rating, we are definitely looking for more underperformance from this company — especially when compared to its high-flying peers — as we fly further into 2014.
Other Picks and Bottom Line
Thanks to the strong consumer market and sluggish oil prices, many other airlines have prospered in this environment and are still well-positioned as top picks going forward. In fact, the airline industry currently is in the top 11% for all industries, so there are plenty of solid stocks for investors seeking an airline pick right now.
While smaller airlines such as Hawaiian Holdings (NASDAQ:HA), JetBlue Airways (NASDAQ:JBLU), and Alaska Air Group (NYSE:ALK) all receive #2 ranks—both have also surged to #2s from #3s last week—and are interesting selections, a trio of Chinese airlines might actually be the way to go in this market.
That is because Air China (OTCPK:AIRYY), China Eastern (NYSE:CEA), and China Southern Airlines (NYSE:ZNH), all receive a top Zacks Rank of #1 (Strong Buy), and were 'Holds' just one week ago. Given this surge in their Zacks Rank to the top echelon, any of these could be better selections than Ryanair which could be headed for more turbulence this year, especially compared to its top ranked counterparts in the space.