Editors' Note: This article covers a stock trading at less than $1 per share and/or with less than a $100 million market cap. Please be aware of the risks associated with these stocks.
If your Christmas stocking was full of sticks and lumps of coal, it might be a blessing in disguise if they came in the form of the WOOD or KOL exchange traded funds. WOOD has been a stellar performer recently. KOL, on the other hand, has not been kind to investors of late, but may be poised for a turnaround in 2014. In this article we will analyze the prospects for KOL in the next year or so.
Do you have to buy the ETF to find out what is in it?
A savvy investor cannot buy an ETF without having a reasonable idea of what it consists. Per Yahoo Finance, these are the top ten holdings:
| | | |
| --- | --- | --- |
| CONSOL Energy Inc. Common Stock | | 8.38 |
| Joy Global Inc. Common Stock | | 7.35 |
| China Shenhua Energy Company Limited H Shares | | 7.04 |
| Peabody Energy Corporation Comm | | 7.01 |
| Aurizon FPO | | 6.27 |
| Westshore Terminals Investment Corp | | 5.07 |
| Banpu Public Co | | 4.71 |
| Exxaro Resources Ltd | | 4.35 |
| Alliance Holdings GP, L.P. | | 3.67 |
| Alpha Natural Resources, inc. c | | 3.51 |
Together these ten stock comprise about 57% of the ETF holdings. CONSOL, Peabody, Alliance Holdings and Alpha Natural Resources are all US-based companies involved in coal production and distribution. Some are involved in natural gas production as well and some have considerable coal production beyond North America, as well. Joy Global is a Milwaukee-based manufacturer of mining equipment. Westshore Terminals, stores and loads coal in British Columbia. Exxaro is a large coal mining firm form South Africa. Aurizon transports coal and other minerals by rail in Australia. Per Bloomberg.com, China Shenhua is a coal-based energy company mostly doing business within China. Banpu, headquartered in Thailand, mines and explores for coal in Eastern Asia and Australia. They also generate electricity in China.
Coal Demand Trends
As we saw above, the ETF is more or less global in outlook. The market that derives price through supply and demand interaction is also global. Since four of our top ten holdings are mostly doing business in the United States, we will begin our analysis there. Coal provides about 42% of the fuel for electricity generation in the US, but that percentage is shrinking. As with most investment categories, 21st century investors must consider the political climate as well. Here in the United States, the Environmental Protection Agency (EPA) has been changing rules so as to discourage the use of coal. At the same time, production of natural gas has increased, bringing the price to power plants down. American Electric Power (NYSE:AEP), for example, a utility producing electricity in and around major coal producing areas, plans to reduce coal usage substantially in the next couple years. Even so, coal producers can simply export more coal and/or they can do as other large corporations have done and trim capacity in order to become more profitable. American coal producers are closing less efficient mines, mostly in the Appalachian region, and are increasing exports. Peabody, recently announced an agreement with Shenhua, also on our list, to sell Peabody's coal to Shenhua. From the popular press, one might get then idea that coal US coal demand is plummeting. The reality is much less dramatic. For perspective, let's look at this chart from eia.gov: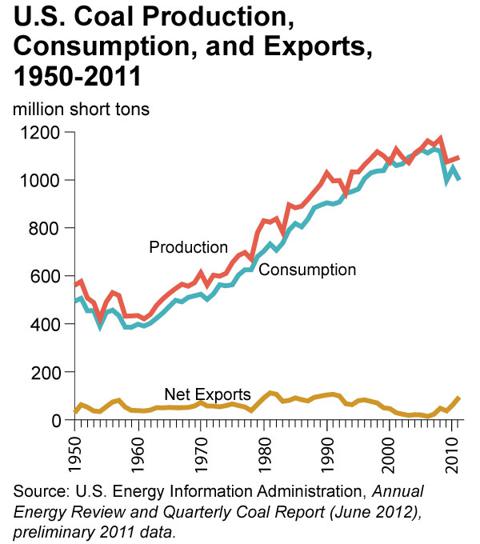 Recently, American natural gas prices have declined, making it more attractive to electric utilities than coal, and US coal producers suffered accordingly. The EIA notes gas prices rose in 2013 and may continue to do so. Their annual energy outlook shows the following prices in 2012 dollars per million BTU's:
2011 - $4.07
2012 - $2.75
2013 - $3.60
2014 - $3.74
This is the Henry Hub Spot Price - there are many more. Prices vary for users and region.
The same source projects higher US coal production and prices, recovered from their lows in 2013. US coal producers have posted disappointing earnings numbers lately, (with shrinking revenue falling to the bottom line) but between trimmed capacity, less competition from gas, and increased exports, they may be poised for a turnaround. As always, it's easier to spot a change in the direction of market forces, than it is to time it. The author thinks the market over-emphasizes the impact of EPA actions on the US coal industry. Certainly, the EPA's efforts to reduce pollution and CO2 output will hurt sector employment in some areas and increase electricity process a little (which causes politicians to squawk and garners press coverage), but coal sales in the US won't be drastically reduced, and as we'll see below, world demand continues to grow.
What about global demand? In its annual energy outlook, Peabody Energy estimates global demand will grow from 8 billion tons in 2013 to 9 billion in 2017 or 12.5%. Therefore, the overall trend seems to be bullish. In South and East Asia hundreds of millions have of people have joined the middle class and will continue to do so, as far as we can tell. As they do so, they use more electricity and that mostly comes from coal.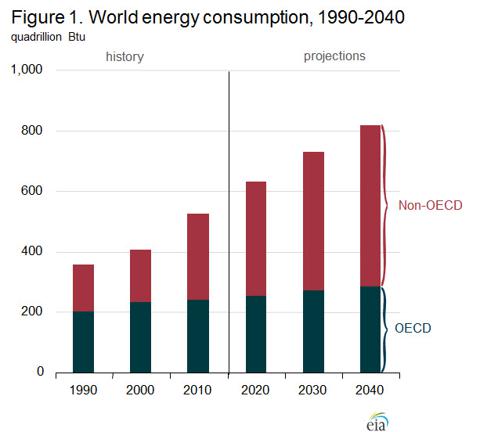 Source: eia.gov
Neither environmental concerns nor the fracking revolution spell doom for the coal industry. Finally, let's remember coal demand is derived from electricity demand, which depends upon the overall economic picture, so KOL should be considered sensitive to general economic conditions. Also, weather variations from year to year greatly influence local demand as well. In fact, Yahoo Finance calculates its beta coefficient value based upon the last three years at 1.7
In or out?
KOL trended downward from early 2012 until last June. If we can assume generally favorable economic conditions in 2014, KOL may rebound and reward investors. Current investors may want to hold on and await events. SmartStops.net optimization engine suggests a stop between 18.6 and 18.81 depending upon your degree of risk aversion. For those considering investing, we suggest you wait until the stock improves to 20.34 (see chart below).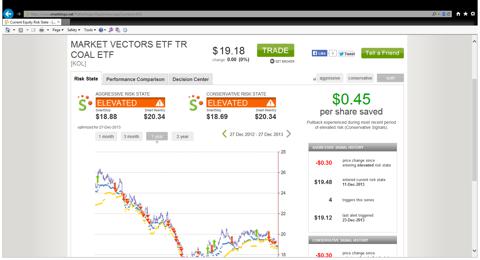 Source: Smartstops.net
Disclosure: I have no positions in any stocks mentioned, and no plans to initiate any positions within the next 72 hours. I wrote this article myself, and it expresses my own opinions. I am not receiving compensation for it. I have no business relationship with any company whose stock is mentioned in this article.