Google (NASDAQ:GOOG) is cleverly using the massive cash flows from its Internet search business to undermine its biggest technology rival. Apple (NASDAQ:AAPL) is the only large technology company to make 30% plus margins from the sale of smartphones, laptops and tablets. Other companies have failed to attain such high margins, with Samsung (OTC:SSNLF) being the only other company to be making profits from the sale of smartphones. Even Samsung is finding it extremely tough to maintain profitability, as the Asian competitors introduce cheaper and better products every month. Apple has seen its margins fall in recent quarters due to commoditization of smartphone and tablet hardware. Its high quality integrated ecosystem is a major reason why the company has been able to keep its margins high. Google has been instrumental in drastically lowering the prices of smartphones and tablets by offering a top notch operating system for free. The company's strategy is to make money from the sales of software and services, with hardware being used as a loss leader. Google bought failing smartphone player Motorola not only to bolster its patent portfolio but also to put more pressure on smartphone competitors. The Moto X smartphone was the first Motorola phone to be designed under Google ownership. The company has slashed the price of this top end smartphone by ~30%. This will put pressure on Apple to lower their prices as well. Given that Apple earns a large part of their profits from the sale of smartphone hardware, Google has a lot to gain. I remain positive on Google, given the company's impressive moat in Internet search and fast growing new segments such as YouTube, Google Maps etc.
Moto X pricing becomes aligned with Google strategy
I had earlier written that the Moto X seemed to be priced a bit too high, given Google's strategy of lowering industry margins on smartphone hardware. The Moto G and Nexus 5 in comparison seemed very competitively priced. While Moto G is targeting the lower end of the smartphone market with sub $200 pricing, the Nexus 5 is targeting the mid end of the market with ~$400 pricing. Though the pricing is comparable to lower brackets, the features on both smartphones are comparable to higher bracket smartphones. Now Moto X also becomes extremely competitive with the $399 price (down ~30% from its original $550 price).
We've been hearing a lot recently from people who want a new premium smartphone at a reasonable price without having to wait for a contract upgrade. That came through especially loud and clear during our holiday flash sales. So from today forward we're offering Moto X at an everyday starting price of just $399 on any major US carrier, without a contract. This includes customized devices.

Today several wireless carriers offer good month-to-month or prepaid service plans that cost much less than the contract plans that come with subsidized devices. Combine one of those plans with our new $399 everyday pricing and you could save hundreds of dollars over two years while keeping the freedom to change service providers when you feel like it. We can even help you finance your purchase* so you pay monthly for your contract-free Moto X.

Source - Motorola
How Moto X is going to affect Samsung and Apple
Samsung is already reeling due to the price pressures in the smartphone industry, while Apple has not been left unscathed by the extreme competition in this space. Motorola and Nexus smartphones will further pressurize these two smartphone leaders.
Moto X, Samsung Galaxy 4 and iPhone 5s all have similar Bill of Materials with manufacturing cost of ~$200-250. While Apple sells the iPhone for $650 off contract, Samsung sells it for ~$600, while Google sells the Moto X at $550. Now Google has lowered its pricing to $399, the other two will also face pressure to lower prices. iPhone 5s generates a gross margin of ~70%, which is clearly unsustainable in my view, and Samsung too would be forced to follow Google. While Apple can differentiate through its superior iOS operating system, Samsung has nothing to fall back on given that it uses the same Google made Android operating system.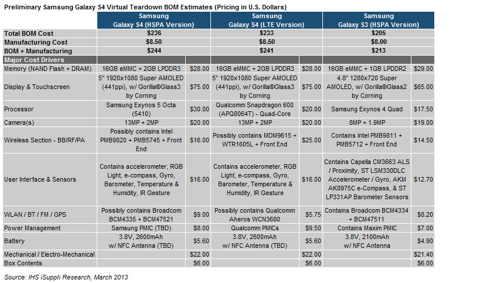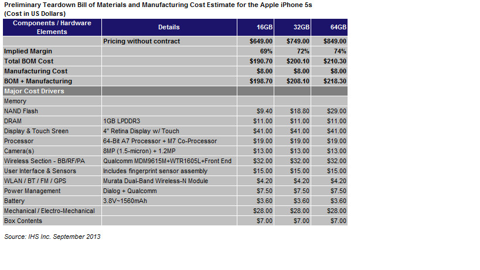 So won't Google be hurt by lowering prices as well
Google bears may say that Google will also be hurt badly by lowering the prices of its Motorola smartphones. However, the loss to Google will be miniscule compared to the potential losses faced by Apple and Samsung. Motorola currently sells very few smartphones and does not even figure in the top 5 smartphone sellers. Also Google does not rely on hardware sales for the sustainability of its business model. The company will also benefit from the increased sales of its software and services as more smartphones use its Android operating system. Google has already captured more than 80% of the smartphone OS market and will be looking to further increase penetration as Motorola sells smartphones at throwaway prices.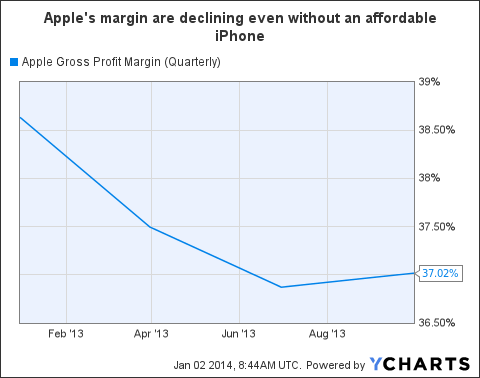 AAPL Gross Profit Margin (Quarterly) data by YCharts
Microsoft is also desperate to get a bigger mobile market share and using pricing as a weapon
Samsung and Apple also face a threat from Seattle giant Microsoft (NASDAQ:MSFT), which recently bought Nokia (NYSE:NOK). Microsoft is thinking of giving away Windows Phone software for free as it tries desperately to gain market share in the mobile OS market. Nokia's Lumia smartphones were quite competitive and now Microsoft is making them even more. The new Lumia 525 is expected to be priced at just $100, which is quite incredible in my view. Though Microsoft will get hurt in my view by giving Windows based products for such low pricing, Apple will get hurt even more.
Google's Stock Price Performance
Google's stock price is making newer and newer highs even after crossing the $1000 mark. The high valuation has not deterred investors from pushing the stock price higher. The reason that Google gets a substantial premium over other mega cap technology stocks is its better growth prospects. Google's mainstay ad business also has a bigger moat compared to Apple's smartphone and tablet business.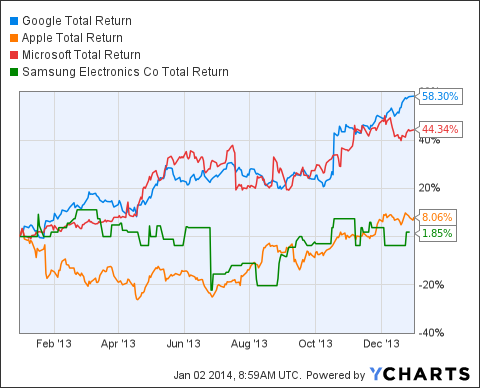 GOOG Total Return Price data by YCharts
Summary
It is not a crime to make mistakes, as all companies stumble while running their business. But what differentiates a good company from a bad one is to recognize the mistake and correct it quickly. BlackBerry (NASDAQ:BBRY) repeatedly made mistakes by pricing its new BB 10 models too high. The company made large losses by pricing Z10 at the same level as market leaders such as the iPhone 5s. BBRY repeated the mistake with Q5 and is now paying the price. Google also made a mistake by pricing Moto X at $550, but has quickly slashed the pricing to align with its overall strategy. Apple in my view made a huge mistake by not launching a mid end smartphone. I think that the iPhone 5c makes no sense at the current pricing. However, the technology industry is very dynamic and trends change very fast. I remain positive on Google and would look to buy dips, but Apple does not figure in my buy list.
Disclosure: I have no positions in any stocks mentioned, and no plans to initiate any positions within the next 72 hours. I wrote this article myself, and it expresses my own opinions. I am not receiving compensation for it (other than from Seeking Alpha). I have no business relationship with any company whose stock is mentioned in this article.