Fiscal year 2013 was significant for Advanced Micro Devices' (AMD) bulls. Its much-hyped design wins, Sony (SNE) PlayStation 4 and Microsoft (MSFT) Xbox One (both contain AMD's custom chip that integrates Jaguar CPU and AMD Radeon graphics in one chip), are already beating all sales records. Both gaming consoles have crossed the 2 million sales mark since the launch in November.
Taking a $100 average selling price, or ASP, that AMD gets from each chip used in both gaming consoles, there is a multi-billion opportunity to add to the top line on the expected consolidated sales of 66 million by 2018 (36 million PS4 and 30 million Xbox One sales). Though the semi-custom segment (gaming console chip) will be central to top-line growth, long-term growth will come from other markets such as servers and tablets. As the enthusiasm for buying these gaming consoles (PS4, and Xbox One) fades, demand will eventually decrease annually.
AMD is currently restructuring. In reaching its goals of profitability, positive free cash flow and operational expenditures below $450 million by the third quarter of 2013, AMD is almost through with phase two of its restructuring plan.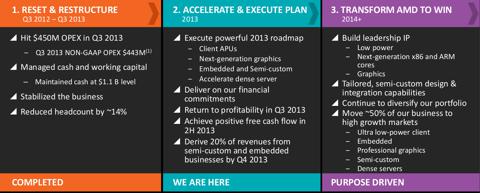 Source: Company Presentation
Phase three (2014) will diversify revenue mix with the aim of generating 50% of its revenue with five growth pillars - ultra-low-power devices, embedded, professional graphics, semi-custom, and dense server. Therefore, 2014 will be an inflection point for AMD, with these growth areas (especially gaming consoles and servers) delivering robust growth.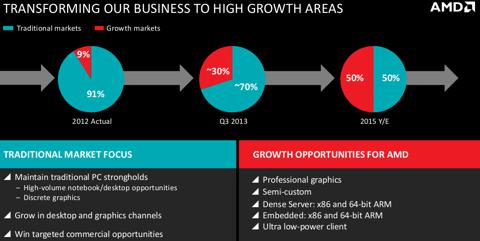 Source: Company Presentation
These five pillars are key to AMD, and looking at the product launches lined up for 2014 the company is certainly making progress towards its goal.
How will AMD sustain its revenue growth?
In ultra-low-power mobile devices, the company will launch an updated accelerated processor unit, or APU, for existing Temash and Kabini chips. Unlike its competitors, AMD has targeted entry-level mobile devices and provided high-performance and low-power consumption with its Temash chip (a quad-core x86 SoC for tablets low-end convertible mobile device), and Kabini (world's first quad-core x86 processor for entry-level touch notebooks). AMD will launch Mullins, which will be an updated version of Temash, while Beema will follow the Kabini chip. Mullins is a lower-power consumer version of Temash with 2 watts scenario design power, or SDP, compared to Temash's 3W-4W. Beema also provides similar power savings and promises 10- to 15-watt power usage over Kabini's 15 to 25 watts. Launch of these chips will further enhance AMD's market presence in ultra-low-power mobile devices.
The ultra-low-power mobile devices market may be important for AMD's growth, but small share for x86 favored Window OS in the overall mobile device market may affect the company's growth in the long run. Therefore, the main contributor to AMD's top-line growth long-term would be the server market (both dense and micro server). The company developed a strong base in x86 servers with launch of its AMD Opteron processors in 2003, but since has been losing its market share to Intel (INTC), which dominates the x86 server base. AMD's market share is now just 4.4% in 2012, down from 15% in 2007.
AMD is trying to revive its lost fortunes with the launch in 2014 of an ARM-based 64 bit server chip code named "Seattle." ARM technology has been widely adopted in mobile devices due to availability of low power consumption and high-performance features, but use of ARM in servers is still at nascent stage and x86 still dominates the server market. The share of ARM CPU in the overall server market will be close to 20% by 2016 or 2017. Therefore, it will be an opportunity for AMD to establish a strong foothold in the ARM-based server market and capitalize on the new market opportunity.
This will be for the first time that a processor provider will bridge the x86 and 64-bit ARM ecosystems for servers. AMD's "Seattle" processors will support integrated 10 GB per second of Ethernet connectivity with Freedom Fabric technology acquired in the buyout of SeaMicro last year. This acquisition gave AMD a strong presence in the micro server market and access to SeaMicro's fabric technology, which enables large data centers and cloud service providers to connect thousands of processor cores, memory, storage and input/output traffic. The micro server market is growing at a robust rate with 2013 micro servers shipments expected to reach 291,000 units, up 230% year over year.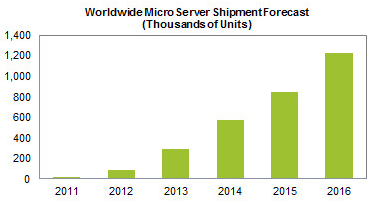 Source: IHS isuppli
Micro servers' low power consumption and low-cost features provide an extra advantage to cloud computing and data centers, and thus are becoming increasingly popular. SeaMicro's high-density Freedom Fabric technology is popular in the industry for providing low-power-consuming server racks, without affecting the performance. The processor maker and hardware manufacturer (SeaMicro) relationship gives AMD an extra edge over competitors.
The introduction of ARM-based servers will further benefit AMD in terms of power consumption, supported by Freedom Fabric. AMD's upcoming "Seattle" will be targeted for single socket and dense servers, such as one provided by SeaMicro itself. AMD's ambidextrous strategy of having both x86 and ARM in its arsenal is a bold move toward the server market opportunity.
How Intel and Nvidia can spoil AMD's party?
AMD's growth plans may be affected by stiff competition in both processor and graphics segments. The company's biggest rival in processors (for both PC and server), Intel, has a strong foothold and an extensive lead over AMD. Intel has sustained its market dominance, with AMD providing no real threat to Intel's presence.
Therefore, unlike Intel, which has focused on high-performance processors, AMD is targeting the entry-level low-power-consuming performance mobile device segment with the launch of Kabini and Temash chips. This gave AMD an early lead in this end of the market, but Intel has hit back with the launch of its Bay Trail, Intel's latest 64-bit low-power SoC targeted at 2 in 1 convertible, tablets and ultra-book.
Bay Trail provides higher performance with lower power consumption than its previous processor. In addition, Intel's Bay Trail processor supports Android-based devices, with tablet configuring Android OS with Bay Trail processor pegged for 2014. This will help target the most widely used ARM processor and thus increase x86 share in the mobile device market. Intel's Bay Trail is a real threat to AMD's Kabini and Temash chips with top tier OEMs already announcing use of Bay Trail in their upcoming product launch. In the server market, too, Intel has a clear monopoly in its x86 base, with AMD having a small presence. However, AMD's plans for an ARM-based processor for servers will help it regain market share in the server market.
In the graphics segment AMD's professional graphics are one of the five growth pillars in which the company plans to increase its presence. Like the processor market, the company has lagged behind Nvidia (NVDA) in the graphics market, though the market is positive with AMD gradually increasing its market share. AMD recently won Apple's New Mac Pro design, which will feature the company's professional graphics solutions. AMD's market share in professional graphics is expected to increase to 30% in 2014, up from the current 20%. Apple's New Mac Pro is a big design win that will boost AMD's professional graphics business, thus closing the gap with market leader Nvidia.
Conclusion
Successful execution of 2013's restructuring targets increases confidence about AMD achieving its 2014 goals. The company is ending 2013 on a high note by winning Apple's new Mac Pro design and should report a strong next-quarter result. Though the gaming console will remain key to its growth in 2014, its server market will be the real game-changer for AMD in the long term with the launch of the ARM chip.
Disclosure: I have no positions in any stocks mentioned, and no plans to initiate any positions within the next 72 hours.
Business relationship disclosure: Fusion Research is a team of equity analysts. This article was written by Rohit Gupta, one of our research analysts. We did not receive compensation for this article (other than from Seeking Alpha), and we have no business relationship with any company whose stock is mentioned in this article