Volcano Corporation (NASDAQ:VOLC) reported EPS of 9 cents in the fourth quarter; well above the Zacks Consensus Estimate for a loss of 3 cents, and the year-ago result of 4 cents. Fourth-quarter revenues increased 44% to $71 million.
Including one-time items, the company reported a loss of 25 cents, down from the year-ago net income of 3 cents.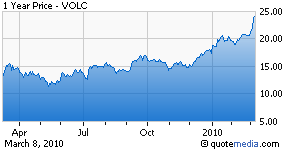 For the full year, the company reported a loss of 23 cents, down from 4 cents in the year-ago period. Full year revenues increased 33% to $227.9 million. Including one-time items, the full year loss increased to 60 cents. Volcano reported a loss of 29 cents in 2008.
The Quarter in Detail
Volcano reported a robust increase in fourth-quarter revenues with all the reporting segments recording an increase from the year-ago period. Revenues included $5.8 million from Axsun Technologies, Inc, which was acquired by Volcano in late 2008.
Revenue growth was driven by market share expansion and increased penetration of the intravascular ultrasound (IVUS) and functional measurement (FM) markets. Moreover, strong capital equipment sales in the US, and a favorable impact from the company's direct sales effort in Japan, also helped boost revenues.
While total consoles revenues grew 13% to $13 million, sales of IVUS disposables increased 29% to $39.2 million. Growth in the Japanese market jumped to 43%. Japan is the largest IVUS market in the world and the establishment of a direct sales force should allow the company to provide more focused service and support to the market.
Encouraging clinical data and increased sales efforts should help drive growth in Japan. Meanwhile, the US market recorded growth of 16% in IVUS disposable sales. FM sales increased a whopping 92% to $10.2 million, led by more than 80% growth in the US, Europe and rest of the world (ROW) countries.
Data showing that the use of IVUS and FM devices not only enhances patient care, but also has a meaningful impact on the cost of healthcare should help drive demand for these products.
Excluding one-time items, operating expenses increased 28.6% to $39.4 million. We expect operating expenses to increase in 2010 due to increased spending in Japan, expansion of sales and marketing programs in other geographies, new product launches and spending associated with clinical studies.
2010 Outlook
Volcano expects 2010 earnings in the range of 5 to 10 cents on total revenues of $277-$282 million. The revenue guidance includes $20 million in revenues from Axsun. Revenues from the core IVUS and FM segments are expected to grow at least 20% in 2010.
Growth in the IVUS business in Japan, and 5-7% growth of overall IVUS market share due to expanded utilization among existing customers and new customer additions, should help total revenues grow by approximately 22% in 2010.
While gross margins are expected in the range of 62-63%, operating expenses should be between 59-61% of revenues. The first half of 2010 should see the company investing money towards the expected commercial launch of the IVUS-guided therapy and FLIVUS devices.
Excluding stock-based compensation expense of approximately $13.3 million, Volcano expects earnings in the range of 30-35 cents in 2010.
Our Take
We currently have a Neutral recommendation on Volcano. The company continues to execute in driving strong top-line growth in the IVUS/FM market thanks to new product launches, product enhancements and support from partners in marketing and distribution agreements.
Volcano's ability to sustain its strong revenue growth appears promising as a result of market share gains, successful execution of its growth strategies, and strong R&D emphasis. Positive clinical data on IVUS/FM should also help drive demand.
However, competition remains tough. While Volcano's primary IVUS competitor is Boston Scientific (NYSE:BSX), it also competes with Terumo Corporation in Japan . Meanwhile, St. Jude Medical (NYSE:STJ) is the company's main competitor in the FM market.