In a positive development, Cell Therapeutics (NASDAQ:CTIC) announced that the US Food and Drug Administration (FDA) has completed its inspection of the company's manufacturing facility in Italy and found it to be compliant with all the required norms. The facility manufactures Cell Therapeutics' Pixuvri (pixantrone), which is currently under FDA review.
Cell Therapeutics is seeking FDA approval of pixantrone for the treatment of relapsed or refractory aggressive non-Hodgkin's Lymphoma (NHL) in patients who have not responded to other treatment options. A final decision on the drug should be taken by April 23.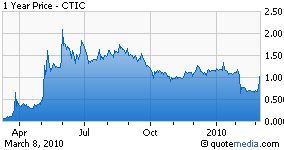 Pixantrone was supposed to be reviewed by the Oncologic Drugs Advisory Committee in a meeting scheduled for February 10, which had to be postponed due to bad weather conditions in the Washington region. A new review date of March 22 has been decided upon.
Although we are pleased with the approval of the manufacturing site, we remain concerned about pixantrone's approval due to certain issues raised by the FDA reviewers related to the study design. The study that opened in June 2004 sought to enroll 320 patients. However, the enrollment was challenging and was stopped in March 2008 after enrolling 140 patients, less than half the original plan.
Overall, the reviewers are of the view that pixantrone was well-tolerated, with manageable toxicities. The pivotal study successfully met its primary efficacy endpoint. It was observed that 20% of patients receiving the drug achieved a complete remission, compared to 6% who were treated with another drug. While pixantrone could be toxic to the heart, conclusions could not be drawn about its risk compared to other cancer drugs called anthracyclines.
The committee has to decide on the effectiveness of pixantrone and if risks associated with it outweigh the benefits. At present, investor focus is primarily on the outcome of the FDA advisory panel meeting, and a favorable decision should help in the final approval process.
Cell Therapeutics depends heavily on the approval of pixantrone. We are also concerned about the company's liquidity position. Operating expenses are on an uptrend as the company prepares for the potential launch of pixantrone. We have a Neutral recommendation on the stock.