SkyPeople Fruit Juice (NASDAQ:SPU) is an unknown, yet, exciting juice, beverage and fruit products producer in China. The company was recently listed on the AMEX exchange a few months ago and the story has begun to get discovered by an institutional base of shareholders. SPU has an experienced and polished management team in place. In the past three years, management has doubled its revenues from $29.3 Million in 2007 to an expected $58-$60 Million in 2009. With an improved industry outlook, record sales and earnings, and a capacity ramp-up underway that will lessen the company's seasonality, we feel that SkyPeople has hit an important inflection point.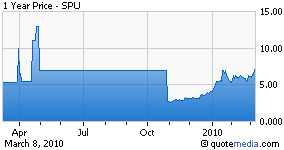 We are bullish on SPU for a number of reasons. For those looking to get in on a long-term secular trend, the concentrate juice market has started growing once again worldwide. This market has big growth potential in China and SkyPeople is poised to grab market share from its more entrenched competitors in the coming years. Due to its ability to access important raw materials and because of its low-cost manufacturing operation, SPU has inherent advantages over its bigger competitors.
In early January, we had a chance to meet with management. We came away from our meeting impressed with their presentation and their long-term vision for the company. To top matters off, their fruit juices were also quite tasty.
SkyPeople will soon be issuing its year-end numbers for 2009. While no exact date has been set, it would not surprise us to see SPU release their earnings ahead of their presentation at the Roth conference in two weeks. SPU has already issued very bullish guidance. In particular, Q4 numbers will be quite "juicy." Q4 revenues should climb over 80% year-over-year to $35 Million. Earnings are expected to climb 35% to $.45 in Q4 vs. last year's $.33.
Two things should be noted with regard to the company's numbers. First of all, there is a high degree of seasonality attached to the company's business. Q4 is by far the company's strongest quarter. In and of itself, this is a very good reason to be entering the stock ahead of numbers. Secondly, 2009's numbers would look even better were it not for the company's IPO last year. Due to a higher share count, the company's year-over-year growth does not look as dynamic as it actually is.
In the coming months, a move to the Nasdaq exchange could act as an additional catalyst for the stock. Late last year, SPU hired well-esteemed IR firm HC International to present their story to institutional investors. More recently, the company hired well-regarded accounting firm BDO to audit their numbers. Both moves position Skypeople for a successful move to the Nasdaq and point to a motivated management team with a vested interest in a higher stock price. It should be noted that management owns 68% of SPU's total share count.
Turning to the stock, SPU trades in a somewhat unruly fashion. Until an institutional shareholder base is established, unknown growth companies at inflection points will typically trade in a more volatile fashion than more established stocks. SPU seems to fit this profile.
As in any stock, however, there are risks. In our view, here are the four things to consider:

1. An aggressive tightening cycle by China monetary policy makers could compress SPU's P/E this year.


2. There is also variability in the company's core business due to big fluctuations in juice concentrate prices.

3. The company's seasonality could deter some big investors from entering the name.

4. SPU may not be able to gain expected market share due to the highly competitive nature of the concentrated juice market.
Notwithstanding these risks, we feel that the risk/reward is very good with the stock trading near $7. After all, SPU is growing 20-30% a year and the stock is still only trading for 8X 2010. With a seasoned management team in place and a clear vision of growth for 2010, SkyPeople seems poised for a very strong 2010.
SPU Stop Loss: $5.85
Disclosure: Long SPU