The Solid State Industry is projected to grow by 700% by 2017. If historical growth is any indicator, we think it will come true. However, the SSD market is going through a period of consolidation right now with some SSD companies having a very hard time financially but one company stands to profit and become a powerhouse in the SSD industry.
Growing Powerhouse
Micron Technology (NASDAQ:MU) produces and sells NAND that goes into SSD drives and PCI-e cards. They also produce their own line of SSD products. In short, they are a winner. The rising tide of devices that require NAND such as tablets, cell phones, and SSD hard drives are driving growth in the SSD sector.
However, Micron's share price has risen lately and may be due for a pullback; yet, long term we see Micron as a $30 stock and accordingly we have a position in them. Only a few companies produce NAND, and of these Micron is one of the purer plays.
Risk
Micron does carry risk as it is highly involved in the RAM industry. If RAM prices were to decrease (or increase) the stock could prove very volatile. However, as Mr. Bedard (VP Micron Investor Relations) points out:
"We have come from a period or in a place where really the PC and Notebook businesses drove 90% of the consumption in DRAM. Today, it's less than 40% moving its way to about 30% by the end of this year.

What has taken its place has been networking, some consumer. Mobile has been, obviously explosive, and to move all this data around when new mobile clients get on the internet, this infrastructure of networking and server technology has exploded. So the biggest growth markets, if I've said the mobile space itself, it's consuming DRAM bits, it's doubling about every 14 to 16 months.

The server space is growing at a pace of consuming additional memory content to a tune of 40% to 60% per year. The networking space is on the tune of about 40% to 50% per year, kind of three of the big targets. Now, what's going on in the supply side relative to this consolidation and somewhat conservative approach to adding capacity, DRAM, no new fabs have been added in the last three years."
Thus the dependence upon the declining PC sector is decreasing which is very positive while RAM consumption in other devices is increasing.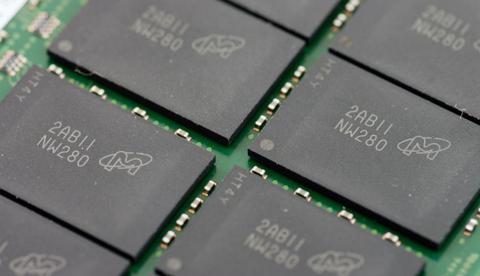 SSD Growth
Having ran a PCI-e SSD card for 2 years our first impression upon getting on a computer that has a traditional hard drive is "What is wrong with this computer!" Once a user transitions to a SSD or PCI-e card, the difference is night and day. Word is spreading fast among power users about the speed gains. For example, according to IHS:
"SSDs are predicted to grab 36 percent of the PC storage market in 2017 - up from just 6 percent in 2012 - the dominance of the HDDs will be eroded considerably, with its market share falling to 64 percent, down from 94 percent in 2012."
The same thing that happened to tape drives is now starting to occur with traditional mechanical drives. And why shouldn't it! Mechanical drives can be loud, they vibrate and generate heat. SSDs do not generate any noise; they do not vibrate and produce only a very small amount of heat. The most important part though is the speed gain for loading applications or games. Currently, traditional hard drives will be here as they offer tremendous space at a very cheap price per gigabyte, but at some point the need for space diminishes and the need for speed takes priority in the power user crowd. With time, SSDs will increase in size and thus take a bite out of traditional mechanical hard drives.
Endangered Species List
To put this simply those that have the money and/or can produce the components will win in the SSD war. We can already see the war is wearing down the smaller companies while larger companies, that may not be on the cutting edge, are moving in as they smell the growth potential. An example of this would be IBM, EMC, Seagate (NASDAQ:STX), and Western Digital (NYSE:WDC). All have deep pockets and rich war chests full of cash. All have a desire to expand and take a slice of this young market.
This is not to say the smaller companies will all be losers; rather some will be winners and thus assimilated by the larger companies at a premium.
However, if this does not happen they will fall by the wayside and the assets will be chopped up and auctioned out at bankruptcy court as in the case of OCZ Technology (NASDAQ:OCZ). Simply put, the small fish do not have the ability to compete in a price war with the big boys, nor do they have the ability to manufacture NAND memory. This will leave them at a competitive disadvantage which many are already feeling.
How To Play It.
The way to play MU is to slowly establish your position over time while selling covered calls on a portion of that position. This will allow you to ride the growth trend up and at the same time create a revenue stream for those periods when the stock does in fact pull back or is flat. In short, given the growth prospects of the SSD industry, we view Micron as a solid buy.
Disclosure: I am long MU. I wrote this article myself, and it expresses my own opinions. I am not receiving compensation for it (other than from Seeking Alpha). I have no business relationship with any company whose stock is mentioned in this article.