General Mills (NYSE:GIS) disappointed analysts and investors when it released its second quarter earnings report for fiscal year 2014. The company's revenue growth was flat contrary to analysts' expectations. However, analysts still think the company's stock is undervalued and it does have a great upside potential.
In this article, I will analyze the company's performance in its latest reported quarter and compare it with its closest competitor in both the US and international markets to check the company's financial health and the fair value of its stock price.
Revenue Growth
General Mills' revenues during the second quarter of 2014 were flat compared to the second quarter of 2013 mainly due to market saturation in the US which caused a decline in the US retail segment's revenues by 1% year-over-year. The volume growth in the US retail segment fell by 2%. However, the volumes in the international segment grew by 2% and the net price realization and mix improved by 3% YoY. The net sales growth in the international segment reached 2% after eliminating the negative impact of currency translation. This positive growth was offset by the US segments' declining sales and a major portion of the company's revenue is derived from the US market.
With regards to overall industry trends, this revenue growth does not seem to be very disappointing as a majority of the market players experienced a flat or negative growth in their latest reported quarter. General Mills' closest competitor Kellogg's (NYSE:K) sales were also flat during its third quarter in 2013.
The company's future revenues are expected to increase as it has expanded its customer base by introducing 200 new products during this fiscal year. General Mills smartly upgraded its portfolio by considering the rising demands of both its US and international customers. The company has added mini-meals and convenient meals to its portfolio since snacking now makes up a greater portion of all eating occasions and people want to devote less time to preparing meals.
Apart from that, the company acknowledges consumers' health as well. In 2008, General Mills became one of the first leading food manufacturers to offer gluten-free products and it now offers more than 300 gluten-free products. In its latest portfolio expansion, the company further added several gluten-free products. The global demand for gluten free products is expected to grow at a CAGR of 10.2% and reach $6,206.2 million by 2018. Currently, none of General Mills' direct competitors are focusing on this market so this will provide an edge to the company's products and eventually increase its revenues.
To expand the revenue base, the company now focuses on growing its international segment business as this segment offers higher growth opportunities compared to the US segment.
Earnings Growth
During the second quarter of FY14, General Mills reduced its costs and expenses resulting in better margins and higher net earnings. A decrease in the prices of certain commodities and grain inventories decreased the company's cost of sales and increased its YoY gross margin by 44 basis points. However, its gross margin is still lower than its rival Kellogg's gross margin.
However, General Mills' lower selling, general and administrative expenses and other expenses including restructuring and impairment enables it to maintain a higher operating margin than Kellogg despite having a lower gross margin. GIS's selling, general and administrative expense as percentage of sales were 18.27% versus Kellogg's 25.5%. GIS's operating margin further improved in FY14 as the company cut its expenses.
Moreover, General Mills has a lower average debt level than Kellogg and this helped the company maintain better margins by reducing the company's interest expenses. The company's YoY interest expense as a percentage of sales was reduced by 14 basis points and reached 1.44% whereas Kellogg's interest expense as a percentage of sales in its latest reported quarter was 1.51%. The lower interest expense along with improved and better operating margin helped General Mills achieve a better net earnings margin.
General Mills is implementing cost savings and restructuring plans, so I expect that these plans will help the company improve and maintain better margins in the future.

Returns
General Mills seems to be more profitable if we analyze both companies' returns on assets. The company's management is more efficient at using its assets for earnings generation compared to Kellogg's management. Similarly, GM achieves higher returns on its invested capital relative to Kellogg's returns.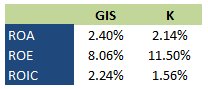 Kellogg bears more debt on its balance sheet so its return on equity is better than General Mills'. The higher financial leverage artificially raises Kellogg's returns on its equity.
The business models of the two companies slightly differ here in the sense that General Mills meets its obligations through its short-term assets whereas Kellogg prefer to use its long-term assets to meet its liabilities and obligations. GIS's current ratio is acceptable and better than Kellogg's, so it does not matter if the company uses its short-term assets so long as it maintains its liquidity position in the long run. This model helps General Mills achieve better results.

Valuation
If we analyze General Mills using the multiple based valuation, then compared to Kellogg and the overall industry these ratios suggest that General Mills' stock is inexpensive. General Mills is undervalued based on price-to-earnings and price-to-cash flows ratios while it is slightly overvalued based on price-to-sales and price-to-book ratios.

Source: money.msn
The analyses reflect the fact that although General Mills' revenue growth is lower than the industry average, the company's management is more efficient in converting its revenues into earnings and cash flows. Earnings and cash flows are more refined measures of a company's profitability so I assigned higher weighting to these two measures.
Final Thoughts
General Mills is clearly in a better position compared to Kellogg and the overall industry trends. The company has improved its financial health in this quarter compared to results of the same quarter of the previous year. I expect its revenues to expand in the future as the company has taken smart approaches and introduced new products. Its stock is expected to offer better profits in the future for investors.
The multiple based valuations also suggest that General Mills' stock is undervalued and has great potential to offer healthier profits to investors. Therefore, I suggest buying the company's stock.
Disclosure: I have no positions in any stocks mentioned, and no plans to initiate any positions within the next 72 hours.
Business relationship disclosure: The article has been written by APEX Financial Consultants. This article was written by one of our research analysts. APEX Financial Consultants is not receiving compensation for this article (other than from Seeking Alpha). APEX Financial Consultants has no business relationship with any company whose stock is mentioned in this article.