"Good artists copy, great artists steal" - Pablo Picasso
One of the perhaps most compelling short theses that I have seen published has been Suhail Capital's fine work on Veeva Systems (NYSE:VEEV). For the full short thesis, I recommend that the reader take the opportunity to read their piece, "Veeva Systems: SaaS's Biggest Bubble And Tech's Best Short."
Digging Deeper Into The Madness
In studying the Veeva Systems case, and in particular in studying the firm's most recent conference call, the following remark stood out,
The second add-on is Approved Email. This is something that really didn't exist before, the ability for sales reps to send compliant emails to physicians and other customers and guarantee that they are going to get the right version of the right content, because of the integration that Veeva CRM product has with Veeva Vault. So it's a unique product.
While many investors may find it easy to take management's claims at face value, any time management makes bombastic claims that it has invented a revolutionary new technology that nobody had thought of before, it's worth really investigating those claims (especially when the stock is trading at 21x EV/Sales and 96x EV/EBITDA predicated on many of these bold claims).
Whose Idea Was Approved Email, Anyway?
In doing work on this name, I stumbled across a document (found here) involving a lawsuit in which Prolifiq Software filed a complaint against Veeva Systems. The complaint was quite simple: Prolifiq believes that Veeva essentially duplicated the functionality of its own product known as Rep Trigger.
First, I'd like to direct your attention to the following: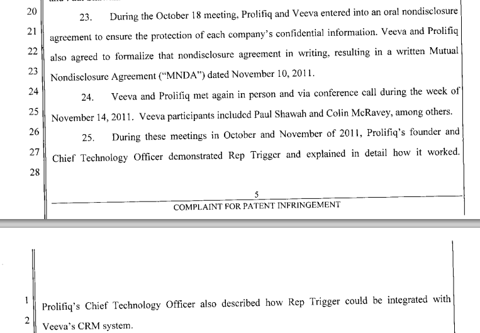 Right off the bat, we know that roughly two years ago, Veeva and Prolifiq signed an NDA and then Prolifiq, under this NDA, demonstrated its Rep Trigger software to Veeva with the understanding that the two companies would work together to integrate Prolifiq's system with Veeva's.
A month after the initial October meeting, Veeva and Prolifiq began work on the integration project and Veeva, Prolifiq, and Bristol-Myers Squibb were deep in development, as shown here: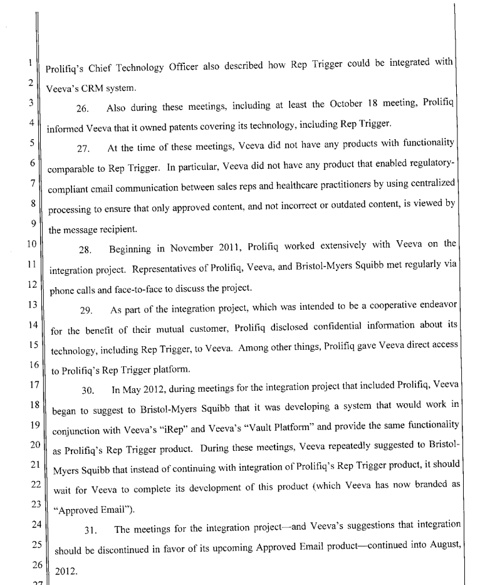 Next, deep into the integration project, Veeva began to tell Bristol-Myers that it was developing its own software that could be integrated with Veeva's iRep and Vault Platform that would also have the same functionality as Rep Trigger, obviating the need to continue with the integration project. This led to the final piece of the puzzle, shown here: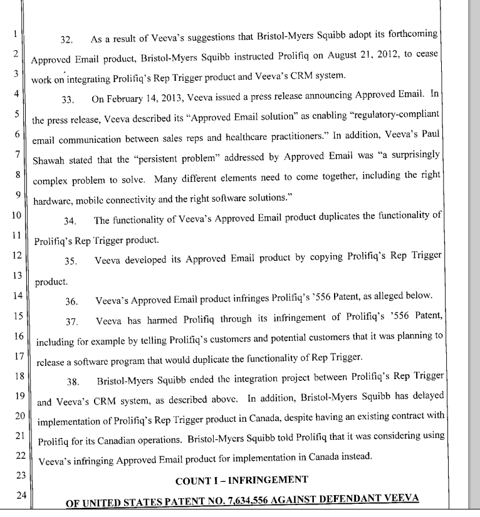 Less than a year after the integration project began, Bristol-Myers told Prolifiq to stop working on the integration of Rep Trigger with Veeva's CRM system. Shortly thereafter, Veeva announced "Approved Email" with essentially identical functionality to Rep Trigger. This had severely negative repercussions for Prolifiq, which saw Bristol-Myers delaying/halting the implementation of Prolifiq's system in favor of Veeva's.
What Does This Mean?
The bottom line here is that this ties right into Suhail Capital's thesis that the company is grossly overstating its total addressable market. If management had the audacity to state, in no uncertain terms, on a conference call that Approved Email is a "unique product" and that it was something that "didn't really exist before" despite the fact that it is a pretty blatant rip off of Prolifiq's Rep Trigger, then how can anybody take this management team seriously?
Disclosure: I am short VEEV. I wrote this article myself, and it expresses my own opinions. I am not receiving compensation for it (other than from Seeking Alpha). I have no business relationship with any company whose stock is mentioned in this article.