QTR's take: Bullish
Alcoa (NYSE:AA) investors will likely want to forget about 2013. Even though the stock was up 16% over 2013, it was generally regarded as a lackluster year for the company (and other mining stocks) due to plunging aluminum prices. The stock has ended the year with a little positive momentum, and is up 30% over the last three months. Catalyzing that momentum was last quarter's earnings, which showed slowing growth, but decent revenue and EPS compared to others in the sector. Also helping the share price was an upgrade by Goldman Sachs at the end of November.

Click to enlarge
With aluminum prices as low as they were in 2013, Alcoa saw its revenues sink year-over-year, however. Aluminum's price dropped from $2,100/ton in the beginning of 2013 to as low as $1,800/ton. The company was able to post $54 million in net income for 2013 - a major improvement from 2012 - mainly due to curbing costs.

Click to enlarge
In addition, the stock was kicked out of the Dow Jones Industrial Average. The argument for getting rid of Alcoa was that it, paired with Bank of America (NYSE:BAC) and Hewlett-Packard (NYSE:HP) to make up a very small portion of the index (under 4%).
Alcoa is expected to benefit from a stronger position in the Chinese aerospace industry in 2014, as a result of a partnership it participated in at the beginning of the year. Additionally, Alcoa is starting the year trading under its book value, with a price/book value of 0.89, according to Yahoo! Finance.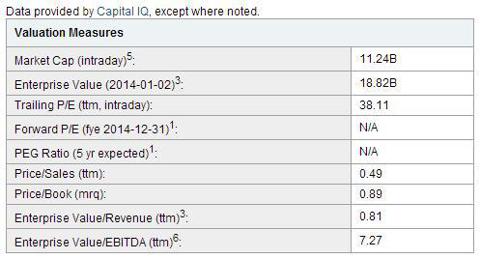 Click to enlarge
Mitu Anand echoes the bullish sentiment on Alcoa, citing a few factors for coming growth - including more revenue from the automotive industry:
The company also expects the automotive industry to become more aluminum-centric, which would lead to a more than three-fold growth in revenue from this segment.

Growth across its niche markets, combined with cost controls, are the primary reasons why Alcoa's management is confident that it's on track to meet its yearly goal, which is to be cash-flow positive. Considering the fact that Alcoa's value-add business now accounts for nearly 57% of its revenue, it may be able to achieve its goal.
Alcoa is scheduled to report earnings on January 9th after market closes. It should be a good look into the company's plans for the coming year.
Bulls continue to make the argument that not only is Alcoa going to benefit in the coming year from the fundamental company based changes it's making, but also from the fact that aluminum prices may have bottomed and be on their way up.
(click to enlarge - source)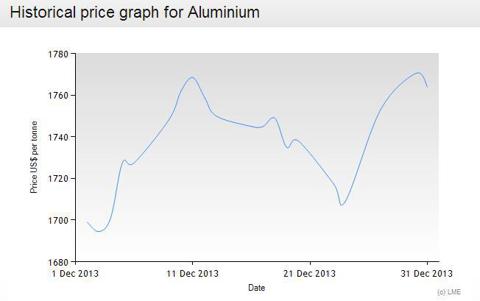 Click to enlarge
Additionally, recent news that Ford (NYSE:F) had brought Alcoa aluminum to the 2013 Detroit Auto show gave the stock a small boost to end the year as well. From Autoblog.com:
According to a report in Bloomberg, the 2015 Ford F-150 will indeed be showing up at the Detroit Auto Show next month. It will bring attitude with it, not only in the form of sheet metal inspired by the Atlas concept(pictured) that appeared at the 2013 Detroit show but also in the Alcoa military blast shields among the display being used to showcase the ruggedness of aluminum.
But the bears are out there, citing Alcoa's P/E of 38 as way too high and warning bulls not to be "tricked" by Alcoa's income as a result of cost cutting. Additionally, Schaeffers, who has a wicked track record of pointing out options trends that telegraph coming news, pointed out some unusual bearish activity:
Alcoa Inc tagged a new annual high of $10.77 yesterday, but that didn't keep bearish speculators at bay. Around 12,000 puts switched hands during the course of Monday's session, which was a 76% mark-up over the security's average daily put volume.

Most active was the January 2014 10 strike, where 6,520 puts changed hands -- 84% of them at the ask price, suggesting they were purchased. Meanwhile, open interest climbed by 3,112 contracts overnight, confirming the addition of new long positions. In other words, the traders are expecting AA to retreat below $10 by front-month expiration. This would entail a drop of 6.5% from the stock's current price of $10.69.
However, I'd still be bullish into earnings. I think the earnings may not even be about the numbers, but what the guidance and the plan for the coming year is going to be - as many assumed Alcoa has bottomed (even though it's technically trading at its 52 week high). When put into a 3 year perspective, it looks like Alcoa could be on the route to regaining some of the prestige and valuation it had to end 2011: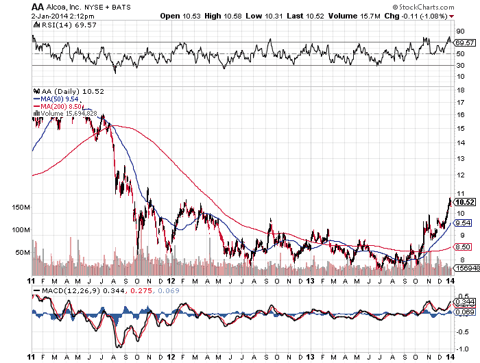 Click to enlarge
With a Beta of 1.87, Alcoa remains a conservative long-term vehicle for an investment heading into earnings. Barring a collapse in the aluminum industry, there isn't too much of a potential risk for this company going forward. It would seem most of the worst is behind Alcoa for the long term.
I'm bullish on Alcoa into earnings and into 2014.
Disclosure: I have no positions in any stocks mentioned, and no plans to initiate any positions within the next 72 hours. I wrote this article myself, and it expresses my own opinions. I am not receiving compensation for it (other than from Seeking Alpha). I have no business relationship with any company whose stock is mentioned in this article.