This is the time of year where pundits and columnists make their predictions and forecasts for the New Year. I have been participating in this ritual this week with a couple of predictions for 2014. In my previous two articles (I, II) I covered two large cap stocks that I believe will go significantly higher in our market over the next twelve months. Today I would like to look outside the United States for my third prediction for the New Year.
Prediction #3 - A Tumultuous & Opportunistic Year For Emerging Market Investors.
Emerging Markets (NYSEARCA:EEM) had a very tough year versus the S&P (See Chart).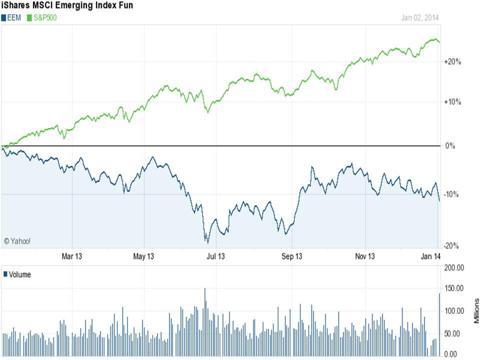 Click to enlarge
The outlook for Emerging Markets even after over a year of significant underperformance is murky. Russia, India and Brazil are experiencing decelerating growth, increasing social tension and many challenges ahead. Egypt, Thailand and Turkey are already near chaos.
China is trying to transition successfully to a more consumer focused economy under new political leadership. It is also trying to rein in state and local governments which now have debt near $3T, a 70% increase over 2010. With other emerging markets already facing challenges, the market cannot withstand a major hiccup in the Middle Kingdom.
In addition, these markets should be disproportionately impacted by the upcoming Federal Reserve "Taper". It is important to remember that emerging markets fell some 15% in a month starting in late May when Chairman Bernanke first broached starting to withdrawal liquidity from the market.
Once this pullback occurs, I believe emerging markets could be one of the great buying opportunities of 2014. I am saving significant "dry powder" to take advantage of this projected sell-off. In the meantime, I think three country ETFs are investable right now.
iShares MSCI Canada (EWC) - The market had basically a flat year even as the S&P shot ahead by more than 25%. I believe this performance divergence will start to narrow in the New Year. Over the past 40 years, Canada has been one of the best stock markets in the world.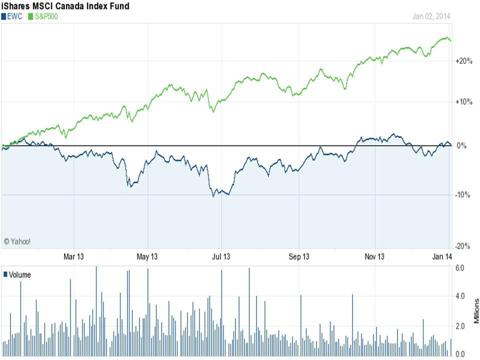 Click to enlarge
I think this will continue as the country is an agricultural, mining and energy powerhouse. It is a long term play on the continued rise of the middle class in major developing countries like China and India. The country's PMI index is neared its best level in two years and job growth also recently accelerated and easily beat monthly expectations. iShares MSCI South Korea Capped ETF (EWY) - Korea is another emerging market that had a flat year. Thanks to the Japanese Central Bank's massive quantitative program in 2013, the Korean won was under pressure for most of the year. This significantly hit Korea's exporters. The currency should have a better year in 2014.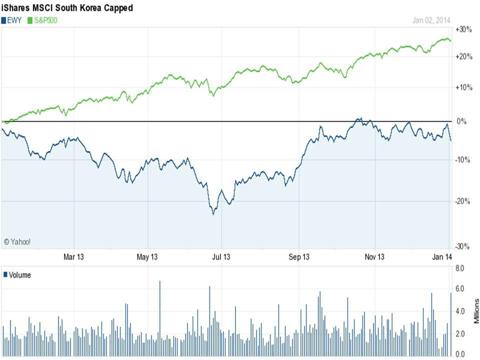 Click to enlarge
The market is cheap at under 9x forward earnings, has an unemployment rate of just over 3% and has innovative companies like Samsung. This mobile giant is giving Apple (NASDAQ:AAPL) a run for its money globally and makes up just over 20% of this index. This Korean index is selling for just over 10% over book value as well. iShares MSCI Mexico Capped (EWW) - This country ETF greatly underperformed the U.S. market in 2013 even as the country made substantial progress economically with new political leadership. The new legislature has passed major energy, telecom and educational reforms over the last few months which should substantially boost GDP growth in the coming years.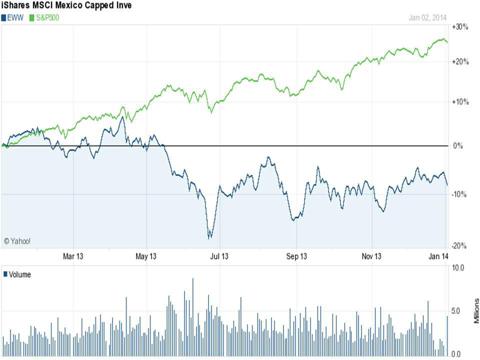 Click to enlarge
Mexico should also benefit from faster economic growth in its largest trading partner to the north in 2014. In addition, manufacturing is starting to move from China to Mexico as the Middle Kingdom's cost advantage continues to shrink. This index is ~25% cheaper on a price to sales or price to cash flow basis than the S&P even as growth looks poised to accelerate.
Disclosure: I am long EWW, EWY. I wrote this article myself, and it expresses my own opinions. I am not receiving compensation for it (other than from Seeking Alpha). I have no business relationship with any company whose stock is mentioned in this article.