By Chris McKhann
Put volume dominated the option trading in Palm (PALM) yesterday as its shares fell to a new 52-week low.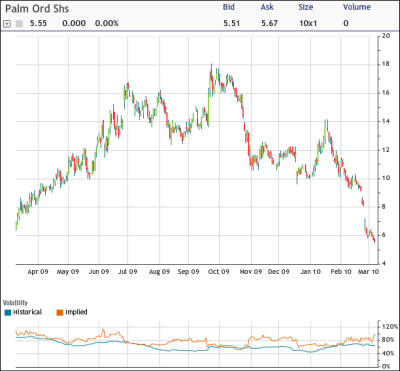 PALM dropped another 2.8 percent yesterday to end the session at $5.55. It was the smartphone maker's lowest close since Jan. 14, 2009, and represents a decline of roughly 70 percent from its 52-week high of September.
Of the 70,000 PALM options traded yesterday more than 45,000 were puts, and 25,000 of those were in one trade. A trader bought 12,500 of the April 4 puts for $0.15 against open interest of 2,159 contracts. At the same time, he or she sold 12,500 of the March 5 puts for $0.13. This volume was against open interest of more than 19,000 contracts, so it may have opening or closing positions.
The strategy could be a diagonal trade that will take a maximum profit if shares fall to that $5 area. Or it could be a trader rolling down a position, selling to close previously opened long March puts and buying the lower-strike puts in April to capture further gains.
Disclosure: No positions