Through its subsidiaries Altria Group Inc. (NYSE:MO) manufactures and sells tobacco products that include cigars, cigarettes and pipe tobacco. The company is known by some as the "Coco Cola of the tobacco industry". It owns one of the world's most recognizable cigarette brands, Marlboro, in its portfolio. Marlboro itself owns 42.6% of the US market share alone. Altria derives its revenue from three reportable segments: smokeable, smokeless and wines. The company has seen its share value become relatively volatile over the past year with a slight upward trend.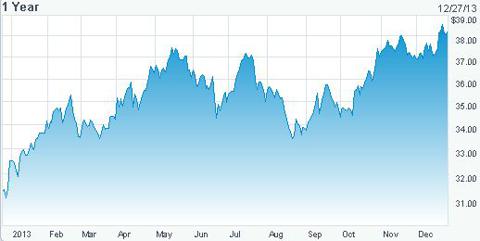 Source: NASDAQ
During the latest quarter Altria saw a positive wave. Higher income came from the smokeable and smokeless products. The company reported low interest and debt expense than previous results. Also, the $19 billion (27%) equity stake in one of the world's largest UK-based brewers, SABMiller, brought higher earnings in the wine segment for the company.
Nonetheless, the cigarette market continues to play the most significant role for Altria's profitability. It brings in more than 70% value to the stock price at the moment. Altria's subsidiary, Phillips Morris occupies nearly 50% of the total US cigarette market.
Also, the smokeless products segment offers a significant return opportunity for the company. At the moment, smokeless nicotine products belong to a high growth niche market and are expected to grow at a rate of 3% in the next coming years. Presently, Altria owns more than 55% of the smokeless products market share, in terms of volume, through its highly popular brands such as Red Seal and Copenhagen. The company will continue to benefit from the rising demand of smokeless offerings.
Smokeable Products
There has been a recent shift towards a declining volume for tobacco products owing to a greater awareness of the health benefits of avoiding nicotine. The governments are enforcing higher excise duties in order to prevent consumption. Higher duties lead to higher prices that affect demand and volume sold. According to my calculations, a 1 cent increase in FET on a single pack of cigarettes leads to a 14.5 bps decline in volume (based on data from 2009). Further, legislations that ban certain types of cigarettes could potentially damage profits. For example, the recent hype about banning menthol cigarettes could potential harm industry profits as menthol cigarettes contribute 30% to total sales. Overall, considering these reasons, it is expected that cigarette volumes will decline at a rate of 2% over the next 5 years or so.
The cushion that will support declining volumes is the price Altria charges. Altria's market share has remained relatively stable over the years. Even though total volumes sold in the US have been declining, the company's revenue per share of smokeable product has been rising. The price-profit first strategy that it utilizes allows the company to benefit from the strong elasticity of demand and brand loyalty that allows for price and margin expansion.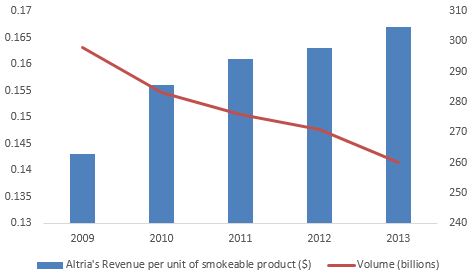 .
Source: 10Q
Smokeless Products
The smokeless tobacco products offer the company a promising future. Unlike cigarettes which have experienced declining volumes, smokeless products (nicotine gums etc.) have been on the rise. Altria has experienced rising revenue per pack of smokeless tobacco "RPP". I have calculated RPP by dividing total revenue from the segment with regards to smokeless tobacco shipment volumes.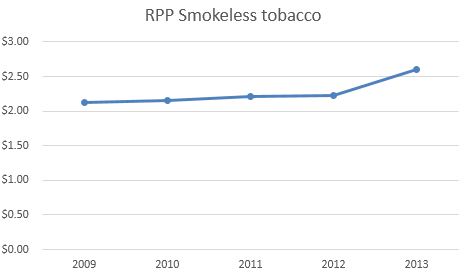 Source: 10Q
In 2009, RPP was $2.12. It has since then been increasing at a CAGR of 5.3%. The 2013 figure was estimated assuming a continuous growth rate. I believe this trend will continue for the following reasons:
Unlike cigarettes, the smokeless tobacco "ST" industry's volumes are growing.
ST carries lower taxes than cigarettes (7% lower than cigarettes; 32% in the US) allowing Altria to sell at competitive prices.
Altria's strong brand loyalty, expansion into other states and new product launches will further support the greater than 50% market share it owns in the ST market.
Secondly, the market for ST is growing. The market size of smokeless products in the US has increased from 1.18 billion packs sold in 2009 to 1.38 billion in 2012. It is estimated that this figure could reach 2 billion by 2020 and this is justified. Smokeless tobacco products are perceived as less harmful by consumers than cigarettes. These products are allowed to be used in areas where smoking is banned hence making them a more preferred option. Also, consumers who try to quit smoking divert to ST as their first change. These factors, collectively, are the reason why many tobacco companies are investing in ST through acquisitions or through company product development.
Wine Segment
Altria's wine revenue has increased as a result of periodic price increases authorized by the company. Altria's wine revenue per case has increased from $67.1 in 2009 to $73.9 in 2012. Looking forward, it is also expected to continue growing at a rate of 3%.
This is because demand in the US for wine has been growing at a very high rate. It has grown by almost 25% since 2005 to more than 360 million nine-litre cases in 2012. Supply has not been able to match the growth in consumption which has resulted in the increase of grape prices in the US.. This is one of the key factors that will cause an increase in wine prices in the US higher in the short to medium term. Grape prices increased nearly 16% on a year-on-year basis in 2012.
Conclusion
The top-line prospects for company are strongly evident. With regards to the bottom line, the company has remained profitable over the past several years. Recently, Altria has experienced an EPS CAGR of more than 20% over the last 5 quarters. It recently announced a diluted EPS of $0.7 during its last quarter. Fundamentals look good too with P/E, P/B, operating and net margins all better than industry levels. Also, the dividend yield provided outweighs that of the industry by 0.4%.
In conclusion, Altria is a good investment with an overall good outlook. It doesn't lag behind in any of its major segments. With rising smokeless tobacco and wine demand we can expect future stock value to continue showing positive momentum for investors.
Disclosure: I have no positions in any stocks mentioned, and no plans to initiate any positions within the next 72 hours. I wrote this article myself, and it expresses my own opinions. I am not receiving compensation for it (other than from Seeking Alpha). I have no business relationship with any company whose stock is mentioned in this article.