US stock index futures are moderately lower this morning after mostly positive trading in Asia, excluding Japan, and a down session in eurozone and UK markets.
Global markets have cooled after nearly a week of gains, largely on lower commodity prices. Energy prices fell overnight as the dollar strengthened against most currencies.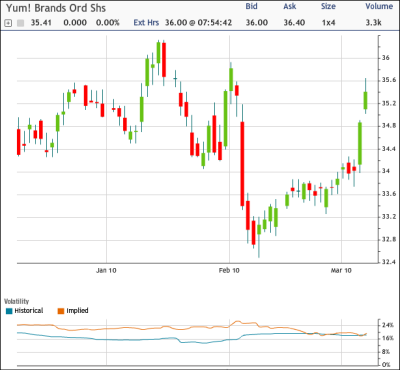 While China renewed its commitment to purchase US Treasuries, it also hinted at a future higher yuan, which would be inflationary for the United States, and distanced itself from gold. There is movement this morning back into Treasuries while gold, along with energy, is trading lower.
Banking stocks were coming under pressure in Europe, a theme that could spill over into US markets. This comes just as the financial sector was nearing a potential breakout.
Among sell-side research analysts, the following are a few of the notable calls so far this morning. UBS upgraded Yum Brands (NYSE:YUM) to "buy." HSBC Securities upgraded China Southern Airlines (NYSE:ZNH) to "overweight." Susquehanna upgraded Buckle (NYSE:BKE) to "positive." Collins Stewart downgraded Zoran (NASDAQ:ZRAN) to "hold." JP Morgan downgraded First Solar (NASDAQ:FSLR) to "underweight" and Textron (NYSE:TXT) to "neutral."
In S&P 500 (NYSEARCA:SPY) earnings, just a handful of companies will release results this week. Kroger (NYSE:KR) will report today, Brown-Forman Corp. (NYSE:BF.B) will report tomorrow, and Pall (NYSE:PLL), and National Semiconductor (NYSE:NSM) will both report Thursday.
Disclosure: No positions